Willingham's homers can't prevent ninth straight loss
Twins slugger goes deep twice, but bullpen can't hold three-run lead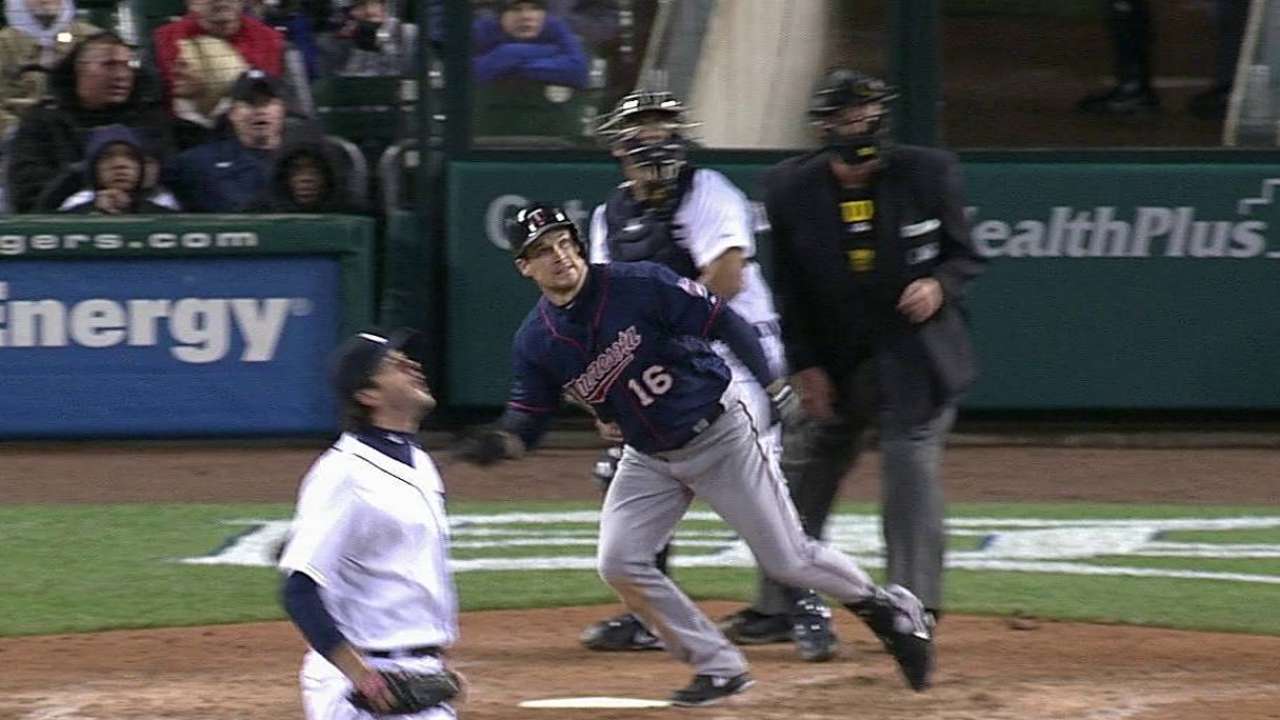 DETROIT -- As the Twins showed Thursday night at Comerica Park, when things are going bad, the breaks never seem to go your way.
Reliever Jared Burton induced what appeared to be an inning-ending double play off the bat of Prince Fielder, but instead it misdirected off his glove and past a diving Brian Dozier at second base to give the Tigers the lead.
It proved to be the game-winning hit, as the Twins couldn't hold a late three-run lead despite two homers from Josh Willingham in a 7-6 loss to the Tigers that extended their losing streak to nine games.
"It's tough," Burton said. "I felt the offense did enough early on where we should've won that game. Unfortunately, I didn't do my job. It cost us a much-needed win and we're obviously going through a tough stretch. So for it to get away from us like that hurts."
Fielder's go-ahead hit came with one out in the eighth inning to score Omar Infante, who led off with a single and was bunted to second by Torii Hunter. Fielder's single came after the Twins decided to intentionally walk Miguel Cabrera.
"It looked like it was probably a double-play ball," Twins manager Ron Gardenhire said. "Stuff happens. When you're going good, it goes right to him, and when you're scuffling and trying to find ways to win, it bounces the other way. And tonight, it bounced the other way for us."
It spoiled a strong performance from Willingham, who crushed a three-run homer off Tigers starter Rick Porcello as part of a four-run third inning and later added a solo shot off reliever Darin Downs in the seventh to give the Twins a three-run lead.
But the Twins couldn't preserve the lead, as Detroit rallied for three runs in the seventh. Reliever Brian Duensing surrendered back-to-back RBI singles to Fielder and Victor Martinez after Casey Fien gave up a single to Infante and walked Cabrera. The Twins brought in Burton, but he gave up the game-tying double to Jhonny Peralta.
It handed Scott Diamond a no-decision, as the left-hander left with the lead after allowing three runs on nine hits and a walk over 5 2/3 innings.
"I was able to make some adjustments and stayed aggressive for most of the game," Diamond said. "But if that fifth inning didn't happen the way it did, I would've been able to eat up some more innings, because that's what we needed tonight and I wasn't able to do that. So I really feel like that's on me."
He struggled early, giving up a two-run blast to Cabrera in the first inning, but settled down until the fifth, when he allowed an RBI single to Cabrera with the bases loaded and two outs. But Diamond was able to get out of the jam by getting Fielder to pop out to end the inning.
Diamond outlasted Porcello, who scuffled through five innings, giving up five runs on 10 hits and a walk to see his ERA rise to 6.28.
The Twins got on the board in the second inning with an RBI groundout from Dozier to score Justin Morneau, who doubled to open the inning.
They added four runs in the third against Porcello with three straight singles from Pedro Florimon, Jamey Carroll and Joe Mauer. But Florimon sprained his right index finger sliding into third on Carroll's single and was replaced the next inning by Eduardo Escobar. After Mauer's single, Willingham launched a three-run blast to left field on a 1-1 fastball to give the Twins a three-run lead.
"They had a pretty good game plan," Tigers manager Jim Leyland said. "If you watch Morneau and Mauer, they just kind of took what [Porcello] gave them."
Willingham later hit his second homer of the night on a 3-2 slider from Downs in the seventh. It gave Willingham his team-leading eighth homer and marked his first multihomer game since July 24, 2012.
"He's a big part of our offense," Gardenhire said. "Tonight, he put a couple out in the seats for us, which was huge for us. If we keep scoring runs like that, we should be OK."
But Willingham's big night wasn't enough for the Twins, who took yet another disappointing loss.
"It just seems like we played really well and just had a lot of bad breaks," Diamond said. "After that fifth inning, it seemed like things were against us a little bit. It is frustrating. But good teams have to come back and fight. And we're still showing fight, so as deflating as it is right now, I guarantee you we'll keep fighting tomorrow."
Rhett Bollinger is a reporter for MLB.com. Read his blog, Bollinger Beat, and follow him on Twitter @RhettBollinger. This story was not subject to the approval of Major League Baseball or its clubs.