Gausman uneven in debut; three HRs can't pick up 'W'
Davis, Markakis and Jones go deep; Machado smacks three doubles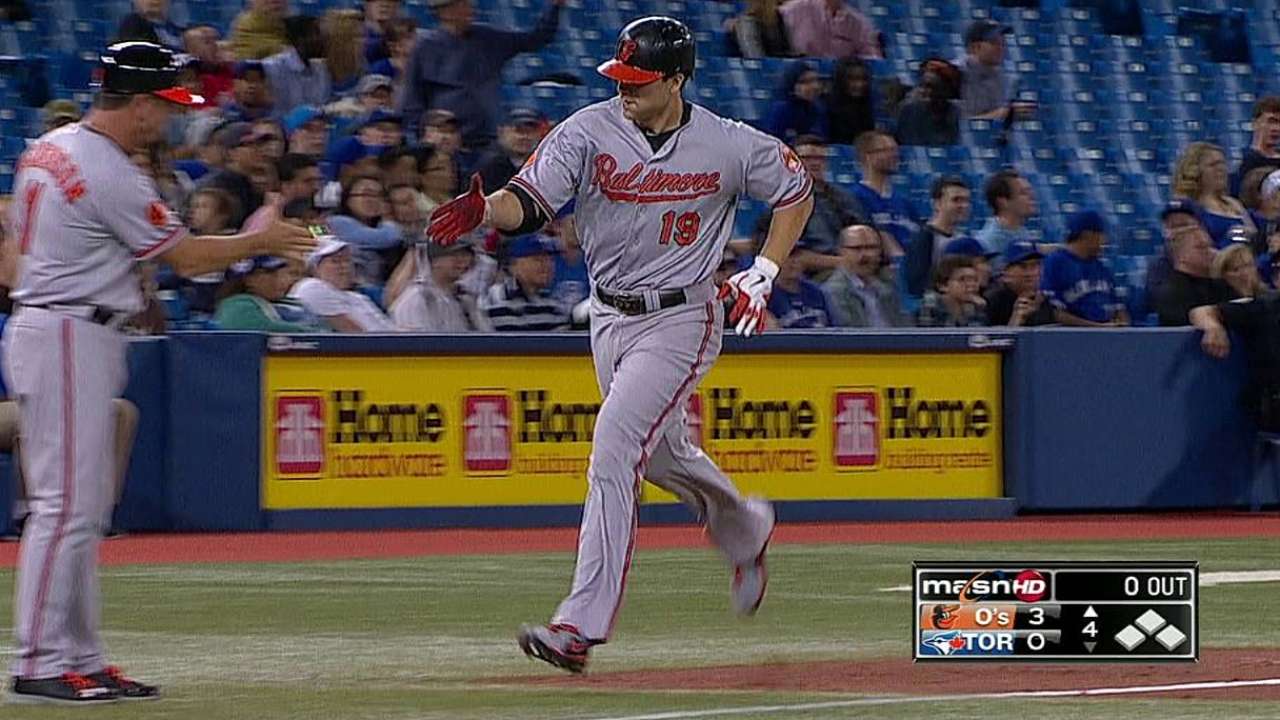 TORONTO -- Rookie Kevin Gausman's Major League debut didn't have a fairy-tale ending, but he kept his team in the game over five solid innings of work. The right-hander exited trailing by a run before the Orioles' bullpen took over in the sixth.
That, however, is when things spiraled out of control for Baltimore during the club's first visit north of the border.
Pedro Strop surrendered a sixth-inning grand slam, a trio of O's relievers were tagged for eight runs to ensure Gausman suffered the loss and the Orioles fell to the Blue Jays, 12-6, to kick off a four-game set at Rogers Centre on Thursday.
"You like your chances when you score six, but not when you walk that many people," Orioles manager Buck Showalter said.
The skipper was referring to the eight walks the Orioles issued on the night, which included three in the game-changing sixth inning.
Troy Patton, who relieved Gausman, got a pair of quick outs before walking No. 9 hitter Munenori Kawasaki.
"The walk to Kawasaki in the sixth kind of put us in harm's way," Showalter said.
Patton issued another walk before Showalter turned to Strop to face Jose Bautista. Strop continued the trend and walked Bautista on six pitches to load the bases for slugger Edwin Encarnacion, who responded by lining a 1-1 pitch off the foul pole in left for a grand slam, which put the Blue Jays up, 8-3.
"Edwin hitting that ball to give us some breathing room. It makes the game, definitely not easier, but definitely a little more relaxing," said catcher J.P. Arencibia, who went 2-for-5 with a homer and four RBIs.
The Orioles came back and tacked a run on the board in the seventh before Nick Markakis and Adam Jones hit back-to-back homers in the eighth to make it 8-6. It was the third time this season the Orioles have hit back-to-back home runs.
But Baltimore didn't get any closer than that, and Toronto had another four-run inning in the eighth, this time doing the damage against left-hander T.J. McFarland. The 12 runs the Orioles allowed matched a season high.
Before Toronto got the best of Baltimore's bullpen, all eyes were on Gausman, whose debut featured a little bit of everything.
He took the mound with his parents and girlfriend in attendance and did his customary superstitious acts of hopping over the foul line before taking a couple steps into his first warmup pitch, which he threw from behind the rubber. Gausman then started off his outing with seven consecutive fastballs that registered from 95-98 mph.
The 22-year-old ended his first big league inning by getting Encarnacion looking at a 97-mph heater before punching out Adam Lind on a mid-80s changeup. Gausman said he was able to finally calm his nerves after escaping the opening frame.
After Gausman retired nine of the 12 batters he faced through three scoreless innings, the Blue Jays got to him in the fourth and cut into a 3-0 Orioles lead.
The first four batters of the inning reached base and before the frame was done, Baltimore's lead was down to one run. Then in the fifth, Toronto took the lead for good.
Gausman retired the first two batters of the inning before allowing a single to Lind and then a two-run homer to Arencibia, his 11th of the season, that put Toronto in front, 4-3.
The rookie showed some great sequencing, however, against Bautista to start off the frame. He got the three-time All-Star to swing through a strong changeup down in the zone -- a pitch Gausman thought worked very well for him -- before putting two high heaters by Bautista for his fourth strikeout of the game.
"I like the way he presented himself," Showalter said. "You could see his presence. I'm proud of him."
Gausman lasted five innings, allowing four runs on seven hits while walking two and striking out five. He routinely was throwing his fastball in the mid-to-high 90s, and he recorded some swinging strikes with a changeup that had some late, downward movement. The Louisiana State University product, who estimated that he threw just under 10 sliders, said the hitters at the big league level are "so good, it's kind of crazy."
"Definitely a learning experience for me, but it was awesome," said Gausman, who became the third Orioles player to make his Major League debut this season. "It was everything I could have imagined and more.
"I've been waiting my entire life for this. I haven't been able to sleep very much lately. That was something that was kind of great to get out of the way. Hopefully I can sleep tonight."
Blue Jays manager John Gibbons was impressed with what he saw.
"He had some good composure. It looked like he belonged out there," Gibbons said. "For a debut, I thought he did a heck of a job. It looks like he'll have a bright future -- he's got a great arm."
Manny Machado gave Gausman an early 2-0 lead by smacking a two-run double down the left-field line off Blue Jays starter Brandon Morrow in the third inning. Machado, who also doubled off Morrow in the first and fifth innings, has a Major League-leading 21 doubles. It marked the second time this season Machado has recorded three doubles in a game.
Chris Davis hit Baltimore's first homer of the game, a solo shot he crushed off Morrow in the fourth inning for his Major League-leading 15th home run. Davis has homered in consecutive games for the third time this season.
Despite allowing 10 hits -- three of which were homers -- and six runs, Morrow picked up his second win after throwing seven innings plus two batters, while striking out five.
The loss snapped the Orioles' two-game winning streak and tied their season series with Toronto at two games apiece.
Chris Toman is a contributor to MLB.com. This story was not subject to the approval of Major League Baseball or its clubs.