Encarnacion's slam punctuates batting showcase
Arencibia homers, drives in four; every player scores or drives in a run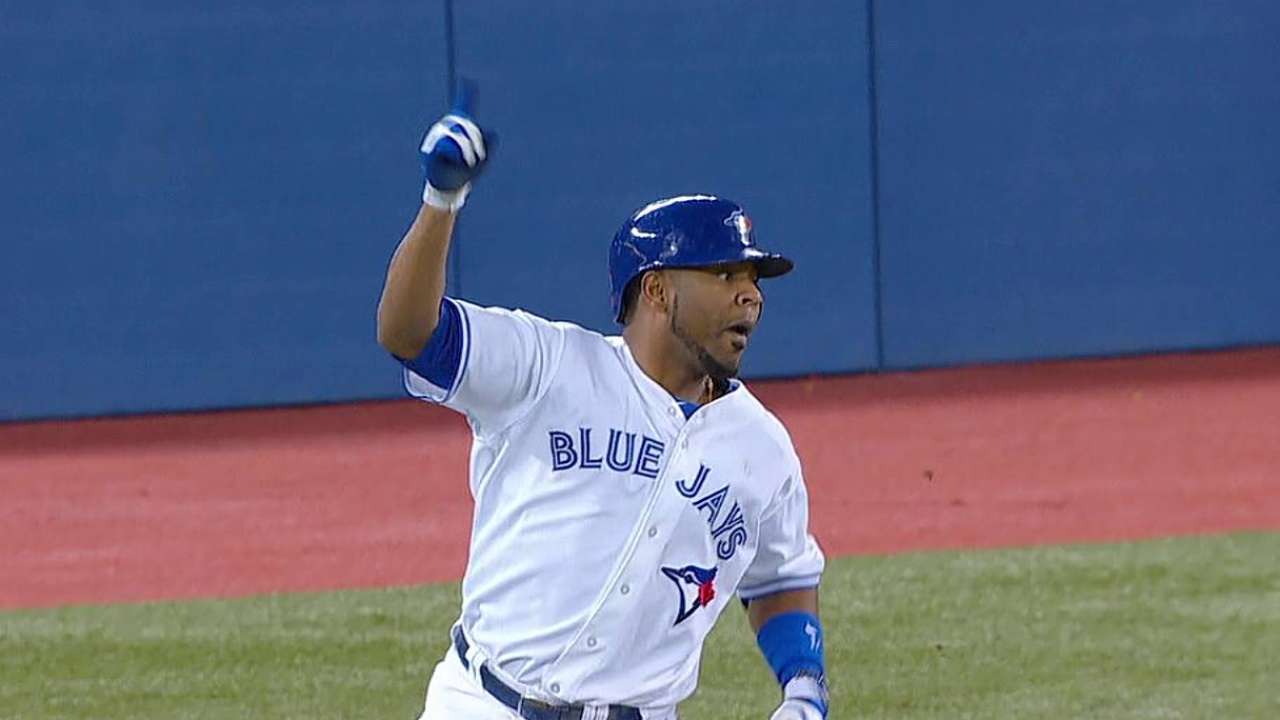 TORONTO -- It took a couple of innings, but when the Blue Jays offense finally broke out against Orioles prospect Kevin Gausman and the bullpen, they never looked back.
Toronto's offense started the game slowly, and was unable to take advantage of having men on base in each of the first three innings.
Cracks in the Orioles rookie's armor began to show in the fourth, and the Blue Jays were able to take advantage of a couple of timely home runs, including an Edwin Encarnacion grand slam, to defeat Baltimore, 12-6, at Rogers Centre on Thursday.
"Our team is built around those guys," Toronto manager John Gibbons said of Encarnacion and last night's hero, Jose Bautista. "They're two of the better ones in the game.
"The centerpieces of all good teams, the teams that win, they got a couple of guys there in the middle that carry you."
On Thursday, it was Encarnacion who did most of the heavy lifting. Orioles reliever Pedro Strop walked Bautista to load the bases in the sixth before serving up 1-1 fastball to the Toronto slugger, who hit a line-drive home run off the foul pole in left field to clear the bases.
That home run extended the Blue Jays' lead to 8-3 and gave the club more than enough room.
"Edwin hitting that ball to give us some breathing room it makes the game, definitely not easier, but definitely a little more relaxing," said J.P. Arencibia, who had a home run and four RBIs.
Although Encarnacion's grand slam, the fifth of his career, was the biggest shot of the game, it was a team effort offensively.
The Blue Jays tallied 11 hits, and every single player scored at least one run or drove one in.
"Jose [Bautista] pretty much won the game for us [yesterday]. Then we come back and different guys come back and contribute today," Arencibia said. "I think that's a sign of when things get going [offensively]."
After a slow start, things started to click for the Blue Jays offense after a two-run fourth. Gausman's debut had been solid up to that point, but it got away from him in the fifth.
After retiring the first two batters, the 22-year-old gave up a single to Adam Lind. On the very next pitch, Arencibia hit a home run into the Blue Jays bullpen in left field to take the lead.
"He gave us a chance to win against a team swinging the bat as hot as anybody," Orioles manager Buck Showalter said of his starter. "I thought he handled himself the way you'd like to see a young pitcher handle himself. He's only going to get better."
Gausman allowed four earned runs in five innings on seven hits and two walks, while striking out five. However, it could've been much worse.
In the fourth inning, the Blue Jays had already scored twice and had runners on the corners with only one away, but the righty was able to wiggle his way out of the jam. He induced a popup on an attempted bunt by Munenori Kawasaki, and quickly followed that with a loud flyout by Melky Cabrera to end the threat.
"It looked like he belonged out there," Gibbons said. "For a debut, I thought he did a heck of a job. It looks like he'll have a bright future."
Brandon Morrow ended up the beneficiary of Toronto's potent offense, although his pitching line is uglier than it really was.
"The offense did their job and got us a big lead and won the game for us," Morrow said.
Morrow had patches of a good outing, but he was unable to put it all together for the entire night. After allowing four runs through seven innings, the Blue Jays right-hander surrendered two solo home runs in the eighth that ended his night on a sour note.
"I thought I had good stuff. I thought I threw the wrong pitch in a couple of situations and got hurt," Morrow said. "It's frustrating for me to go out and give up the two home runs without getting an out there in the eighth. It was a good win, but it put a sour taste in my mouth."
In total, the 28-year-old gave up six earned runs -- three on solo home runs -- on 10 hits and a walk, with five strikeouts.
"He did a good job. The score, and the runs that he gave up, are definitely not a good showing of the performance he had out there," Arencibia said.
The Blue Jays piled on an additional four runs in the eighth to put the game out of reach, ending any thoughts of a comeback for the Orioles. That additional run support was something that was lacking earlier in the season for Toronto.
"We chipped away and then we exploded there in the end," Gibbons said. "We've been playing some pretty good baseball. We really have."
Evan Peaslee is an associate reporter for MLB.com. This story was not subject to the approval of Major League Baseball or its clubs.