Red Sox hammered by Francona's Indians at Fenway
Dempster lasts just three innings; Papi hits three-run homer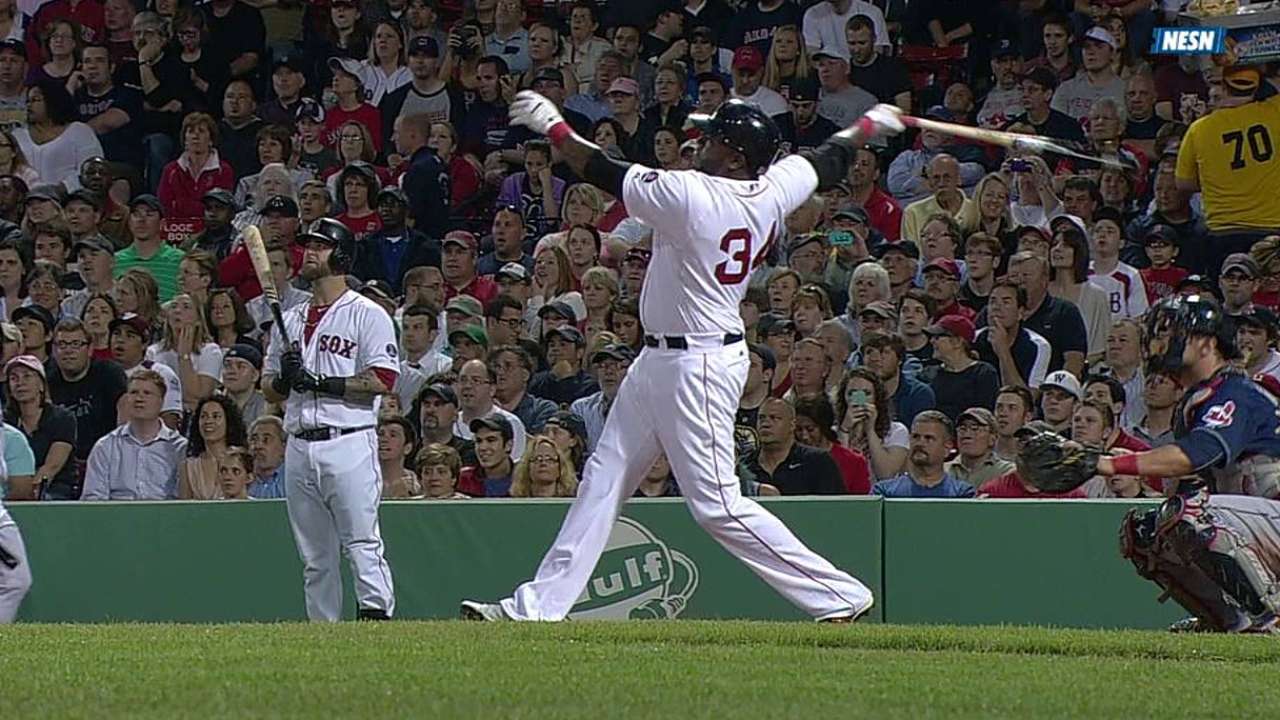 BOSTON -- Of course, Terry Francona was going to feel at home in Thursday's return to Fenway Park, where he had managed for eight seasons, some of them glory years in Red Sox history.
Far more stunning was the way Francona's new team, the Cleveland Indians, made Fenway Park look like their own backyard with a steady stream of hard hits.
In a disheartening opener to a six-game homestand, the Red Sox were belted around, 12-3, by Francona's red-hot Tribe.
"They've got a very good team," said Red Sox manager John Farrell. "They're in first place for a reason. They've got a very good lineup, they're balanced, they've got good pitching, a very good bullpen. They're not in first place by accident."
While the Indians have reeled off 19 wins in their last 25 games, Boston is in a mini-slide, losing three of four.
The most discouraging development for the Red Sox on Thursday was that Ryan Dempster struggled for the third straight start.
The veteran righty threw a whopping 85 pitches over just three innings, giving up five hits and four runs. Dempster walked four and struck out four.
After pitching well in his first seven starts for Boston, Dempster has a 10.66 ERA in his last three starts.
"My command has been terrible," Dempster said. "I walked 10 guys in my last nine innings -- and they're unnecessary walks. I've just got to fix that. That's the bottom line. I don't get myself into that kind of trouble in the third inning and throw 40-something pitches if I just throw the ball over the plate."
In the start that preceded this one, Dempster threw 127 pitches over just 4 2/3 innings.
Carryover effect?
"No," said Dempster. "I've just got to make better pitches."
David Ortiz crushed a three-run homer for the Red Sox in the bottom of the third, serving as the biggest highlight of the night for the home team.
"Fastball in; fastball out," quipped Ortiz.
Early on, the Fenway faithful got a chance to acknowledge Francona, as the Red Sox played a video highlight montage on the scoreboard after the first inning.
"Well deserved," Farrell said. "That video probably could've gone on for quite a bit longer. I think it was a touch of class to acknowledge the eight years spent here, eight successful years. Obviously he's in a good place right now as well."
Francona said all day he didn't want to be the focus. But he appreciated the gesture from the Red Sox.
"I appreciated it. It was very heart-felt, but again, you don't want to be the main focus," Francona said. "You want to let the players play. But, it felt good."
Dempster did work around a single in a scoreless first. After that, his night deteriorated. Carlos Santana led off the second with a single and Mark Reynolds followed with a walk. With two outs, Drew Stubbs popped one into no-man's land down the right-field line. Dustin Pedroia dove for it, but it was just out of his reach for an RBI double.
In the third, Dempster lost command. Asdrubal Cabrera opened a three-run rally with a one-out single. Dempster then walked Michael Brantley and Santana. Reynolds followed with a two-run single up the middle. Then, yet another walk, this time to Yan Gomes. A fielder's choice RBI by Mike Aviles gave the Indians a 4-0 lead.
"Obviously it's command," Farrell said. "When you look at the number of walks over the last three outings, and today with two very extended innings, it was time to get him out of there after the third inning tonight. It's a matter of consistent command."
Despite the early deficit, the Red Sox roared back in the bottom of the third and seemed poised to make it a game.
Jacoby Ellsbury opened with a bunt single and Daniel Nava followed with a walk. Pedroia laced a single up the middle and third-base coach Brian Butterfield waved Ellsbury in. Normally, Ellsbury's speed would equate to a run. But Michael Bourn made a perfect throw home, and Santana tagged him out.
Ortiz took the sting of that play away when he unloaded for a three-run homer over the Indians' bullpen and several rows into the bleachers. Just like that, it was a 4-3 game.
Naturally, it was easy to wonder if Ellsbury should have been held, setting Ortiz up for a grand slam.
"In a situation with David coming up, you could debate whether that was overaggressive, but Jake's our fastest baserunner," said Farrell. "[The decision was] based on putting pressure on Bourn to throw a strike from 200-plus feet away, and he did. So I've got no problem with the aggressiveness on our part and the decision made by Butter."
It was not a sign of things to come, however.
Following Dempster's exit, Boston's bullpen gave up runs in three straight innings, capped by a six-spot in the sixth in which Cleveland blew the game open.
Dempster is not the type to panic after stringing some subpar outings together. He's picked himself up many times before and vows to do so again.
"I've been doing this for a long time," Dempster said. "The last couple of games I haven't been throwing the ball where I want to throw it. I'll get back to that."
Ian Browne is a reporter for MLB.com. Read his blog, Brownie Points, and follow him on Twitter @IanMBrowne. This story was not subject to the approval of Major League Baseball or its clubs.