Indians pound Red Sox in Francona's Fenway return
Reynolds, Stubbs collect three RBIs; six-run sixth breaks game open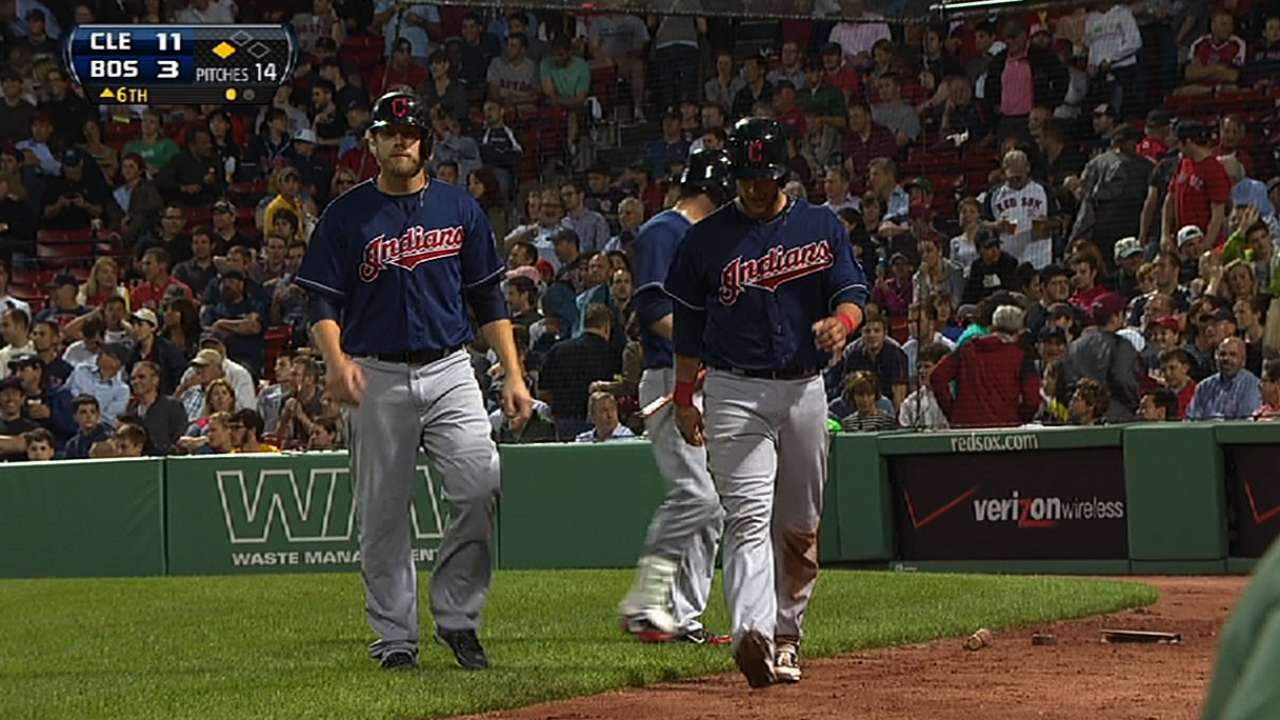 BOSTON -- Terry Francona did not want his return to Fenway Park to create any kind of distraction for his players. That was tough to pull off prior to Thursday's game, when a huge crowd of reporters gathered around the Indians manager in the visitors' dugout.
As Cleveland's players made their way to the field, they glanced at the mob scene and cracked a few quiet jokes while Francona reminisced about his days on the other side as manager of the Red Sox. It was more amusement than annoyance and by the time the ballgame began, it was back to business as usual for both Francona and his team.
"He had great years here, but that's behind him," Indians designated hitter Mark Reynolds said. "He's focused on us and our team. He was probably a little emotional, but at the same time his focus is on beating the Red Sox more than anything else."
The Indians did not just beat the Red Sox, they used a relentless offensive attack to beat them into the ground in a 12-3 rout in the opener of a four-game series. From his place in the far right corner of the dugout, Francona watched his versatile lineup churn out hit after hit against his old club en route to Cleveland's 19th win in the past 25 games.
For the first time since 2004, and for just the third time in the past 23 years, the Indians (27-19) scored at least a dozen runs without belting a home run. Four players contributed at least two hits, four chipped in at least two RBIs and five drew at least one walk. It was an offensive formula that produced more than enough support to back a five-inning outing from Tribe starter Zach McAllister.
"They've got a very good team," Red Sox manager John Farrell said. "They're in first place for a reason. They've got a very good lineup. They're balanced, they've got good pitching, a very good bullpen. They're not in first place by accident."
That is what took place between the lines.
Between the first and second innings, the Red Sox took a moment to honor their former manager.
Boston played a tribute video on the board in center field, showing highlights of Francona's eight seasons at the helm with the Red Sox. During that time, he helped guide Boston to two World Series titles and six postseason appearances, collecting 744 regular-season victories along the way. As the video progressed, the Fenway faithful rose to their feet and offered chants of "Tito! Tito! Tito!"
Francona smiled and waved to the crowd, and then placed his hand on his heart.
"I appreciated it," Francona said. "It was very heart-felt, but again, you don't want to be the main focus. You want to let the players play. But, it felt good."
Farrell -- Francona's friend and former pitching coach -- was happy to see the Indians manager honored during the game.
"Well deserved," Farrell said. "That video probably could've gone on for quite a bit longer. I think it was a touch of class to acknowledge the eight years spent here, eight successful years. Obviously he's in a good place right now as well."
The American League Central-leading Indians drove Red Sox right-hander Ryan Dempster's pitch count to 85 through three innings, chasing him from the contest. Drew Stubbs, who had three extra-base hits and three RBIs, delivered a run-scoring double off Dempster (four runs allowed) in the second. Reynolds highlighted a three-run third by driving home a pair of runs with a bases-loaded single.
Cleveland tacked on a run in each of the fourth and fifth innings before pouring out six in the sixth. The first five batters reached base for the Tribe to ignite the outpouring, which included a two-run double from Yan Gomes and a two-run triple from Stubbs.
It marked only the third time since 1957 that the Indians had at least eight walks, 12 runs and 15 hits without a home run mixed in.
"Homers have been known to be rally killers," Reynolds quipped. "You keep having guys on base, it keeps pressure on the pitcher and it makes him be precise. We were just able to get big knocks with guys on base out there."
The onslaught came one day after the Tribe's rain-delayed loss to the Tigers at home -- a game that did not end until 12:28 a.m. ET back in Cleveland. The Indians did not reach Boston until 4 a.m. Thursday morning. Under the circumstances, Francona was proud of his players.
"We got in late," Francona said. "You never make excuses, but I was thrilled with the way we came out with energy and grinded out at-bats. We made Dempster work hard and we got him out and got into the bullpen. In a four-game series, you help yourself by doing that."
Boston's lone breakthrough against McAllister came in the third inning, when slugger David Ortiz crushed the first pitch he received for a three-run home run. Ortiz admired his shot for a moment before flipping his bat away and shifting into a slow trot around the bases.
"Fastball in; fastball out," Ortiz said.
Following that blast, the Indians quieted the Red Sox (28-20) and cruised to the win column. McAllister (4-3) was charged with three runs on five hits, ending with five strikeouts and three walks in a 96-pitch effort. The right-hander was not at his sharpest, making him especially grateful for the wealth of support.
"Any time you can get run support like that it makes you happy," McAllister said. "They did a great job."
Getting the win for Francona also felt important for the Tribe's players.
"Everyone wanted to go out there and get a win for the team, but for him also," McAllister said. "He's been great for us this year. He's well-liked everywhere he is and this is definitely exciting to get the win."
Francona hoped to avoid creating any kind of distraction.
His players never viewed it that way.
"Tito led them to two world championships, the playoffs almost every year," Reynolds said. "It was neat to see the organization do that for him. I think I saw him teary-eyed a little. It was pretty neat. I was glad to be a part of it."
Jordan Bastian is a reporter for MLB.com. Read his blog, Major League Bastian, and follow him on Twitter @MLBastian. This story was not subject to the approval of Major League Baseball or its clubs.