McCutchen produces before rain in Bucs win
Center fielder drives in two, Snider triples; Pittsburgh sweeps Cubs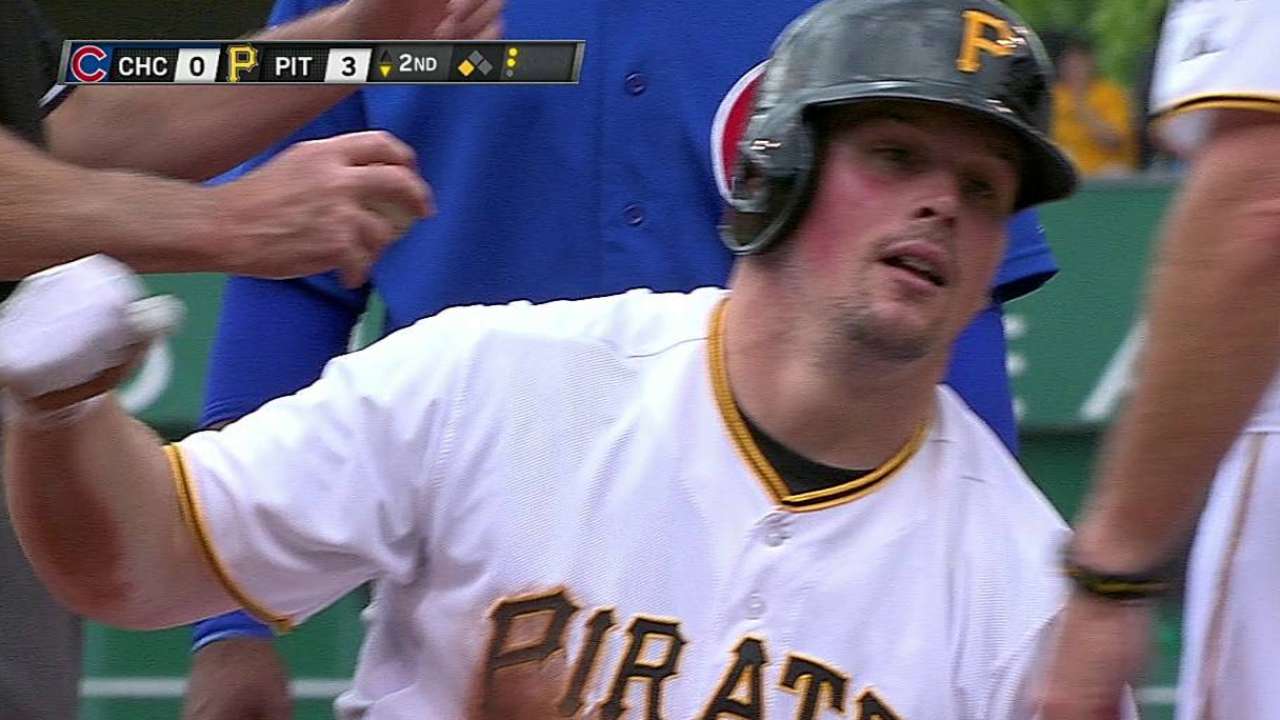 PITTSBURGH --- The Pirates' bats couldn't find their rhythm after a nearly two-hour standstill Thursday afternoon, but that didn't matter. The pitching and defense picked up where it left off on a soggy diamond at PNC Park.
The Pirates beat the Cubs, 4-2, to complete a three-game sweep of Chicago after a 1-hour, 47-minute rain delay, which began with two outs in the top of the fourth. Starling Marte went 2-for-3 with two runs scored, Andrew McCutchen had three hits, two stolen bases and two RBIs and Travis Snider had an RBI triple.
But it was a few key defensive plays that stymied the Cubs' offense -- most notably a diving stop by third baseman Pedro Alvarez in the fourth and a sliding catch by McCutchen in the seventh, both with two on and two out.
"That's what we're doing as good as we've ever done. We're engaged every pitch," Pirates manager Clint Hurdle said. "And that sounds easy, but it can be challenging up here. I'm proud of the way our guys have bought into that as a team."
Pirates starter Jeanmar Gomez threw 56 pitches in 3 2/3 innings, giving up one run on three hits before the delay forced him from the game. Hurdle said an hour is too long for a pitcher to sit during a delay, so he turned to the bullpen.
Vin Mazzaro threw 2 1/3 scoreless innings following the break, allowing only two hits. Alvarez made a diving stop on a hard hit grounder with two outs, and also threw out Welington Castillo with runners on first and third to limit the damage in the fourth after play resumed almost two hours later.
Hurdle said the importance of being ready every pitch -- not practicing swings or stances for fun in the field -- can't be understated. And his players have done a great job of separating their at-bats from their defensive duties.
"[Alvarez] doesn't make that play, where does that inning go?" Hurdle said. "There's so much value [in defense]. So much team value in being ready every pitch."
The Cubs also yanked starter Edwin Jackson following the delay. He wasn't as fortunate as Gomez, however, as he allowed four runs on six hits and a walk with six strikeouts in three innings.
The Pirates got all the offense they needed in the game's first two innings. In the first, McCutchen drove in Marte, who had stolen second, then Michael McKenry lined a single to left to score McCutchen.
"I think today I got beat with men on base and balls up in the zone," Jackson said. "In vital situations when I needed to keep the ball down, I wasn't doing that."
In the second, Marte singled with two outs, then Travis Snider tripled to score him. McCutchen lined another ball to left to bring Snider home and put the Pirates up 4-0.
The Cubs chipped into the Pirates' lead in the fourth, as David DeJesus doubled to lead off the inning, and scored on Anthony Rizzo's groundout. But Alvarez's snag after the delay held them to just one run.
In the sixth, the Pirates defense came up big again. Starlin Castro drove a ball into the right-field corner to lead off the inning, but Snider cut it off and delivered a strike to second base to nail the speedy Cubs' shortstop.
And after the Cubs tacked on a run in the seventh on pinch-hitter Ryan Sweeney's single, McCutchen made a sliding catch on a sinking popup to end the inning with runners on first and third.
Gomez said the Pirates' recent defensive play "gives the whole pitching staff confidence."
"[Defense] plays a big role in our success. We take a lot of pride in it," first baseman Garrett Jones said. "With our pitching the way it is, we want to play good D behind them."
Jason Grilli pitched a scoreless ninth for his 19th save.
Hurdle has been more than pleased with his defense and pitching of late. His team is now 11 games above .500 (29-18) and finished its 10-game homestand against the Brewers, Astros and Cubs with eight wins. Pittsburgh has won 11 of its last 13 and is 14-6 this month.
"You'll take 8-2 every time you go no matter who you're playing. And that's the fun part of the game," Hurdle said. "There are certain people you're supposed to beat, but the game doesn't know that. So you've got to go out and meet the demands of the game."
Steven Petrella is an associate reporter for MLB.com. This story was not subject to the approval of Major League Baseball or its clubs.