Jackson roughed up early, Cubs fall to Pirates
Righty allows four runs before rain delay; Chicago loses fourth straight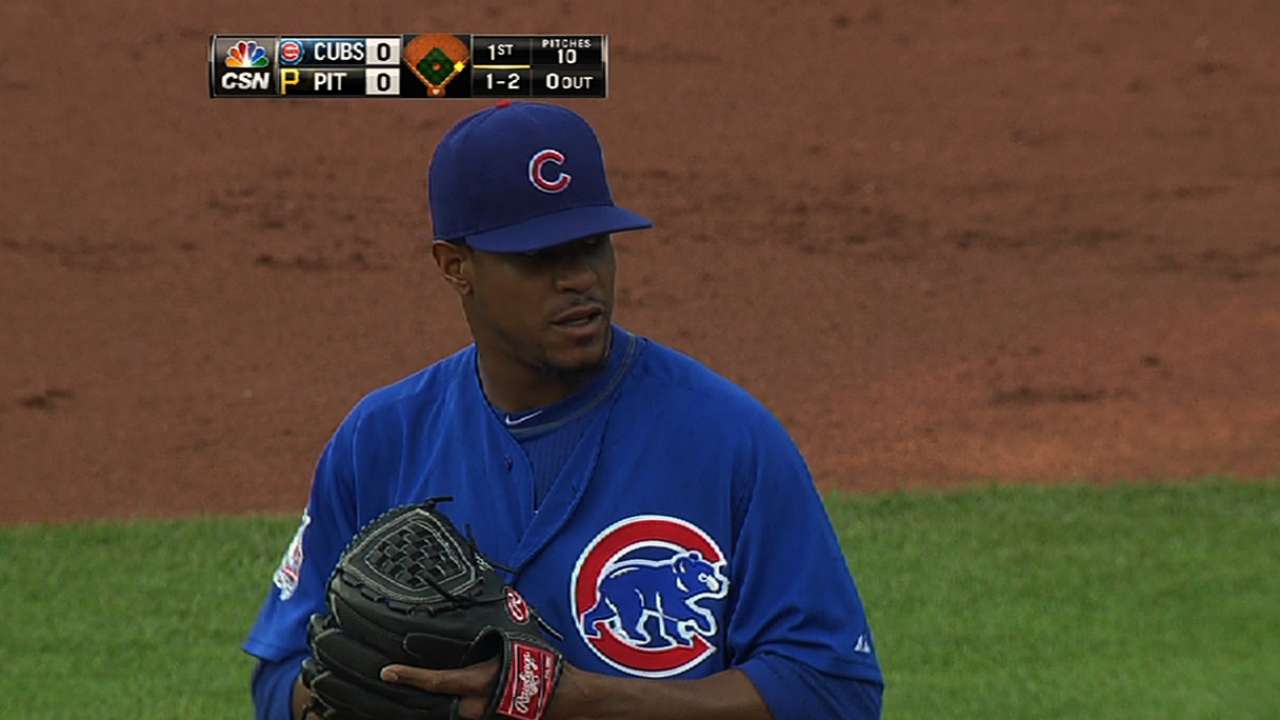 PITTSBURGH -- Edwin Jackson needed the rain to come a little earlier on Thursday.
Jackson was limited to three innings before nature intervened and delayed the Cubs' game against the Pirates nearly two hours. Pittsburgh had scored all it needed by then as Andrew McCutchen hit a pair of RBI singles to lead the Pirates to a 4-2 victory over Chicago at PNC Park.
With the win, the Pirates completed the sweep and improved to 14-6 in May. The Cubs, on the other hand, have lost five of their last six, including the last four.
Jackson got off to a rough start, but the offense, as it was all series, was missing. Anthony Rizzo and Alfonso Soriano were a combined 3-for-25 with one RBI, and that came on Rizzo's groundout in the fourth inning on Thursday.
"It was a tough series," Starlin Castro said. "Everybody tried to do their job, but it was tough."
Jackson, who signed a four-year, $52 million deal in the offseason, was coming off a quality start against the Mets. He gave up six hits and a walk and struck out six on Thursday.
"You're seeing a little different fastball command and a little different conviction on the mound," Cubs manager Dale Sveum said before the game about the right-hander, whose only win was May 11 over the Nationals.
"Hopefully, some of that is getting comfortable in a new clubhouse and understanding the pressures of what goes on with contracts like that," Sveum said. "You have to deal with some of that sometimes. Hopefully, he's kind of calmed down and understood he needs to be Edwin Jackson and nobody else."
But the Pirates got to Jackson quickly. Starling Marte led off with an infield single that Castro knocked down, then stole second and scored on McCutchen's single. McCutchen swiped second as Garrett Jones struck out, and Neil Walker walked to set up Michael McKenry's RBI single.
With two outs in the second, Marte reached on another infield single that deflected off Jackson, then scored on Travis Snider's triple. McCutchen made it 4-0 with an RBI single.
"He obviously wasn't real sharp," Sveum said. "He didn't come out with a whole lot of velocity at the beginning either. McCutchen took advantage of a hanging slider and another fastball as well. There wasn't a whole lot of life coming out of that arm today."
Jackson did look better in the third, when he retired the side in order, striking out two of the three he faced.
"It seems to be just not coming out with a lot of conviction early in the game," Sveum said. "Those are questions and answers, you wish you knew what happened in those situations and why the same guy doesn't come out all the time."
What happened?
"I think today I got beat with men on base and balls up in the zone," Jackson said. "In vital situations when I needed to keep the ball down, I wasn't doing that. Before [the rain], most of the balls I got hurt on were up in the zone. I have to do a better job of keeping the ball down."
He warmed up fine. The Pirates took advantage of his mistakes.
"Leaving it up in the zone is just not finishing through," Jackson said. "There were a couple times I jumped out and rushed a little bit. By the third inning, I was able to make the adjustment. I just have to do a better job of finding that earlier in the game."
David DeJesus doubled to open the Cubs fourth against Jeanmar Gomez, then moved up on Castro's single and scored when Rizzo hit into a fielder's choice. One out later, Nate Schierholtz was safe on a fielding error by Jones, and then the rain halted play for 1 hour, 47 minutes. Pinch-hitter Ryan Sweeney added a two-out, RBI single in the Chicago seventh.
The Cubs are used to close games, as they've now had 40 of their 46 games decided by four runs or fewer. Jason Grilli picked up his second save of the series with a perfect ninth.
"You get tired of seeing all the closers we see," Sveum said.
Castro survived an awkward slide into second base in the sixth when he tried to stretch a single into a double. He appeared to twist his ankle, but stayed in the game.
"It's still a little sore but everything is all right," Castro said.
The Cubs can't quite say the same. The Pirates finished their homestand with an 8-2 record.
"There are certain people you're supposed to beat, but the game doesn't know that," Pirates manager Clint Hurdle said, "so you've got to go out and meet the demands of the game. You face [Matt] Garza, [Jeff] Samardzija, Edwin Jackson, those aren't days off. They're a professional team over there and we were able to win eight of the 10."
Is Jackson aware of how different things have gone for the Cubs and Pirates since they first met in the season opening series the first week of April?
"I honestly couldn't even tell you the standings," Jackson said. "I have no clue. ... I'm just concerned about our team."
Carrie Muskat is a reporter for MLB.com. She writes a blog, Muskat Ramblings, and you can follow her on Twitter @CarrieMuskat. This story was not subject to the approval of Major League Baseball or its clubs.