In case of emergency: Third catcher role needed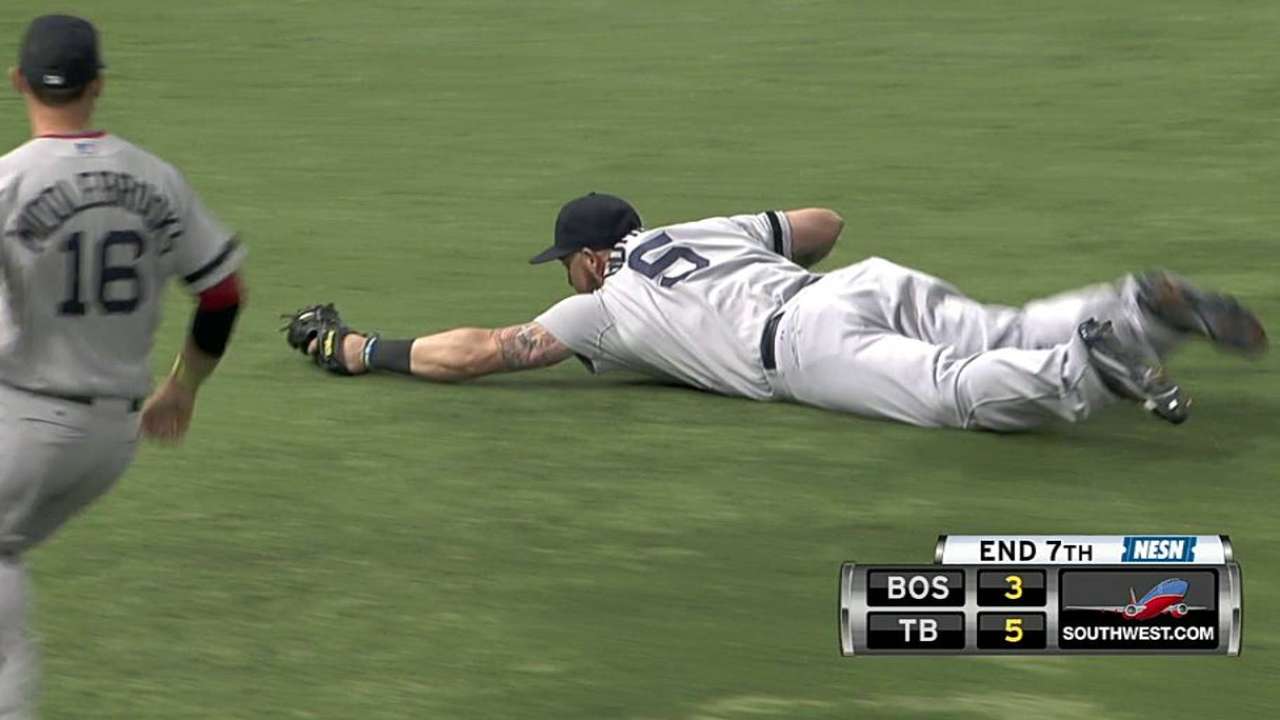 Jonny Gomes has always wanted to be a catcher. And the Red Sox outfielder was, for much of his baseball life, before beginning his professional career in 2001 with the then-Devil Rays.
Here's the thing, though; Gomes still kind of is a catcher -- at least he would be in the case of an emergency.
Gomes is Boston's emergency third catcher, a minor designation that rarely matters but could prove important at any time.
Should the Red Sox lose starting catcher Jarrod Saltalamacchia and backup Ryan Lavarnway -- or, when he returns, David Ross -- in the same game, Gomes would be the guy tossing on the mask and leading the defense from behind the plate.
But for as much as he loves and misses catching -- which he did from tee ball until junior college -- Gomes knows that likely wouldn't be a great scenario.
"I think as far as putting the glove out, getting in a squat, it might be like riding a bike," Gomes said. "But these guys are throwing 92 [mph] with sink on it. I mean, it's crazy what these guys are doing. It's hard enough to hit, of course, but catching it isn't much easier.
"I think the main thing with a third catcher is will you and can you do it? I will. Can I? I hope."
Gomes' happiness when discussing his position as the Red Sox's emergency catcher isn't shared throughout baseball. In fact, the Cubs have no designated third catcher, because no one shares Gomes' passion in that regard.
"I've asked around and nobody wants that title," Cubs manager Dale Sveum. "You always ask that question somewhere along the line, and nobody wants to step up. I can't blame them."
The need for a third catcher rarely arises, and most players put little to no thought into it. While Gomes said he has caught a very small amount of bullpen sessions in the past, White Sox emergency catcher Connor Gillaspie said he hasn't even thought about it since Spring Training.
White Sox manager Robin Ventura said the emergency catcher is usually the club's backup infielder or the third baseman, because people "just presume that's the guy who can do it."
That's the case in Los Angeles, where infielder Luis Cruz is the Dodgers' emergency option, and in Tampa Bay, where the Rays have two infielders -- Sean Rodriguez and Ryan Roberts -- who could catch if needed.
Royals second baseman and emergency catcher Chris Getz could have been put behind the plate in a game last week if backup George Kottaras had gotten hurt with starter Salvador Perez already on the bench with an injury. But had Getz been needed behind the plate, there would have been a slight issue.
"I'm not sure how to put on the catching gear," Getz said.
In Seattle, it's outfielder Raul Ibanez -- who actually caught a game in 1999 during his first stint with the Mariners -- though he doesn't officially know it.
"I haven't proclaimed anybody yet, but Raul is probably the first guy that comes to mind," Mariners manager Eric Wedge said. "We've joked about it here from time to time. That's probably where we're at."
And then there's this oddity; Milwaukee's emergency third catcher is outfielder Logan Schaffer -- a left-handed thrower.
"I'm making a call to have my left-handed catcher's glove sent out," manager Ron Roenicke joked in Spring Training.
Ventura, a six-time Gold Glove Award winner in his career, said he was "almost" called into duty.
"If that's what had happened, you're going to go do it," said Ventura, adding that he hadn't caught since Little League. "I think I was in the bullpen. You get like a little tutorial as fast as you can."
Then, if needed, it's into action, which is where it would get a bit hairy. And for as much as Gomes loves and misses catching, he does have one fear.
"My main thing, I feel confident that I could do it," Gomes said. "But I take so much passion in what I do, it would just crush me if I missed a ball and it went to the backstop and a run scored, and that was an earned run for the pitcher. I mean, it would just crush me."
Situations like that have happened before, only the outcome was far worse than a single earned run.
Rays manager Joe Maddon last month recalled a time when an emergency catcher lost a team the game. It was June 7, 1998, when Maddon was on the Angels' coaching staff. The Rockies were in Anaheim and Colorado catcher Jeff Reed left the game after suffering a gash on his cheek during a home-plate collision with Dave Hollins. Left without a backup catcher, Rockies manager Don Baylor turned to infielder Neifi Perez, who had not caught since Little League.
The Angels ended up scoring the game's decisive run on a wild pitch in a 6-5 win.
"It's a horrible, uncomfortable moment," Maddon said. "But again, the alternative is to just go ahead and lose the game. And you never know if you get to that moment, you have to make selfish choices. You never know."
Which is why Getz should learn how to strap on shin guards. Roenicke might actually need that left-handed mitt for Schaffer. And Gomes just might someday be a big league catcher.
Cash Kruth is a reporter for MLB.com. Follow him on Twitter at @cashkruth. This story was not subject to the approval of Major League Baseball or its clubs.