Astros take series behind Lyles' solid outing
Right-hander latest Houston starter to deliver sharp, lengthy outing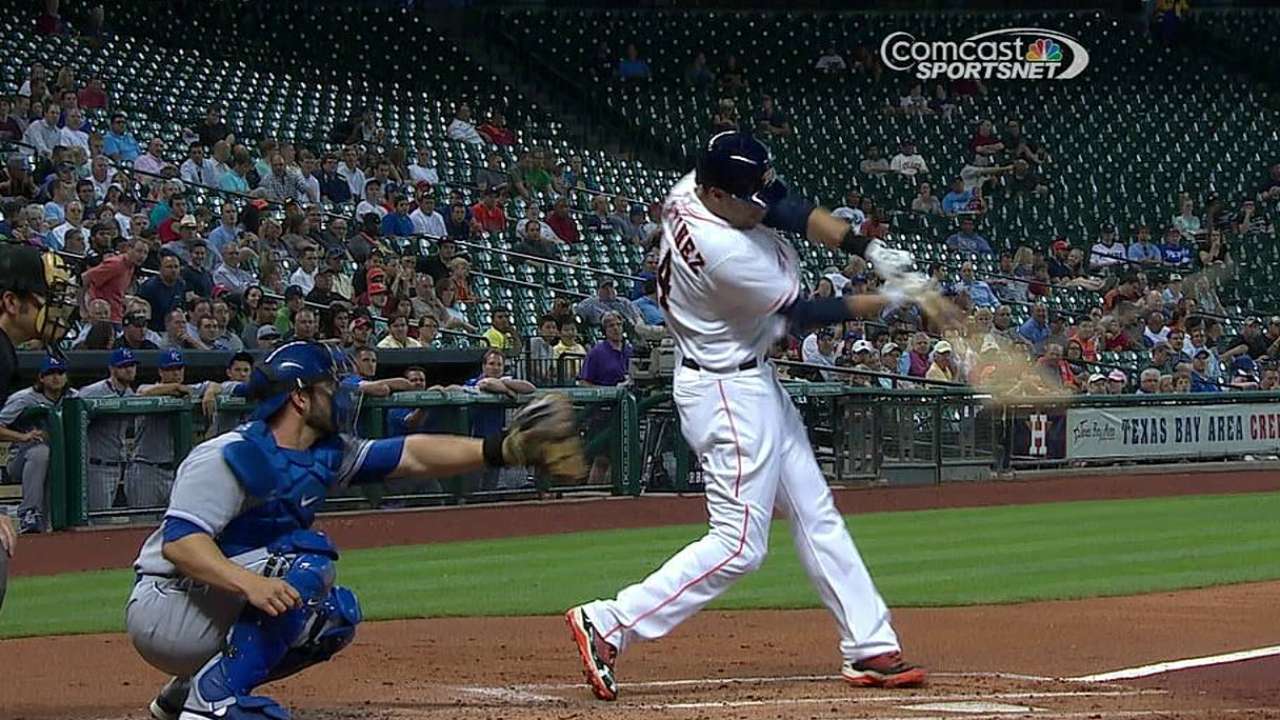 HOUSTON -- The Astros' pitching rotation has definitely made some strides from where it was about a month ago, when nearly everybody struggled to get past the fourth or fifth inning and the bullpen was tasked with a heavy workload as a result.
Bud Norris and Lucas Harrell pitched like top-of-the-rotation starters in their latest outings, while lefties Dallas Keuchel and Erik Bedard are coming off their longest starts of the season. Jordan Lyles certainly didn't want to spoil the fun.
Lyles threw a season-high six innings and held the Royals to one run and six hits, and J.D. Martinez provided all the offense the Astros would require with a two-run homer in the first inning to send Houston to a 3-1 win Wednesday night at Minute Maid Park.
"I really wanted to go six or seven just to help our bullpen out a little bit, and I got six," Lyles said. "I had a couple of innings where I got two quick outs and turned it into 10 or 15 more pitches, which is not ideal, but it goes back to last year and some of the situations I wouldn't have come away with giving up one run. They would have come in bunches."
Astros starting pitchers have posted a 2.21 ERA in the team's past six games, during which they've gone 3-3. The series win over the Royals was the Astros' fourth of the season and first against a team outside the American League West.
"The bullpen had been taxed for a while, but the starters have definitely hit their groove and Lyles was no different tonight," Astros manager Bo Porter said.
The Astros' bullpen, which coughed up a 3-0 lead after Norris threw six scoreless innings Tuesday, followed Lyles (2-1) with three scoreless, hitless innings by Travis Blackley, Hector Ambriz and Jose Veras, who got his eighth save.
"It's a long season and you're going to have good days and bad days and you have to let that go," said Blackley, who gave up two runs in two-thirds of an inning Tuesday. "You can't be keeping it in the back of your mind for the next game. I came to the field today with a clean slate and worked from there."
Lyles spotted his fastball well to both sides of the plate, which was the key. He's clearly made strides from last season, when he would routinely scuffle in the fifth inning after the lineup turned over. Porter wasn't going to push him too much Wednesday considering he was at a season-high 101 pitches.
"Today, when I sent him back out for the sixth, I told him, 'Nobody is coming to get you. This one's yours. You're going to finish it,'" Porter said. "He did a great job of getting us through that inning and getting us to the bullpen exactly where we wanted. This was another positive start to build on."
The gut-check inning for Lyles cam in the third, when he gave up a triple to Jeff Francoeur and a double to George Kottaras to start the inning and then walked Alex Gordon with two outs. He battled Billy Butler for 11 pitches before striking him out swinging.
"It felt like 33," Lyles said. "He fouled off so many. The ball, the one he swung over, I tried to throw it in the dirt. If I had to walk him, I was going to walk him because I wasn't going stay out there and keep firing pitches."
Catcher Jason Castro (3-for-4) and Martinez (2-for-4) combined to go 5-for-8 in the third and fourth hole in the order with all three RBIs and two runs scored. Castro also contributed mightily on defense, calling a solid game for Lyles while throwing out a pair of runners on the bases.
He gunned down Lorenzo Cain on a stolen-base attempt at second base in the sixth, and after Blackley issued a leadoff walk to Chris Getz in the eighth, he blocked a pitch in the dirt and threw behind a straying Getz at first base for what turned out to be a key out at second base.
"We knew if he had an opportunity to go, he was going to do," Castro said. "I blocked the ball and it kind of stuck with me, and I looked up because I knew he was trying to be aggressive, and luckily we caught him."
Martinez is hitting .345 (10-for-29) with four doubles, three homers and seven RBIs in his last nine games, and he has taken advantage of Porter's announcement he would be the everyday starter in left.
"I'm feeling good," he said. "I feel like I've been hitting the ball hard, not just today but the last couple of series. I feel like I'm going up there with my plan and approach and I'm not changing it within my at-bat and constantly changing plans like I feel like I have in the past."
Brian McTaggart is a reporter for MLB.com and writes an MLBlog, Tag's Lines. Follow @brianmctaggart on Twitter. This story was not subject to the approval of Major League Baseball or its clubs.