Wilson sharp as Angels' offensive surge continues
Lefty fans 10 in eight innings; Halos notch fourth straight win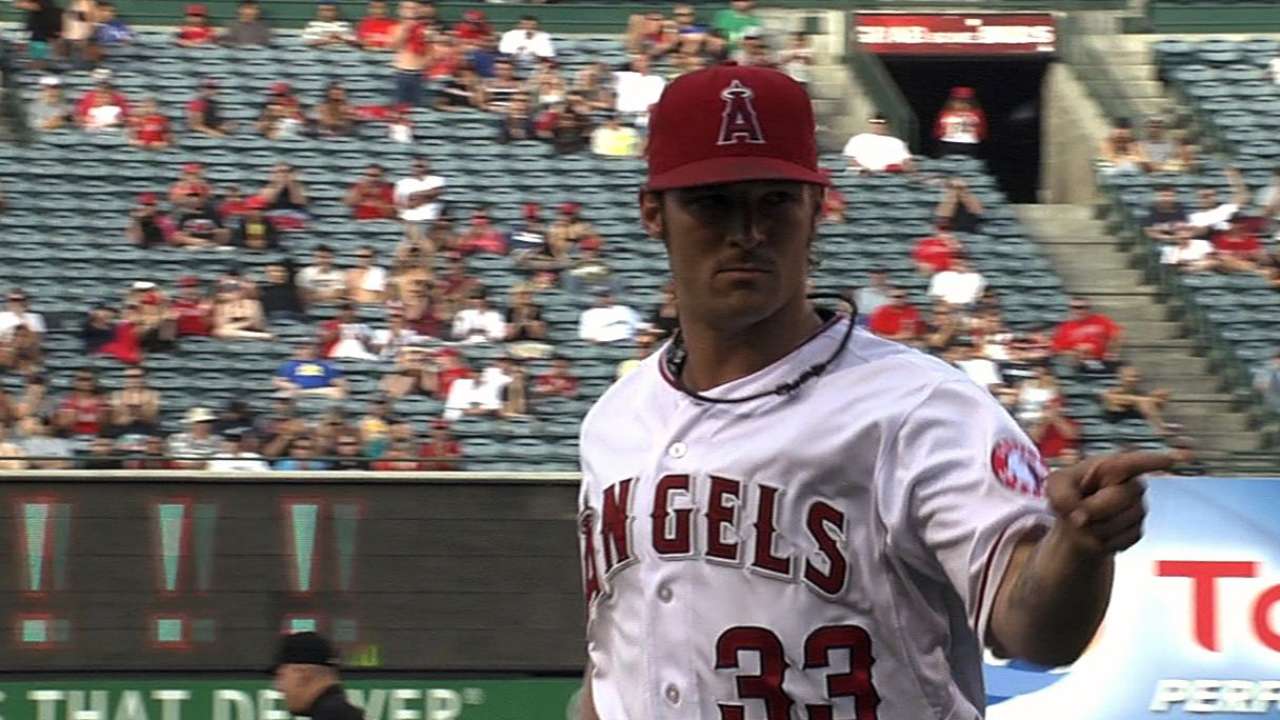 ANAHEIM -- For the fourth consecutive game, the Angels put on an offensive showcase as they defeated the Mariners, 7-1, on Wednesday at Angel Stadium.
The Angels outscored opponents 37-12 as they extended their longest winning streak of the season by winning the final four matchups of a nine-game homestand.
"I think we're seeing much better at-bats from our team as a group," Angels manager Mike Scioscia said. "Guys that are supposed to get on base are getting on base. Guys that are working counts are working counts, guys that are supposed to drive the ball are driving the ball. We're seeing much better team chemistry right now."
On Tuesday night, the Angels tied a season high with 12 runs in a shutout of the Mariners. On Wednesday, it was more of the same, as the team scored seven runs and collected 11 hits in the first three innings while C.J. Wilson kept the Mariners' bats in check, allowing one run in eight innings.
Wilson picked up his first win since May 1 and his 13th against Seattle since 2006. The left-hander had everything working on Wednesday, limiting the Mariners to just six hits while striking out 10.
"I think the early runs helped him a lot," Scioscia said. "He had to make some pitches. I think with the lead, you want to see a guy pound the zone -- and he did. It was a really strong game for C.J."
The Angels scored five in the first as the offense feasted on Mariners pitching for the entire -- albeit brief -- two-game series against Seattle. This time it was rookie Brandon Maurer -- who went to Orange Lutheran High School and lives in Costa Mesa -- who found himself on the wrong end of the Angels' outburst. He allowed seven runs in just three innings.
"We're not a fun team to face because we're aggressive and we're talented," Wilson said. "Guys can run, go first to third, all that stuff, so it's exciting. We score a lot of runs because we single then take an extra base, not necessarily home run, home run, home run."
Pitching in Angel Stadium for the first time as a Major Leaguer, Maurer was unable to post a scoreless inning. The right-hander had allowed only 14 earned runs in his previous 34 innings.
"To be honest, I felt pretty good," Maurer said. "They just hit the ball. Their lineup is stacked from bottom to top. You just have to give them credit."
After Angels shortstop Erick Aybar walked and was caught stealing to lead off the game, Mike Trout, Albert Pujols, Mark Trumbo and Josh Hamilton hit consecutive singles, giving the Angels a quick 2-0 lead.
Alberto Callaspo added a two-RBI double, Hank Conger had an RBI single and all of a sudden Wilson had a 5-0 lead to work with.
"Our offense is really starting to click and it makes your job as a pitcher much easier," Wilson said. "I was going out there just basically trying to throw first-pitch strikes and Seattle was attacking a lot of first pitches, putting them in play."
Trout scratched across another run for the Angels in the second as he tripled -- his sixth consecutive hit after collecting a cycle a night earlier -- off the right-center field wall and scored on Pujols' single.
In the third, Aybar's single -- his third hit in his past five at-bats after a 4-for-24 slump -- brought home Callaspo for the Angels' seventh run of the afternoon.
Not only are the Angels generating a lot of offense lately, but they are getting hits at the right time, hitting .571 with runners in scoring position in the past two games.
"I think we're getting a little bit of offensive chemistry," Scioscia said. "It's good to see some guys feel a little more comfortable in the batter's box. I think our lineup gets deep in a hurry when you have guys that are swinging the bats one through nine and that's what you're seeing right now."
William Boor is an associate reporter for MLB.com. This story was not subject to the approval of Major League Baseball or its clubs.