Maurer struggles vs. Angels in homecoming
Mariners hold team meeting after closing dismal road trip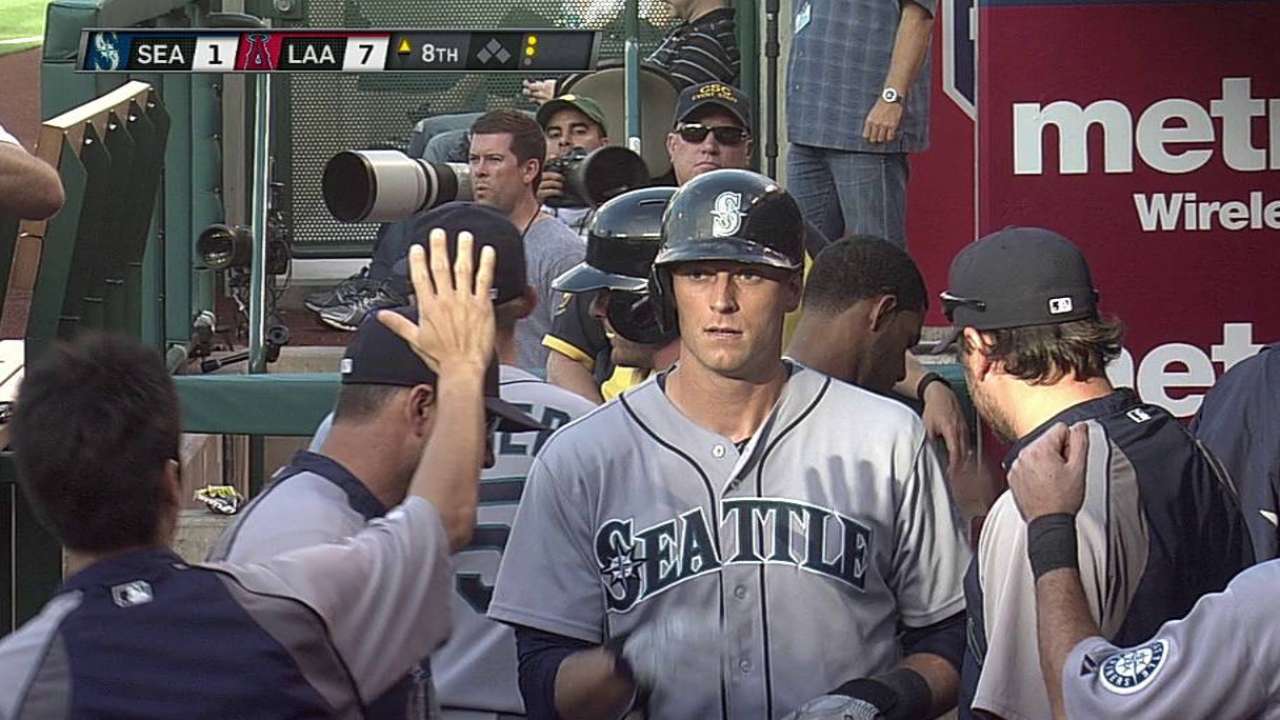 ANAHEIM -- Brandon Maurer's Southern California homecoming took a bad turn Wednesday as the Angels jumped on the 22-year-old rookie for seven runs in the first three innings en route to a 7-1 victory.
The Halos swept the quick two-game series in impressive fashion, outscoring Seattle 19-1 as the Mariners losing streak reached a season-high six games.
The Mariners' veterans called a players-only meeting afterward and emerged with a conviction that they're a much better team than the one that put up little resistance against the Angels.
"This is a whole different brand of baseball," said shortstop Brendan Ryan. "This is not the baseball we wanted to come in here and play. The losses in Cleveland were tough, but the hunger and drive was there. This was not good. We got behind and that determination if they score 15, we score 16, just didn't seem to be there.
"I don't know if it's because we were feeling bad for ourselves or what, but it's a good time for an off-day," Ryan said. "We'll regroup and I think we'll play the brand of baseball we want to play from Friday on out. This is a little discouraging, but we'll turn the page."
Starting pitching has become a problem as Aaron Harang and Maurer got pounded the past two games and the Mariners have allowed 46 runs in the six straight losses, an average of 7.7 a game.
Although the Mariners' one-two punch of Felix Hernandez and Hisashi Iwakuma has gone 10-4 with a 2.21 ERA, the rest of the rotation has staggered through the first seven weeks of the season. The four other starters used so far -- Harang, Maurer, Joe Saunders and Blake Beavan -- have combined to go 6-16 with a 6.85 ERA.
Maurer saw his own ERA jump to 6.80 as he fell to 2-6 in nine starts since making the leap from Double-A into the Mariners' rotation this spring.
"To be honest, I felt pretty good," Maurer said. "They just hit the ball. Their lineup is stacked from bottom to top. You just have to give them credit."
The native of nearby Costa Mesa, Calif., surrendered five runs on six hits in the first inning and the Angels pushed across single runs in the next two frames as well before manager Eric Wedge went to his bullpen in the fourth.
Maurer finished with season highs of 11 hits and seven runs allowed while throwing 74 pitches in his abbreviated outing.
Wedge continues to say Maurer has "good big league stuff across the board" but is going through some tough growing pains.
"It was a tough day for Maurer," Wedge said. "He just wasn't able to get the ball down consistently and made a lot of mistakes in the middle and up in the zone. He competed. He battled. This is a tough kid, but he just made too many mistakes."
Angels center fielder Mike Trout, who is a year younger than Maurer at 21, had a single and triple in the first two innings a night after hitting for the cycle. His string of six straight hits ended with a third-inning strikeout that ended Maurer's night. Trout wound up 2-for-4.
Charlie Furbush replaced Maurer and threw three perfect frames with three strikeouts, becoming the first Seattle reliever to throw three perfect innings since David Pauley on April 10, 2011, against the Indians.
"It was just good to get back out there and make some pitches and do the best I could, given the situation I was in," said Furbush, pitching for the first time since giving up a three-run homer in the 10th inning of Monday's loss in Cleveland. "I knew I was going to have to eat up a couple innings and just tried to work as quick as possible and get in and out of there."
Furbush was followed by Yoervis Medina and Tom Wilhelmsen as the three relievers held the Halos to a single hit and no runs over the final five frames. But by that time, the damage had been done.
Starting pitching wasn't the only problem, however. For the second straight game, Seattle's offense was shut down, this time by southpaw C.J. Wilson. The Mariners didn't cross the plate until the eighth when they ended their 16 2/3-inning scoreless streak on an RBI grounder by Michael Saunders.
"Our offense is really starting to click and it makes your job as a pitcher much easier," Wilson said after improving to 4-3 with a 3.39 ERA. "I was going out there just basically trying to throw first-pitch strikes and Seattle was attacking a lot of first pitches, putting them in play and it wasn't until the eighth inning that they were getting hits on them."
First baseman Kendrys Morales had three of the Mariners' seven hits as the former Angel raised his batting average to .281. Ryan went 2-for-3 with a double and a walk.
The Angels improved to 19-27 with their fourth straight win and now sit just a half-game back of the third-place Mariners, who have dropped to 20-27.
But Wedge and his players are reminding themselves they'd pulled into second place in the American League West while winning two of three in New York prior to this skid and just need to regroup and regain that stride after this tough trip.
"The last two-three weeks, we've been playing good ball, the way we're capable of," Ryan said. "We look around the league and feel we can compete with any team. These last two games, we're not going to compete with anybody. We'll hit the reset button, but every guy has to be accountable and do their job, including me. Offensively, defensively, we've got to make plays. We just have to play."
Greg Johns is a reporter for MLB.com. Follow him on Twitter @GregJohnsMLB as well as his Mariners Musings blog. This story was not subject to the approval of Major League Baseball or its clubs.