Samardzija stellar, but bats silent vs. Pirates
After beating Bucs on Opening Day, Cubs starter lacks run support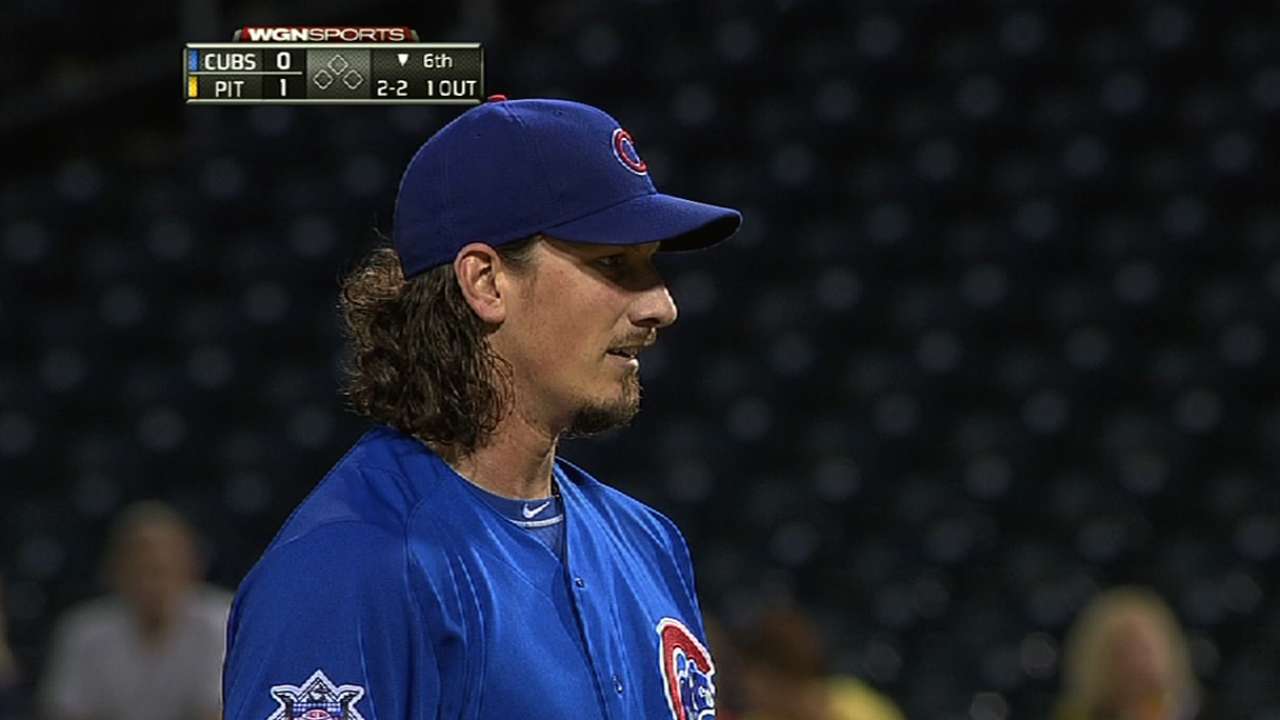 PITTSBURGH -- On Opening Day, Jeff Samardzija held the Pirates to two hits over eight scoreless innings and picked up the win. Pittsburgh got that many hits in the first inning alone Wednesday, and they were just enough.
Garrett Jones smacked an RBI single in the first to back Francisco Liriano, who struck out nine over seven innings, and lift the Pirates to a 1-0 victory over the Cubs.
It was another wasted quality start by a Cubs starter. Chicago pitchers have posted 28 quality starts -- three runs or fewer over six innings -- and have a 1.98 ERA in those games. They have won just 11 of the 28. Only four National League teams have more quality starts than the Cubs: the Phillies, the Cardinals, the Diamondbacks and the Nationals.
"[Samardzija] was as good as you can be," manager Dale Sveum said. "Once again, we seem to waste these starting outings. It's just unbelievable how these kind of things happen, to have this kind of starting pitching and just can't score any runs."
How frustrating is it?
"You take it with a grain of salt," Samardzija said. "You're going out to do your job, regardless of what the outcome is. Every fifth day, you're going to get a start and know what to expect. You can only control what you can control. You want to go out and keep doing what you're doing, and if it's going well, keep going, and if not, make a couple adjustments to get back to where you need to be. It's just the way this game goes sometimes. You can get a win and give up five runs sometimes."
The Cubs dropped to 6-12 in one-run games, and this was the 39th out of 45 contests to be decided by four runs or fewer. Close losses like these often result in sleepless nights.
"Everyone's doing what they can to win these games, and we're right there," Samardzija said. "It's just a play here, play there, a hit here, a hit there and the game changes. Everyone's trying to do their job. You've got to find it somewhere."
Samardzija was the winning pitcher April 1 at PNC Park in the Cubs' 3-1 victory but took the loss Wednesday. It was his first defeat in 15 career games (four starts) against the Pirates and first loss in nine games (four starts) in Pittsburgh. The right-hander did strike out eight and scattered three hits over seven innings.
"That's just electric stuff," Pirates manager Clint Hurdle said of Samardzija. "He's definitely been hard on us and to score early in the first and to only have two opportunities the rest of the game ... and for them, the third inning, with the bases loaded, was the difference."
The third inning summed up the Cubs' season. They have struggled with runners in scoring position before, and they failed again in the third. Chicago loaded the bases with none out, but Julio Borbon hit into a fielder's choice, forcing the runner at home, then Starlin Castro struck out, and Anthony Rizzo flied out to right.
"It's the same song and dance -- we get people on and can't get them in," Sveum said.
Borbon, Castro and Rizzo were all ahead in the count in their at-bats, too.
"We let the at-bat get away from us," Sveum said.
"That's the whole key, is not try to do too much and locate your pitches," Liriano said.
Maybe if Samardzija had come through at the plate that inning, it would have been different. The Cubs' starting pitchers have combined for 13 RBIs in May.
"Unfortunately, that's our problem -- we're relying on our pitchers to drive runs in," Sveum said.
The Pirates got all they needed in the first when Andrew McCutchen doubled with two outs and scored on Jones' single. Liriano shifted into cruise control.
"He wasn't going to give in," Chicago's Darwin Barney said of the Pirates lefty. "I don't think he had his best slider today, but his changeup was really good. We kind of relied on that a little bit, and he just kept us off balance, and we couldn't get anything going. He looked really good today. He definitely had his stuff."
Pirates third baseman Pedro Alvarez also made two outstanding defensive plays on Castro in the sixth and Scott Hairston in the seventh.
"Pedro had something to do with it, too," Barney said. "You've just got to tip your cap sometimes."
Chicago had runners at first and second with one out in the ninth against Mark Melancon, but he got pinch-hitter Ryan Sweeney and Barney to line out. The Cubs entered the game batting .218 with runners in scoring position, worst in the National League, and went 0-for-6 for the game.
"We just can't seem to do anything against a left-handed starter," Sveum said.
The good news is, they will face a right-hander, Jeanmar Gomez, on Thursday.
Carrie Muskat is a reporter for MLB.com. She writes a blog, Muskat Ramblings, and you can follow her on Twitter @CarrieMuskat. This story was not subject to the approval of Major League Baseball or its clubs.