Smith drops rookie battle to Cards' Lyons
Padres righty allows four runs on five hits in one-plus innings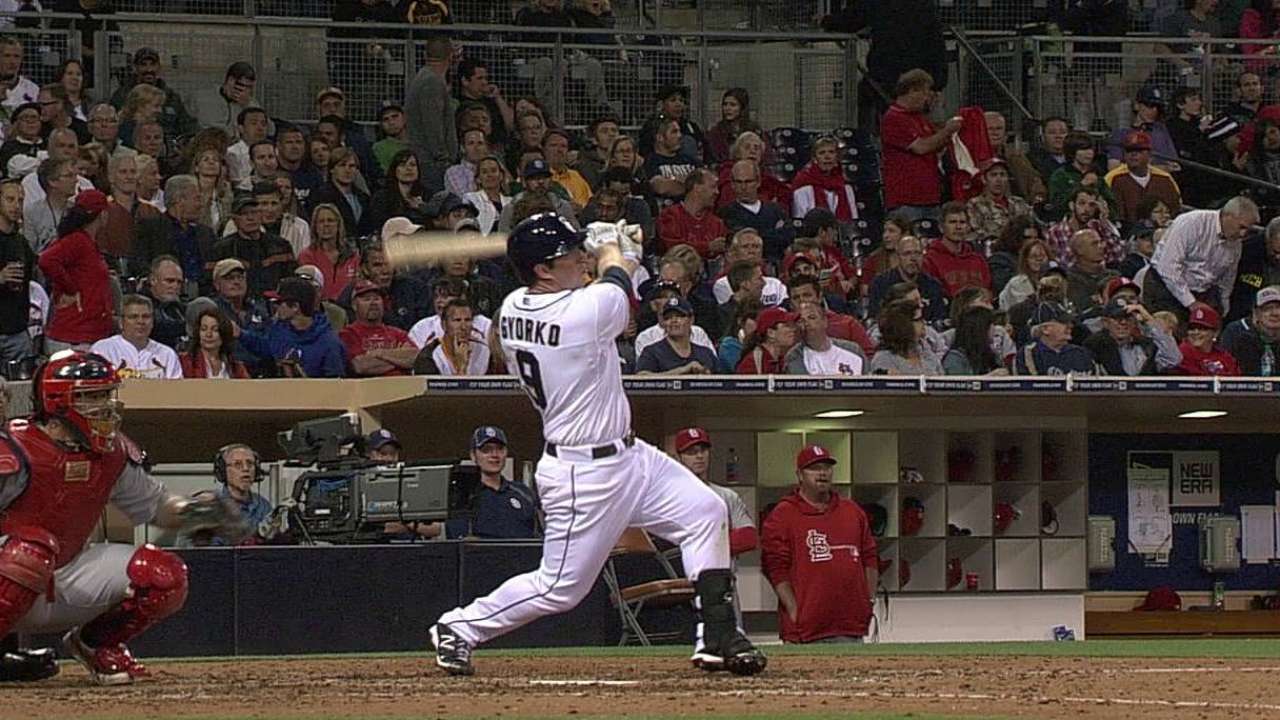 SAN DIEGO -- When Padres manager Bud Black came to the mound during the second inning on Wednesday night, he had a chat with his starting pitcher, Burch Smith, before taking him out of the game. Black said they talked a little bit about the present, but also about the future.
"In short, I told him, tonight was not the night that he needed to continue," Black said.
Smith left the game without recording an out in the second inning as the Cardinals defeated the Padres, 5-3, in front of 18,683 at Petco Park.
Black announced after the game that the team would option Smith to Triple-A Tucson with a corresponding roster move to come on Friday.
"Right now, I think it's time for him to go back and reassess what happened here, realize what he did in Double-A and continue to grow as a pitcher," Black said. "He took away from here what it means when you don't execute a pitch at the Major League level."
St. Louis tagged Smith for three runs in a 37-pitch first inning that saw nine batters come to the plate. He was charged with four runs on five hits, four of which came on two-strike counts. This was the second start in which he failed to record an out in the second inning (May 11 at Tampa Bay). He allowed 15 runs in 7 1/3 innings in three starts.
"Obviously not happy about it," Smith said about going back to the Minors. "But I feel like I could've performed better. I understand that it's a numbers game. So I'm going to go to Triple-A and continue to improve."
The Padres (21-25) have dropped their last two games to finish this seven-game homestand 3-4. They are in fourth place, however, only 4 1/2 games out of first. San Diego begins a three-game road series against Arizona, which is in a three way tie for first with Colorado and San Francisco, on Friday.
Smith was actually the more experienced pitcher compared to Cardinals' starter Tyler Lyons, who was making his Major League debut.
And Lyons (1-0) fit right in with the rest of the Cardinals' starting pitchers, who have the best ERA in the Majors. He flummoxed the Padres for seven innings, scattering four hits. Fifteen of the 21 outs he recorded didn't leave the infield thanks to an effective sinker.
The only run he allowed came on a homer in the seventh from his former teammate in the Arizona Fall League, Jedd Gyorko.
"He had some pretty good late downward movement," Gyorko said. "You hit your spots and have that kind of movement, you're going to be pretty successful."
Cardinals manager Mike Matheny thought his team's early run support was a huge boost for Lyons, who said his first career outing -- which included his first career hit -- was "everything he could ask for."
"It's always a better situation to go out with a little bit of a lead," Matheny said. "It creates a different atmosphere in the dugout, too. When guys are scoring right from the top, there's a buzz going on. They can't wait to see what this kid can do. And it helps him to have a better chance."
San Diego battled back in the ninth, when Alexi Amarista's two-out single drove in a pair of runs, but it was too little too late.
Tim Stauffer relieved Smith and preserved the Padres' bullpen, lasting 5 2/3 innings while allowing one run with seven strikeouts.
"Those five plus innings might help us in Arizona and Seattle," Black said. "It saved a number of guys in the bullpen."
Jamal Collier is an associate reporter for MLB.com. This story was not subject to the approval of Major League Baseball or its clubs.