Lyons stymies Padres in big league debut
Cards lefty allows one run on four hits in seven innings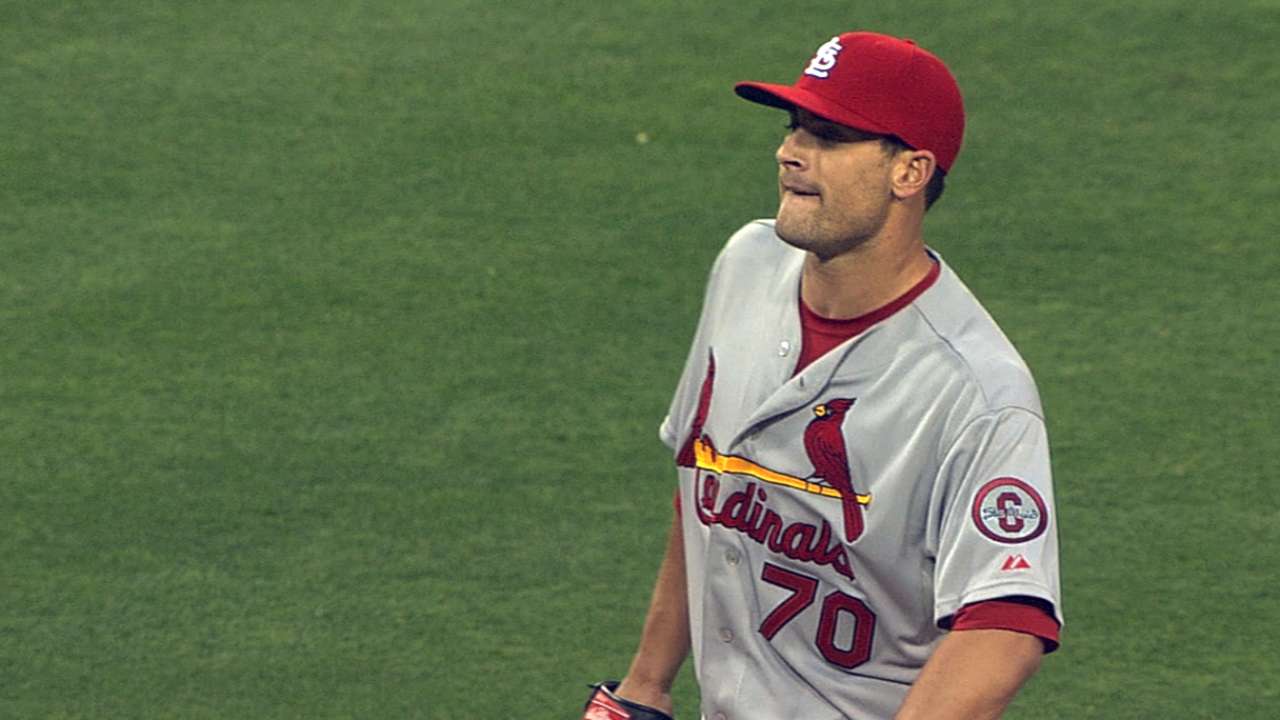 ST. LOUIS -- The Cardinals have been calling the kids by the week lately, needing one young pitcher after another to patch up holes on the Major League roster. They have not been mere placeholders, however, but rather capable contributors on a club that is now the National League's first to reach 30 wins.
Eleven of those victories have been posted by a rookie pitcher, the latest of whom, Tyler Lyons, turned in a Major League debut to remember on Wednesday. Summoned from Triple-A Memphis to fill in for the injured Jaime Garcia, Lyons delivered seven superb innings to lead the Cardinals to a 5-3 victory and series win over the Padres in front of 18,683 at Petco Park.
"It was everything I could have asked for," Lyons said.
Lyons departed Petco Park with a stash of mementos to document the night, not that he was likely to forget any of the details. He had a ball -- the one he laced to left for his first Major League hit in the sixth -- and the lineup card. He was also presented with a stack of unused game tickets to take home.
Lyons was as dominant as he had been in any of eight previous starts this year -- all of which came at the Triple-A level, where he compiled a 4.40 ERA and hadn't finished seven innings since his season debut.
Yet, against the Padres, Lyons breezed through seven innings on 81 pitches. Padres infielder and former Arizona Fall League teammate Jedd Gyorko foiled Lyons' shutout bid with a leadoff homer in the seventh, but that was about the only mistake Lyons made. He surrendered just three other hits -- all of which came with two outs -- after being hit at a .306 clip in the Minors this season.
Lyons became the first Cardinals starter since Greg Matthews in 1986 to win his debut while allowing no more than one run in at least seven innings.
"That was a great job when we really needed it," said manager Mike Matheny, who earlier in the day had addressed a season-ending injury to one starter (Garcia) and a setback for another (Jake Westbrook). "He went out there and didn't look like he was trying to do too much. He looked like the same pitcher we saw all Spring Training that impressed us."
Lyons is the third Cardinals rookie to earn a victory in his first big league start of the season, joining Shelby Miller and John Gast. Lyons and Gast (who made his debut on May 14) also become the first pair of rookie lefties to start games for the Cardinals in the same season since 1980.
Half of the pitchers on the Cardinals' 25-man roster are rookies.
"They make my job easy," Yadier Molina said. "It's amazing. They're ready. Down there, the Minor League staff is doing a good job because any time we see a young guy over here, they're doing well."
Molina makes their transition easier, too. His game-calling ability fused with the simple game plans delivered by pitching coach Derek Lilliquist have set up these young pitchers for success. The Cardinals now own 23 percent of the NL's rookie wins this season.
"I was talking to [fellow rookie] Seth [Maness] about it in the bullpen today," Trevor Rosenthal said. "It's pretty cool to think about how many guys are getting opportunities. It's fun to watch them come up and do well. It's been impressive."
San Diego took an aggressive approach against Lyons, which seemingly played into the left-hander's success. Twelve of the 26 batters he faced put the ball into play in two or fewer pitches. He recorded 11 groundouts.
Lyons' sinker and slider were so effective that he hardly needed to showcase his curveball -- a pitch that some within the organization actually consider his best offspeed offering.
"He had some pretty good late downward movement," Gyorko said. "You hit your spots and have that kind of movement you're going to be pretty successful."
Oddly enough, Lyons actually took his first at-bat before he made his first Major League pitch. He was the final batter in the Cardinals' three-run first inning off Padres rookie Burch Smith, whose start ended before he could record an out in the second.
Three of the first four St. Louis batters reached, with Matt Holliday and Allen Craig providing RBI hits. Daniel Descalso, who earned another start on the heels of a five-RBI night on Tuesday, also drove in a run with a two-out double. Eight of the 11 batters Smith faced reached safely.
"I think it did a little bit," Lyons said, when asked if that early advantage helped calm some nerves. "At the same time, it just helped me go with a little bit more attack approach and go after them."
The Cardinals didn't make as much offensive noise after Smith exited, though a fifth-inning RBI single by Molina -- who finished with a career-high four hits -- pushed the club's cushion to five runs. Molina snapped an 0-for-10 skid with the first of those four singles to left.
Upon Lyons' exit, Rosenthal worked around a pair of hits by striking out the side in the eighth. The Padres scored twice of Edward Mujica in a non-save situation in the ninth.
The Cardinals have now won 16 of their last 21 games despite now featuring a rotation with three rookie starters.
"We're very proud of the way they are going about it despite things that could definitely be looked at as distractions and adversity," Matheny said. "They put a lot of faith in the next guy up. We just hope health for the guys who have gone down for us and try to get them back as quick as we can and realize that there are some younger players that are stepping up and maximizing."
Jenifer Langosch is a reporter for MLB.com. Read her blog, By Gosh, It's Langosch, and follow her on Twitter @LangoschMLB. This story was not subject to the approval of Major League Baseball or its clubs.