Bautista caps big day with walk-off single in 10th
Slugger plates all four runs, homers twice, including tying shot in ninth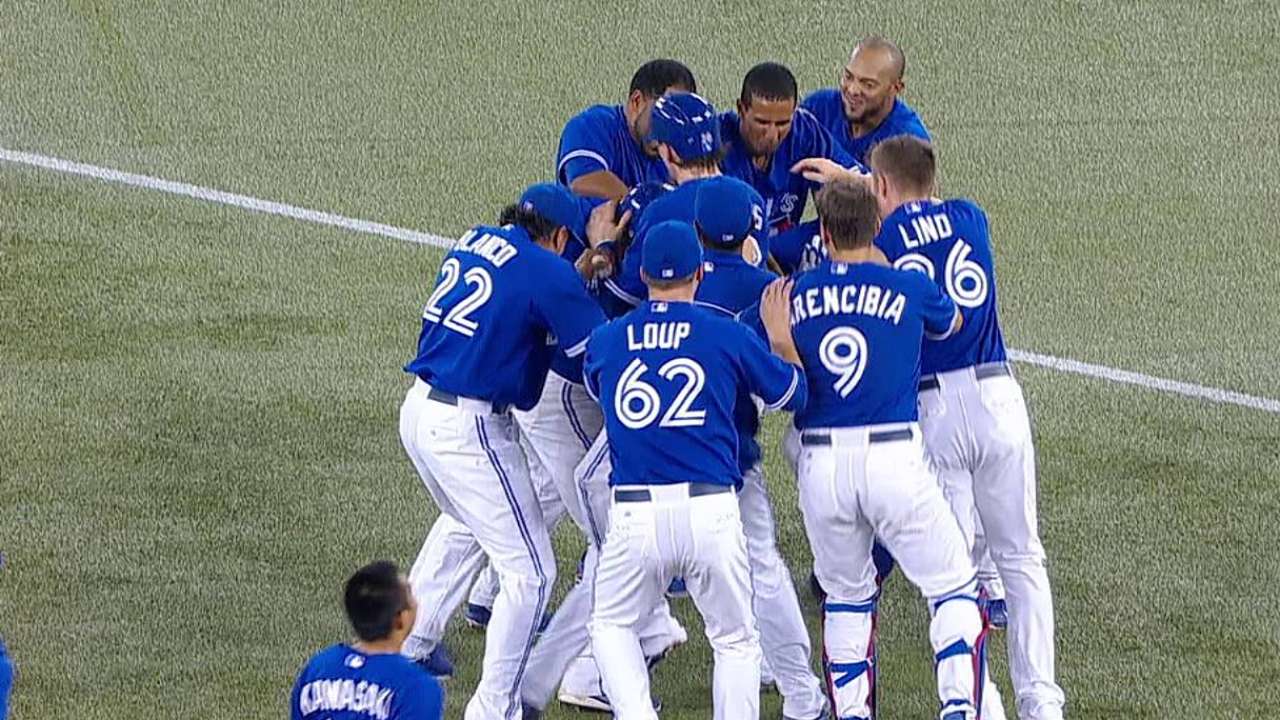 TORONTO -- Jose Bautista almost single-handedly willed the Blue Jays to victory on Wednesday evening, and by doing so, finally put an end to the club's prolonged struggles against the Rays.
Bautista enjoyed his best game of the season with a 4-for-4 day at the plate, which included a pair of homers and four RBIs. The remarkable performance gave the Blue Jays their first series win vs. Tampa Bay in almost three years.
The decisive blow came in the bottom of the 10th inning as Bautista recorded an RBI single to give Toronto its first walk-off victory of the season, 4-3, in front of 18,771 at Rogers Centre.
"You know, he's pretty good," Blue Jays manager John Gibbons said with a wry smile after the game. "He's one of the elite players in the game, one of the top hitters. He definitely carried us today, no question about that."
While most of the Blue Jays' lineup has struggled to find its bearings this season, Bautista has continued to be a relatively solidifying force. The fact that he has received little recognition for the performance speaks more to his impressive run over the past few years than anything else.
The two-time Hank Aaron Award winner is now hitting .275 with 11 homers and 27 RBIs in 39 games. He has reached base in all but five games this year, and he entered play on Wednesday with a .417 on-base percentage and a .952 OPS, which included 11 extra-base hits since April 23.
Bautista has found himself in the unfamiliar No. 2 hole for most of May, but so far the move has had little impact on his overall value. He continues to be the most feared hitters on the team, and if there were any doubts about that before, they were erased on Wednesday.
That doesn't mean there will be any type of carry-over effect into the Blue Jays' next series, but it certainly doesn't hurt.
"I don't think we need this type of performance to win a game," Bautista said. "I think we need to just keep playing baseball, play hard, grind out at-bats and have good approaches at the plate, and eventually we're going to start winning more of those close games that we haven't been able to win."
Bautista's impressive day began in the first inning with an RBI single to center off right-hander Jeremy Hellickson. The success continued in the fourth when he led off the frame with a solo shot into the second deck in left.
Despite the early domination, the Rays continued to attack Bautista in the zone with the hope of avoiding an even better hitting situation for No. 3 hitter Edwin Encarnacion. That mentality clearly cost Tampa Bay in the ninth, as the club appeared headed for a 3-2 victory until Bautista led off with a solo shot off closer Fernando Rodney.
That sent the game into extra innings, and once again Bautista was presented with an opportunity to become the hero. He quickly fell behind 0-2 to right-hander Kyle Farnsworth in the 10th, but then got a pitch he could handle.
Farnsworth's fastball was low and outside, but Bautista was able to hit a blooper to the opposite field. Under other circumstances, it possibly could have led to an out, but with Tampa Bay utilizing the shift, there was a gaping hole on the right side, and the ball easily looped into the outfield for the game-winning hit.
"I made a good pitch on him," Farnsworth said. "I just tip my hat to him. This was just one of those days for him. He had a great day. I made a real good pitch, shattered his bat, just a blooper over to right field. He rarely hits the ball that way."
Almost lost in all of the late-inning activity was another strong outing from left-hander Mark Buehrle. Toronto's No. 3 starter continued his recent turnaround by allowing just two runs on four hits while striking out six over seven innings. It marked the third consecutive start in which he entered the seventh having surrendered two runs or fewer.
Buehrle retired the first seven Rays batters he faced, and the only real difficulty he encountered came in the third. The native of St. Louis allowed three singles and issued two walks as Tampa Bay scored twice in the inning.
The 34-year-old Buehrle lowered his ERA to 5.90, but still only has one win on the season. The number might be considered disappointing, but it becomes completely irrelevant during a game like this one.
"I look at the team win-loss record," Buehrle said. "Obviously, as a starting pitcher, you want to go out and try to win 20 games a year. But so much stuff has to happen. My goal is to go deep in games and good things are going to happen.
"Listen, I'd like to be 5-1 right now. I'm not, I'm 1-3. But as long as we're winning my starts, I'm going out there giving our team a chance to win, that's all I can ask for."
Toronto's series victory over Tampa Bay couldn't have come at a better time. The Blue Jays entered the three-game set after suffering a pair of tough losses against the Yankees and were in serious danger of falling back into their rut from earlier this year.
But instead, the Blue Jays can look at the positives. They have now won six of their past nine games and finally can say they've found a way to defeat the Rays in a series. That's something they hadn't done since Aug. 6-8, 2010, a span of 15 series.
"It's huge because they're not the team that's going to come out and score 10 runs on you every day," Bautista said. "They just have good pitching and good situational hitting, they play good defense and they're fundamentally sound.
"Those teams are always hard to beat because of their pitching, but it's good to finally get a series win and maybe that will get our confidence up a little bit when we play against them."
Gregor Chisholm is a reporter for MLB.com. Read his blog, North of the Border, and follow him on Twitter @gregorMLB. This story was not subject to the approval of Major League Baseball or its clubs.