Giants show plenty of promise, but fall in finale
Bumgarner's seven solid vs. Nats latest in stretch of strong pitching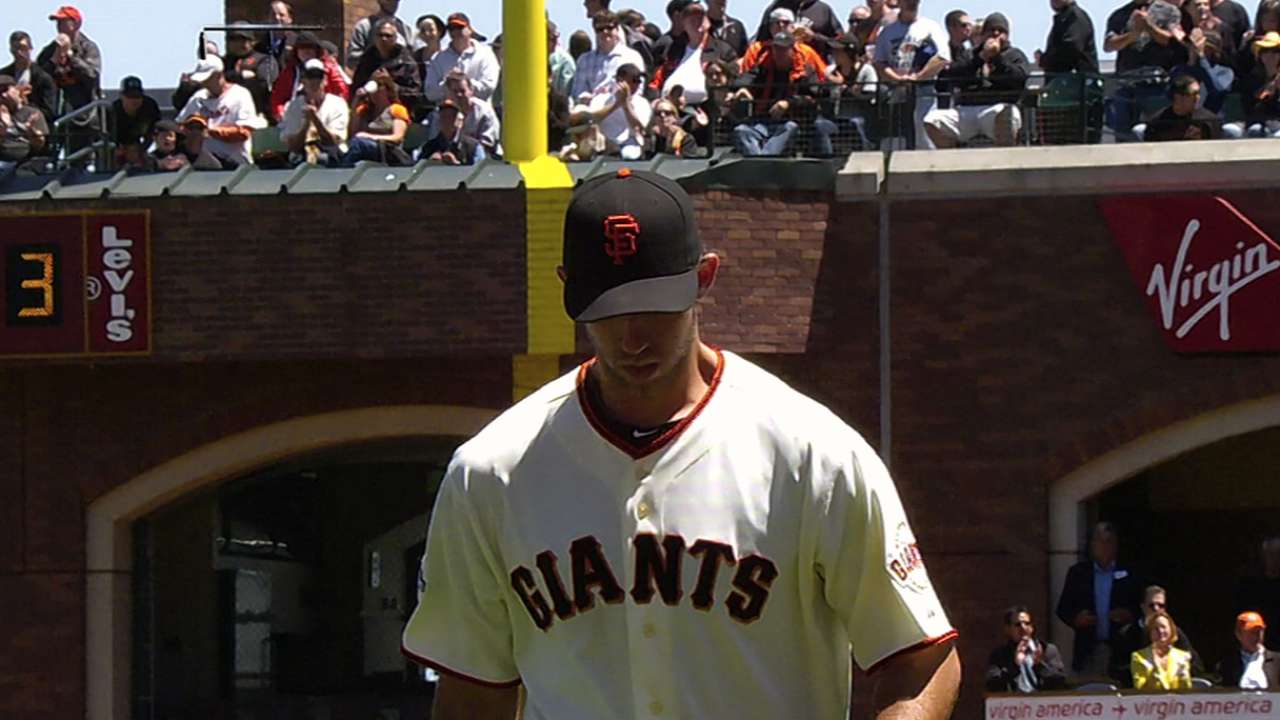 SAN FRANCISCO -- Try to think of the Giants' 2-1, 10-inning loss to the Washington Nationals not as a setback, but as a pause.
Particularly since Thursday's a scheduled off-day, the Giants can stop, draw a deep breath and take satisfaction in having regrouped after last week's dreadful 1-5 trip to Toronto and Colorado.
San Francisco barely missed completing its first three-game sweep of the Nationals since July 22-24, 2008, as right fielder Bryce Harper and first baseman Andy LaRoche made run-saving plays in the eighth inning to halt a Giants rally.
The loss didn't obscure encouraging performances by San Francisco's starting pitchers, who allowed three runs in 19 innings against the Nationals for a 1.42 ERA. That contrasted sharply with the starters' 9.82 ERA during the trip.
One of those starters, Ryan Vogelsong, fractured his right hand when he was hit by a pitch during Monday's series opener and will be sidelined for six to eight weeks. Though Vogelsong's injury could have muted the Giants' spirit, they instead won Tuesday night in 10 innings and nearly captured the finale.
"The guys bounced back," Giants manager Bruce Bochy said. "They got on track here. This was more [like] our baseball. It was very encouraging how we played in this series."
This series also might have created a mutual admiration between Giants left-hander Madison Bumgarner and Harper, who scored both of Washington's runs. Given their youth -- Bumgarner's 23, Harper's 20 -- they could remain respectful rivals through the rest of the decade and even beyond.
Bumgarner, who surrendered four hits in seven innings, struck out Harper in the first inning and coaxed a weak fly ball from him in the third. Then the reigning National League Rookie of the Year flicked a 1-2 pitch to left for an opposite-field homer that led off the sixth inning and opened the scoring.
"I think he made it pretty clear that he's going to play as hard as he can every day," Bumgarner said of Harper. "It's fun to play against guys like that. Most everybody plays that way, but ... he's the kind of player who can bring out the best in you."
Harper reciprocated Bumgarner's praise.
"Kid's unbelievable. He's one of the best guys I face all year," Harper said. "He's a tough pitcher and tough lefty-lefty matchup for me. He's an incredible pitcher. He knows what he's doing out there, and the Giants are very lucky to have him. Going out there and facing a guy like Bumgarner is a lot of fun. I look forward to those matchups for hopefully the rest of our careers."
The Giants countered Harper's homer in the eighth, but were frustrated in their bid for a more fruitful inning.
Washington starter Gio Gonzalez, who surrendered only four hits, walked Angel Pagan with one out. Drew Storen relieved Gonzalez and walked Marco Scutaro. Up came Buster Posey, who grounded an 0-1 pitch into left field for a single that scored Pagan for the tying run.
But Harper prevented another run by rushing in to snare Hunter Pence's sinking line drive. Then LaRoche made a deft short-hop pickup of pinch-hitter Brandon Belt's smash and threw to second base for an inning-ending fielder's choice.
"Their defense beat us," Bochy said.
Harper wasn't finished. He began Washington's go-ahead rally in the 10th by doubling with one out off Giants reliever Jeremy Affeldt. After Affeldt intentionally walked Ryan Zimmerman, Ian Desmond singled on a 1-1 pitch through the infield's wide-open right side.
With two out in the bottom of the 10th, the Nationals had one more obstacle to clear: Scutaro, whose 19-game hitting streak was on the line. Scutaro, who walked twice in four previous plate appearances, drove Rafael Soriano's 2-2 fastball to deep left field, where Roger Bernadina caught it in the middle of the warning track.
"He just missed it," Bochy said, approving of Scutaro's effort.
Chris Haft is a reporter for MLB.com. This story was not subject to the approval of Major League Baseball or its clubs.