Tribe gets to Verlander, but rally fizzles in rain
Brantley drives in three, Santana homers as Ubaldo struggles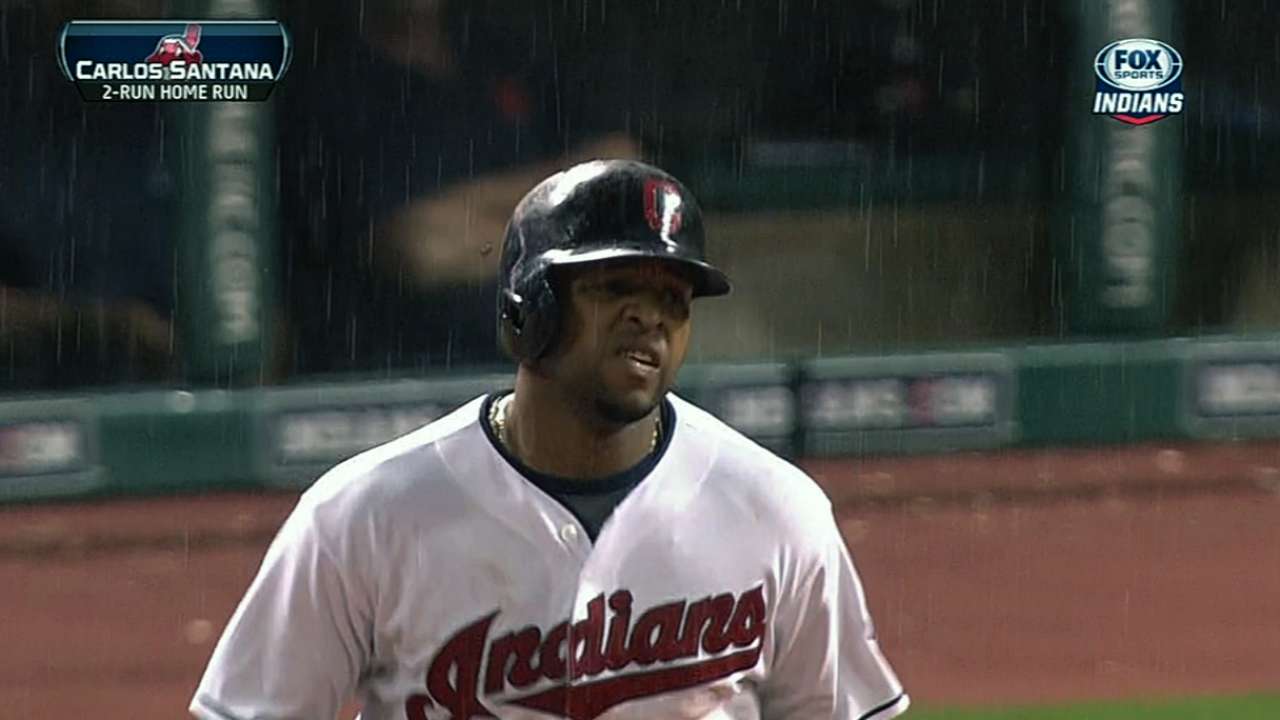 CLEVELAND -- Rain clouds above did everything they could to prevent the Indians from enjoying any type of homefield advantage Wednesday at Progressive Field.
The finale of a two-game series with the Tigers was interrupted by two rain delays, each one seeming to come at a time when the Tribe had momentum on its side. After falling behind, 9-2, the Indians closed to within two runs before ultimately losing the game, 11-7. The defeat gave a series sweep to the Tigers, who still trail Cleveland by half a game in the American League Central.
"Every time we'd get a little something going, the rain would come and kind of kill things a little bit," Mark Reynolds said. "It is what it is. You can't control Mother Nature. We're going to get out of here and hopefully win some games on the road."
The two delays combined to last 1 hour and 50 minutes. The first one came in the fifth inning at 9:15 p.m. ET, forcing the clubs off the field moments after the Indians had scored three runs -- two via a home run by Carlos Santana -- off Tigers ace Justin Verlander. With Cleveland down by a pair, the second delay arrived at 11 p.m., a half-inning after Michael Bourn made a sensational running catch in the left-center-field gap.
Indians manager Terry Francona, however, wouldn't blame the rain for any role it might have played in stifling the comeback attempt.
"You play when they tell you to," Francona said. "They just ended up scoring more runs than us. I thought we had plenty of steam, actually. We had guys grinding 'til the end. They just scored more than us tonight."
After the second delay, the Tigers extended their lead in the eighth inning, thanks in no small part to an uncharacteristic mistake by Bourn in center field. Against reliever Rich Hill, Detroit slugger Miguel Cabrera hit a fly ball that Bourn should easily have caught on the warning track. Instead, it bounced out of his glove and landed over the wall, giving Cabrera his 13th home run of the season.
"Never had it happen, man. I guess they say first time for everything, huh?" a bemused Bourn said after the game. "I just missed it. There wasn't no excuses. I had my balance, I was good and it just came out of my glove.
"I don't know how it came outta there, but it did. And then it bounced over the wall. That's the thing about it. I could see if it stayed in play, but it went over the wall. It happened. I take the blame for it."
Cabrera said he's never hit a home run like that, as it came with wrapping paper and all.
"Lucky home run," Cabrera said. "I thought it was an out there. I was very lucky there. It's better to be lucky than good."
Of course, Cabrera is one of the rare players who is lucky and good. He finished 2-for-4 with three RBIs and one of the four doubles given up by Tribe starter Ubaldo Jimenez.
Jimenez struggled after his recent string of successful outings. In four innings, he gave up seven hits and six runs. He walked three and struck out three.
"I didn't have any command of my fastball or breaking ball," Jimenez said. "I couldn't throw any of my breaking balls for a strike.
"I didn't have the same release point. I couldn't get out there with every pitch. That's why it was getting really hard to get ahead. I was falling behind in the count every single time."
Cleveland's offense scored a run in each of the first two innings before plating three in the fifth and two in the sixth. In the first, Michael Brantley followed Asdrubal Cabrera's double with a run-scoring single. An inning later, Bourn singled in Reynolds, who reached on an infield single.
In the fifth inning, Mike Aviles came home on a single by Brantley, who scored on Santana's homer. Then Yan Gomes homered to left and Brantley singled in Aviles again in the sixth.
Brantley finished with three hits and three RBIs in the loss.
"You can't complain too much about our effort," Reynolds said. "It was a tough night staying in the flow of things -- a couple rain delays. But, it is what it is. We'll move on."
In five innings, Verlander (5-4) allowed 10 hits and five runs. He walked one while striking out nine.
During the first rain delay, Verlander was back on the mound before the grounds crew had even left the field. Although he had just given up three runs before play stopped, Verlander needed only two outs to be eligible for the win, and he saw to it that they would arrive quickly.
"I thought he was a little jittery at first, and then the third and fourth I thought he got in a good sync and I think he was settling in," Tigers manager Jim Leyland said.
"And then I think in the fifth he tried to beat the Indians, beat the rain, beat the tarp being put on, beat me from having to worry about the pitch count, and he just rushed it. He wanted to get it done so quick, so fast, it just didn't quite work out."
For the sixth time in his career, Verlander threw more than 110 pitches in five innings or fewer. Two of those instances came courtesy of the Tribe this season.
Despite falling behind by a large margin early, the Indians still managed to wrestle their way back into the game. Without the leaky skies above, perhaps this one would have turned out differently.
"You could say that, but it's part of the game," Bourn said. "It's one game that happened. We're still in a good spot. Just put this one behind us and get ready to go on the road now."
The Indians start a six-game road trip Thursday in Boston.
Mark Emery is an associate reporter for MLB.com. This story was not subject to the approval of Major League Baseball or its clubs.