Tigers withstand Tribe's late charge
Verlander labors, but earns win in game slowed by two rain delays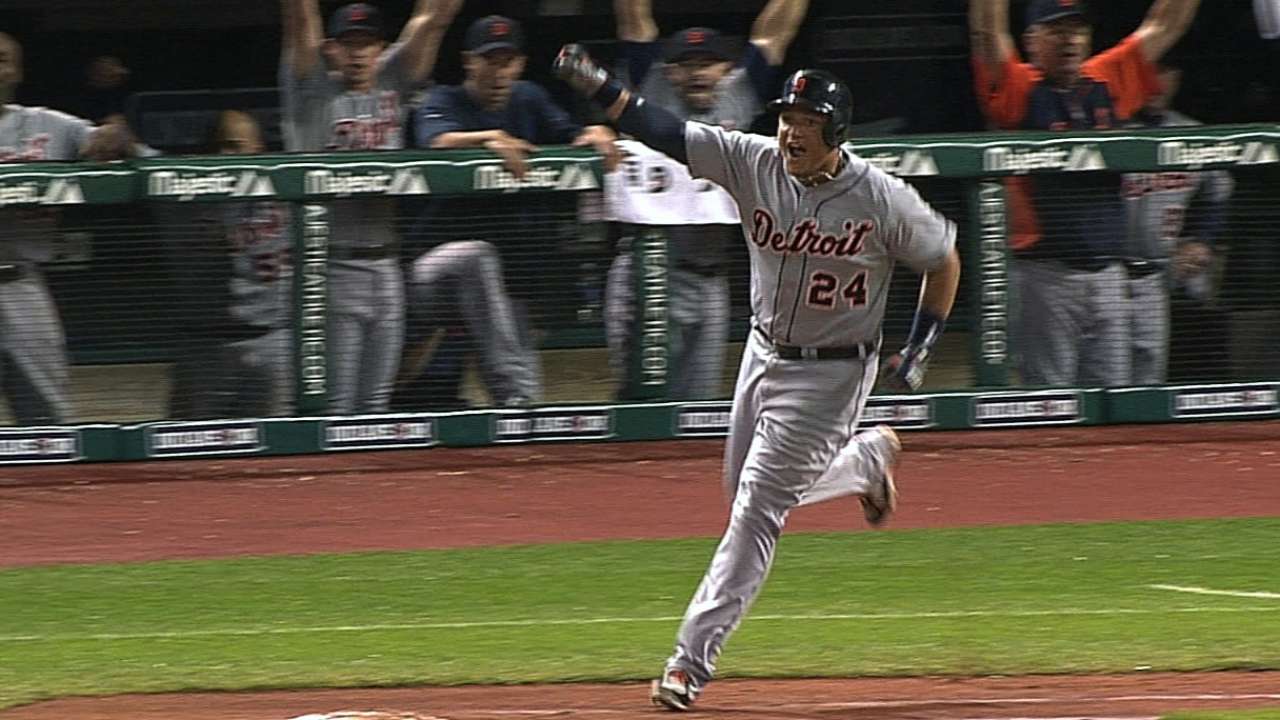 CLEVELAND -- Justin Verlander was almost unbeatable two years ago on his way to 24 victories, and wasn't far off on his way to 17 wins last year. On Wednesday, as he saw the heavens open up and douse Progressive Field with one out in the fifth inning, he had to look and wonder what he had to do to just get one.
"Obviously, they had the weather report, knew it was going to start raining pretty hard," Verlander said. "But yeah, it was like, 'You've gotta be kidding me.'"
Verlander had to wait through a 62-minute rain delay to get the last two outs and qualify for the victory. Nearly two hours and another rain delay later, it took the kind of home run that makes one think even fortune can't retire Miguel Cabrera these days to seal the 11-7 win over the first-place Indians.
"Lucky home run," Cabrera admitted. "I take it, especially with a win. Long game."
It was the most bizarre home run Cabrera can remember hitting, a fly ball to deep center that hit Michael Bourn's glove and bounced over the fence. It was that kind of Wednesday night, and eventually Thursday morning.
Between a 3-hour, 33-minute game and nearly two hours of rain delays, it was well past midnight when Jose Valverde finished it off. Time hasn't nearly tolled like that for the upstart Indians yet, but the win brought the Tigers within half a game of the American League Central lead heading home for four games against the Twins at Comerica Park.
"I probably helped the Marlboro stock a little bit. Other than that, I don't know what to tell you, except we won," manager Jim Leyland said.
Verlander did little to help Leyland's stress level, either before the rain delay or during it. It was never vintage Verlander Wednesday, and after the fourth inning, it wasn't dry at Progressive Field. The bottom line is five runs on 10 hits over five innings was good enough on this night.
"Tonight definitely was a big step forward," Verlander said.
The Indians were the team that started Verlander on his difficult stretch of starts, having taken advantage of a wild fastball a week and a half ago in Detroit. Those struggles turned into a debacle of a third inning in Texas, leading him to get back to basics in his side sessions.
When Verlander again worked into early trouble, he seemed headed for the same fate, allowing three consecutive two-out hits for a first-inning run before three more hits plated a run and loaded the bases for cleanup hitter Michael Brantley in the second.
Again, Verlander was firing fastballs in the upper 90s, topping out at 98 mph during an 11-pitch battle with Jason Kipnis. This time, though, he was painting the corners, eventually striking Kipnis out before a walk to Asdrubal Cabrera loaded the bases. Verlander needed to make a pitch, and he went back to the fastball.
Verlander escaped with Brantley's groundout, ending a 36-pitch marathon of an inning. He entered the third with 58 pitches, had a long conversation with pitching coach Jeff Jones, then used just 30 pitches to set down the Tribe in the next two frames while Detroit's four-run third against Ubaldo Jimenez and three-run fifth against David Huff built a commanding 9-2 lead.
"I thought the first couple innings was better than I was the last couple starts," Verlander said. "I was able to make some pitches when I needed to and then I felt like I was able to find it there in the third and the fourth. And then the fifth inning, I got out to warm up and then [catcher Brayan] Pena gives me the [sign to] hurry up. I guess he had heard the rain was coming."
One look at the skies beyond left field made it clear.
"I kind of rushed a little bit and ended up trying to get some quick outs, because I knew it was coming," Verlander said. "Made some bad pitches, got hurt."
Three straight hits, including Carlos Santana's two-run homer, drew Cleveland to within 9-5 before the first round of storms passed through.
Verlander paced and lurked. It was a rough start by anyone's standards, but it was his game to win.
Normally, an hour-long rain delay is enough for Leyland to end a starting pitcher's night. For Verlander, he allowed a few extra minutes.
"Since I've been here in 2006, he's been our horse," Leyland said. "I thought as rough as the sledding was, he deserved the opportunity."
Said Verlander: "If it was probably five or 10 minutes more, I was done. But I just wanted go out there and complete that inning and finish on a positive vibe, and I was able to do that. "
The game continued hours after Jimenez was gone, his six runs allowed topping the total from his previous three starts combined. Yet it wasn't ultimately safe until Cabrera, who doubled in Detroit's first run in the opening inning, struck again in the eighth off Rich Hill.
Bourn had robbed the Tigers of at least two extra-base hits over the course of the night. Cabrera's drive became Detroit's payback, sending Bourn to the fence before his attempt at another defensive gem went horribly wrong.
"I just missed it," Bourn said. "There wasn't no excuses. I had my balance, I was good and it just came out of my glove."
The reaction on Cabrera's face rounding first base was priceless, like a gameshow contestant who just made a lucky guess.
"I thought it was an out there," Cabrera said. "I was very lucky there. It's better to be lucky than good."
Instead, it became Cabrera's 13th home run, one off Chris Davis' AL lead, and 52nd RBI, most by a Tiger through 44 games since Hank Greenberg drove in 55 over the same stretch in 1937.
Jason Beck is a reporter for MLB.com. Read Beck's Blog and follow him on Twitter @beckjason. This story was not subject to the approval of Major League Baseball or its clubs.