CarGo's homer, triple clinch series for Rockies
De La Rosa throws 5 1/3 strong frames; Brothers notches first save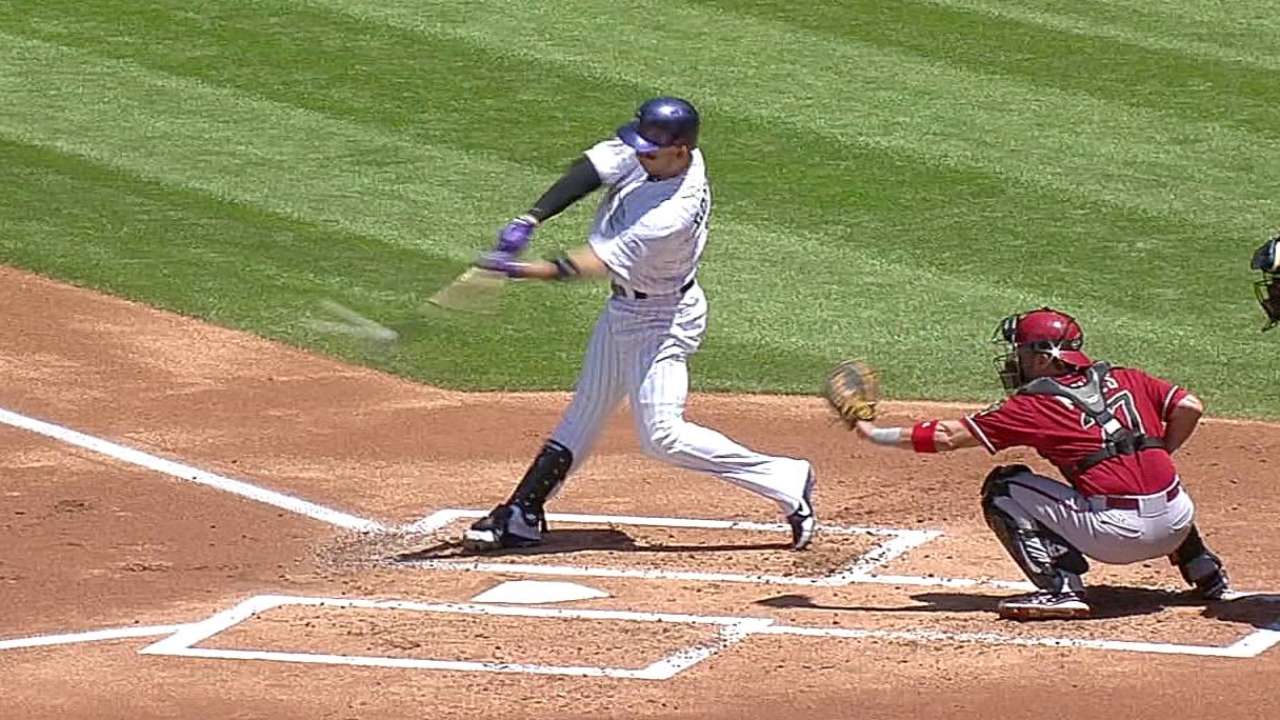 DENVER -- After losing more than a year and a half because of Tommy John surgery on his left elbow, Rockies pitcher Jorge De La Rosa is regaining his form. His team is gaining traction, as well.
De La Rosa battled for 5 1/3 imperfect but gritty innings, throwing 103 pitches, and was rewarded with a 4-1 victory at Coors Field in front of 31,763 as the Rockies forged a three-way tie atop the National League West.
De La Rosa (6-3) gave up six hits and faced traffic in every inning but the first. He yielded just one run, struck out five and forced eight ground-ball outs, many of them in key situations. Fighting through the difficulty -- and being allowed to do so by manager Walt Weiss -- is a clear indication that De La Rosa is close to being back to the form he showed in 2009, when he went 16-9 and helped the Rockies to the playoffs.
"I'm there," De La Rosa said. "I think I can get a little more strength in my arm, but I can't complain. My velocity is very good right now, and my breaking stuff is working. I'm glad to feel the way I feel right now."
It's also a happy time for the Rockies, whose homestand consisted of winning 3-of-4 from the Giants and 2-of-3 from the D-backs. All three are tied atop the division at 26-21. The Rockies begin a three-game series against the Giants at AT&T Park on Friday and will continue the road trip with two games at Houston.
It is only May, but it beats not contending, and it beats the daylights out of where the Rockies were at this time last year -- 18-29, 14 games back in the division. This stint of games at Coors Field also was a relief after a 2-4 mark in the last homestand, a 2-4 road trip against the Cardinals and the Cubs, and a blown 6-0 lead against the Giants and pitcher Matt Cain that led to an 8-6 loss in the first game of the homestand.
"That's the whole plan, beat the teams that are ahead of us," said Rockies left fielder Carlos Gonzalez, who hit his 11th home run of the season and added an RBI triple Wednesday. "It's a good feeling, and it creates a lot of motivation for us."
The Rockies maintaining proper perspective. For example, the opportunity to win the series Wednesday was there, but Weiss didn't overreact. He gave a planned day off to star shortstop and cleanup hitter Troy Tulowitzki and also rested power-hitting catcher Wilin Rosario.
Famine and social unrest did not break out over sitting Tulowitzki, although followers of some of the more opinionated folks on social media might have started cobbling together canned goods. However, solid pitching from De La Rosa, just enough hitting and a stellar bullpen effort from Edgmer Escalona (1 2/3 innings, one hit), Matt Belisle (perfect eighth) and Rex Brothers (one hit, but a double-play grounder to complete his first save) were sufficient.
Before and after, Weiss approached Wednesday like game No. 47, not Game 7, and he's taking the same approach to the road trip.
"You hope wins roll over, but that's not necessarily the case in this game," Weiss said. "There are ebbs and flows to the season. We've just got to keep playing well, regardless of where we're at.
"I like the fact we came back home and had a real good homestand. It's important to play well here. But we've got to win games, regardless."
Gonzalez homered off Trevor Cahill (3-5) in the first inning, and Fowler and Nolan Arenado added doubles, with Arenado's hit making it 2-0. Gonzalez tripled behind DJ LeMahieu's infield single in the third and scored on Cahill's wild pitch. Cahill gave up four runs and seven hits in six innings.
De La Rosa's eight ground-ball outs included one from Paul Goldschmidt with two on to end the third, and a double-play grounder from Goldschmidt to end the fifth.
"I've seen him like that before," the D-backs' Cody Ross said. "His command, when he's got it, he's about unhittable. And today he had it."
Weiss let De La Rosa start the sixth. Ross singled, and De La Rosa stayed in for a left-on-left matchup with Gerardo Parra and delivered his final strikeout.
It was different from the other time Weiss allowed De La Rosa to reach triple figures. On May 12, he took a no-hitter into the seventh and finished seven innings with two hits and 100 pitches. This time, there were more stressful situations, and Weiss let him plow through them.
"With the amount of time he missed, a year and a half, I don't think he was going to come into Spring Training and be lights-out," Weiss said. "It's been a process with Jorge. He's gotten better and better. To be honest with you, where he's at right now after missing that much time is real impressive.
Brothers, who extended his scoreless-innings streak to 19 games, covering 18 innings, closed the game because Rafael Betancourt is resting a sore right groin. Betancourt expects to return Friday. Brothers, whose only other career save was Aug. 21, 2011, against the Astros, said catcher Yorvit Torrealba and his tough-guy sense of humor reminded him to relax.
"Torrealba comes out and says, 'Pretend like it's the eighth ... I'm tired ... Hurry up,'" Brothers said.
Thomas Harding is a reporter for MLB.com. Read his blog, Hardball in the Rockies, and follow him on Twitter @harding_at_mlb. This story was not subject to the approval of Major League Baseball or its clubs.