Cahill uneven, bats quiet as D-backs fall in Colorado
Righty gives up four runs in six frames, hitters stifled by De La Rosa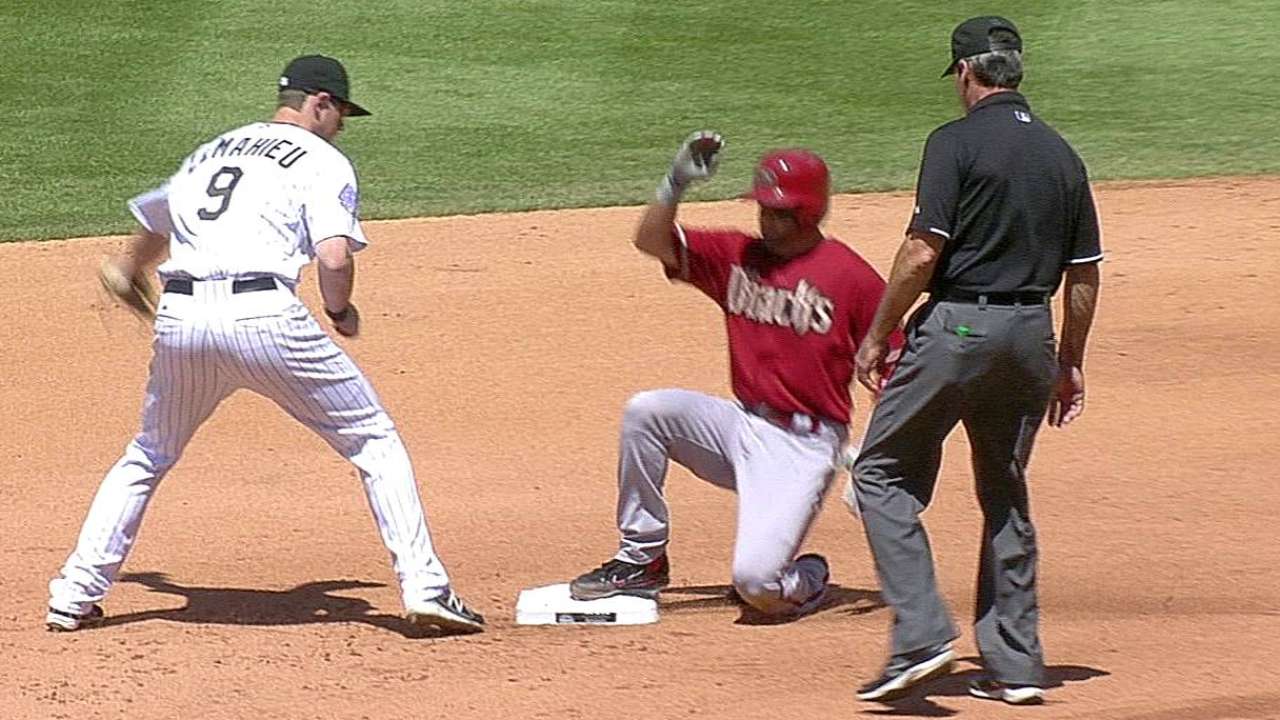 DENVER -- The D-backs road trip to Miami and Denver lasted a week and consisted of six games.
Yet when it was finished, following a 4-1 loss to the Rockies on Wednesday afternoon at Coors Field, it felt like it was more than that.
"It seemed like kind of a longer road trip than it was," D-backs manager Kirk Gibson said. "It felt like we didn't have as much energy as we've had in the past. It's going to happen."
The D-backs finished the trip 3-3, taking two-of-three from the Marlins and dropping two-of-three to the Rockies. A .500 record on the road is usually acceptable, but it didn't quite feel like enough this time.
"Obviously, it would've been nice to sweep the Marlins and come in here and win two-of-three," D-backs outfielder Cody Ross said.
The reason they didn't post a better win total on the trip rests squarely with an offense that was hit-or-miss throughout. The D-backs scored nine runs in the first game of the trip against the Marlins. They also scored five and four, respectively, in the first two games of the Rockies series.
However, they were able to muster just one run in the other three games, one of which wound up being a 1-0 win over the Marlins, thanks to a three-hitter by Brandon McCarthy.
"That's baseball," Ross said. "One day you can score 10 runs, and the next day you can get shut out. That's the way this game is. That's why it's so beautiful. You can never explain why certain things happen like that. You just have to learn from them and learn the reasons why we're not scoring runs and getting a lot of hits."
The D-backs have Thursday off before opening a three-game weekend series with the Padres followed by a two-game series against the Rangers -- a day-night doubleheader Monday.
D-backs starter Trevor Cahill did not seem to have good movement on his trademark sinker in the first inning, and the Rockies made him pay.
The first two Colorado hitters flew out, but then Carlos Gonzalez crushed a pitch off the back of the bullpen wall for his 11th homer of the year.
Dexter Fowler and Nolan Arenado followed with back-to-back doubles to give the Rockies a 2-0 lead.
"It's just tough here," Cahill said of pitching in the mile-high altitude. "You've got to set your sights a little lower, because the ball doesn't move as much here. I feel like I kind of got the hang of it as the game went along."
The Rockies, though, did not let up as they increased their lead to 4-0 with a pair of runs in the third, one of which came on Gonzalez's run-scoring triple and the other on a two-out wild pitch by Cahill that allowed Gonzalez to trot home.
Cahill struggled to keep the Rockies off the board while his counterpart, Jorge De La Rosa, kept the D-backs from scoring, but not from getting on base.
De La Rosa pitched his way into and out of trouble before departing with one out in the sixth.
The D-backs were able to get nine runners aboard against De La Rosa, but their only run came in the fourth.
"They made me work a lot, the whole game," De La Rosa said. "They made me pitch. But when I had to throw good pitches, I did."
De La Rosa (6-3) allowed just one run on six hits over 5 1/3 innings. It was his third start against the D-backs this year and he is now 2-1 with a 1.56 ERA against them.
"He pitched outstanding," Ross said. "I've seen him like that before. The thing about him is his command. When he's got it, he's almost unhittable. Today he had it. There were times when he was a little erratic, like the last time we faced him. But throwing offspeed pitches in hitters' counts, that's probably the main reason he was so effective. He was throwing changeups 2-0 and 3-1, and then when he has you 0-2, he throws his heater. He pitches backwards like that."
The D-backs lone run came on Wil Nieves' RBI double to center.
"They out-executed us offensively," Gibson said. "You look at it -- they got guys in, we didn't."
Steve Gilbert is a reporter for MLB.com. Read his blog, Inside the D-backs, and follow him on Twitter @SteveGilbertMLB. This story was not subject to the approval of Major League Baseball or its clubs.