Ball bounces Reds' way for sweep of Mets
Phillips' check-swing RBI double scores game-winner for sweep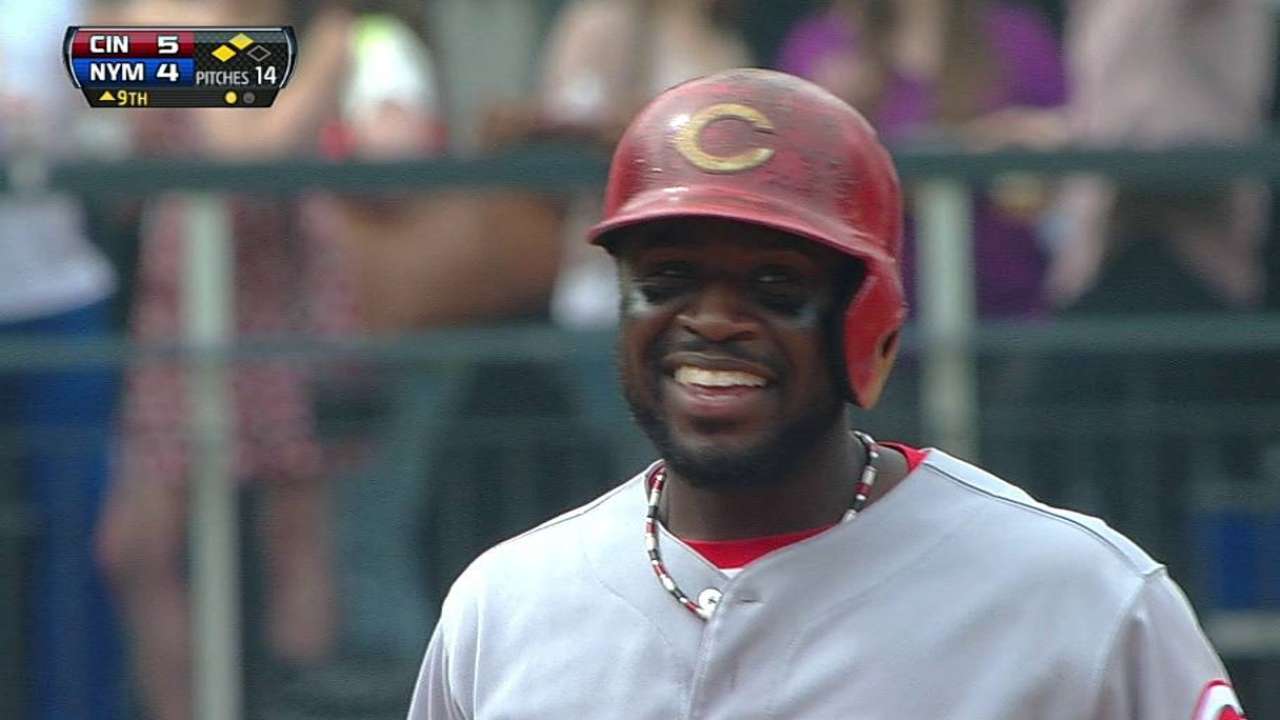 NEW YORK -- When a team is rolling like the Reds currently are, there will occasionally be one or two games where a win comes not on a big home run or spectacular play, but from something a little bizarre.
Wednesday's 7-4 win over the Mets, giving them a three-game sweep, certainly qualifies as a little out of the ordinary.
"I remember I had a coach, Luke Appling, with the Braves when I was a kid," Reds manager Dusty Baker said. "He said to be lucky, you had to think lucky."
Tied at 4 in the ninth and facing Mets closer Bobby Parnell, Brandon Phillips hit a soft bouncer towards first base on a check swing. First baseman Ike Davis let the ball go by, expecting it to be ruled foul.
The ball bounced over first base and was correctly called fair by umpire Phil Cuzzi, which allowed Shin-Soo Choo to score from third base. Phillips cruised into second with a double.
"I couldn't get the guy at home," Davis said. "Choo runs really fast, and it was really slow to my backhand side, plus I was trying to get off the bag to get in the hole because it was a right-handed hitter. They don't usually hit it down the line like that. But the second that, right before it bounced, I thought it bounced foul. In my head, I can't catch it, touch the bag and then throw it to second and get the guy out, because then it's a tag play and the guy scores anyway."
After the game, Phillips still didn't know exactly how he ended up with the game-winning hit.
"I understand what [Davis] was trying to do. It just went in my favor," said Phillips, who leads the National League with 40 RBIs. "Things happen. This game is crazy. But I'll take it, hands down. I'm just happy we got the win today. That's more important than anything. It was a team effort."
Following an intentional walk to Jay Bruce, pinch-hitter Todd Frazier's soft single to center field scored two more runs. Alfredo Simon pitched a scoreless eighth inning for the victory, while Aroldis Chapman closed it out with a one-hit bottom of the ninth for his 10th save.
Now a season-best 11 games over .500 at 29-18, the Reds can return to Cincinnati feeling very good. They won seven of nine during a 10-day road trip through Miami, Philadelphia and New York -- including sweeps of the Marlins and Mets -- to improve to 13-12 on the road. All three NL East teams are struggling, but no points are deducted in the win column for beating up on weaker clubs.
"It's big," said shortstop Zack Cozart, who had a career-high four hits on Wednesday and scored two runs. "Everybody has been talking about how we haven't been winning on the road.
"It's baseball, and you still have to play the games. Just because we're playing teams -- record-wise -- that weren't as good, we have to take care of business, and we did that."
What was billed as a much-ballyhooed matchup between young power arms Mat Latos and Matt Harvey resulted in neither starting pitcher figuring in the decision.
Harvey finished with four runs allowed on nine hits over 6 1/3 innings. He walked three and struck out six. The Reds took a 2-1 lead against him in the third inning when Joey Votto jumped on a 96-mph fastball on a 3-0 count and hit a two-run homer to left field, extending his hitting streak to 12 games.
It was the second time in Harvey's 20-start big league career that an opponent scored four runs against him. No player until Cozart had collected three hits against him in a big league game.
"We knew he had good stuff coming into the game," said Cozart, who also robbed David Wright of a hit in the third inning to save a run. "I don't know what it did to me, if it heightened my awareness or what, but I thought I saw him pretty good."
Latos was poised to outduel Harvey, but he gave up two runs of his own in the bottom of the seventh. Daniel Murphy hit a two-out RBI single to center field that scored Ruben Tejada. With lefty reliever Sean Marshall unavailable because of a sore shoulder, Latos remained in the game to face lefty hitter Rick Ankiel. The result was Ankiel lifting an RBI triple off the wall near the left-field corner.
Latos ended up allowing four earned runs on eight hits over 6 2/3 innings with one walk and four strikeouts.
"Latos was very good," Baker said. "We just have to get him over that hump at kind of the same time in the game. Some kind of way, adverse things happened around the seventh [inning] or that 100-pitch mark. He went into that inning with 88 pitches. We were hoping he could get through that inning and turn it over to our bullpen."
Mark Sheldon is a reporter for MLB.com. Read his blog, Mark My Word, and follow him on Twitter @m_sheldon. This story was not subject to the approval of Major League Baseball or its clubs.