Davis' late miscue proves costly for Mets
First baseman's struggles continue; Reds get to Harvey for four runs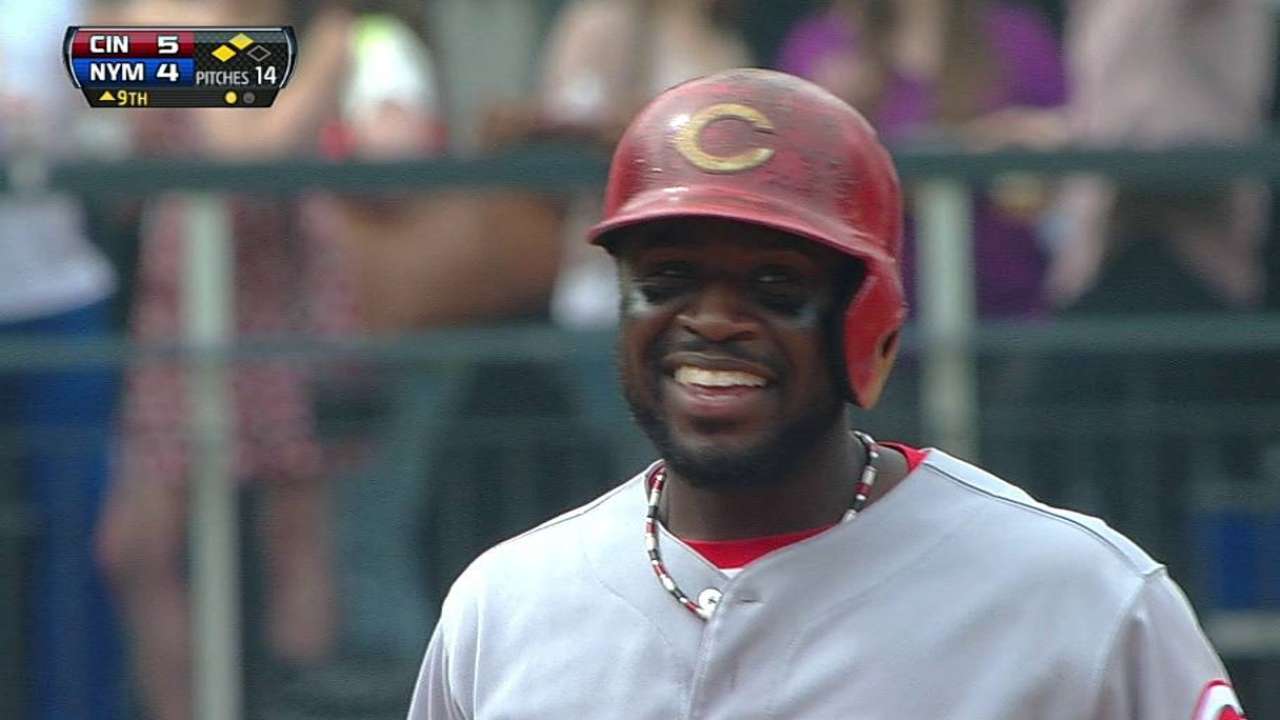 NEW YORK -- Publicly, of course, the Mets will always support Ike Davis. He remains a critical part of their current roster and a significant part of their plans for the future, and they gain nothing by criticizing him.
In quieter, more private corners of the clubhouse, that does not necessarily have to be the case. So it was telling that, after Davis once again played the role of scapegoat in the Mets' 7-4 loss to the Reds on Wednesday, the Mets went out of their way to support him.
Davis works hard, sang the chorus. He does not deserve a daily punch of criticism. It is only a matter of time before things change.
"I'd probably be in Triple-A already if my teammates did not have confidence and want me to be here," Davis said. "They're a huge part of why I come in every day with a positive attitude, and try to work and help them."
The flip side, of course, is that Davis feels the weight of 24 anxious teammates every time something does not go his way. That ache only intensified in the ninth inning Wednesday, when his critical defensive misplay led to Cincinnati's go-ahead run.
With runners on the corners and one out, Brandon Phillips hit a soft bouncer to the right side, where it hit the foul line and kicked in front of the bag. Believing the ball to be foul and knowing he would not be able to turn a double play or cut down speedy lead runner Shin-Soo Choo at home, Davis pulled back his glove at the last instant. He believed that doing so would help sell the foul ball to first-base umpire Phil Cuzzi.
But Cuzzi watched the ball touch chalk and did not bite, animatedly thrusting his arm into fair territory to indicate a hit. Choo jogged home, Phillips headed to second and the Reds later added two insurance runs on Todd Frazier's pinch-hit single off Bobby Parnell.
"I understand what [Davis] was trying to do," said Phillips, one of the slickest infielders in baseball. "It just went in my favor. Things happen. This game is crazy. But I'll take it, hands down."
The result was a disappointing loss for the Mets, who bounced back from Matt Harvey's worst start of the season -- and that's a relative term -- to tie the game on Rick Ankiel's triple in the seventh. But after trading zeroes with the Reds in the eighth, everything unraveled in the ninth.
"This is baffling to everybody," manager Terry Collins said of Davis' struggles. "We've got to get this guy going."
For a time, Wednesday's game had the makings of a potential breakout for Davis, who walked twice in four plate appearances and drove a ball over 400 feet to the warning track in center. But Davis nonetheless finished hitless, encapsulating an offense that continues to struggle.
The Mets did net an early run on Ankiel's RBI double, touching Reds starter Mat Latos for four scores in total. And that was enough to take Harvey off the hook for his first loss of the season, despite a four-run, nine-hit outing that he called "unacceptable."
"It was everything," Harvey said of his relative struggles. "I wasn't locating. I wasn't throwing as many strikes as I wanted. It was a rough start."
The result was another close game late, centering Davis in the Citi Field crosshairs.
This has been a difficult two-week stretch for Davis, who is 1-for-his-last-38 at the plate, hitless in his past 25 at-bats with runners in scoring position and suddenly fallible on defense. Davis committed a key error on an obstruction call in Monday's loss, and another over the weekend in Chicago. That prompted Collins to take the first baseman aside, reminding him not to bring his season-long offensive slump out to the field with him.
Collins told Davis a story about Jeff Bagwell, who endured a massive slump in 1995 following his MVP campaign the season before. In the former Houston manager's words, Bagwell was "absolutely brilliant" defensively, which made him valuable despite his offensive woes.
"I told Ike, 'That's the same attitude you've got to have,'" Collins said. "He said, 'OK, great, I got it.'"
"I know I'm going to play better," Davis said. "I can't do any worse."
Yet the pressure only continues to mount for Davis, who has recently dealt with near-daily rumors of a possible demotion to Triple-A Las Vegas. Though both Collins and general manager Sandy Alderson have done their best to discourage such talk, the truth is plain to see: Davis must produce -- and soon -- or risk what once seemed unthinkable.
Either way, his teammates will have his back. Harvey called the criticism of Davis "unfair." Third baseman David Wright offered his continued blessing.
"There are certain guys that you root extra hard for, and Ike's at the top of that list," Wright said. "The type of teammate that he's been through this whole stretch, it's very easy to pull your hair out and mope around and hang your head, and he's done the opposite. He's rooted on his teammates. He's done everything he can to help his team. It's tough to watch."
Anthony DiComo is a reporter for MLB.com. Follow him on Twitter @AnthonyDicomo. This story was not subject to the approval of Major League Baseball or its clubs.