Orioles bash three homers to take finale from Yankees
Markakis, Davis, Wieters go deep behind gutsy performance by Hammel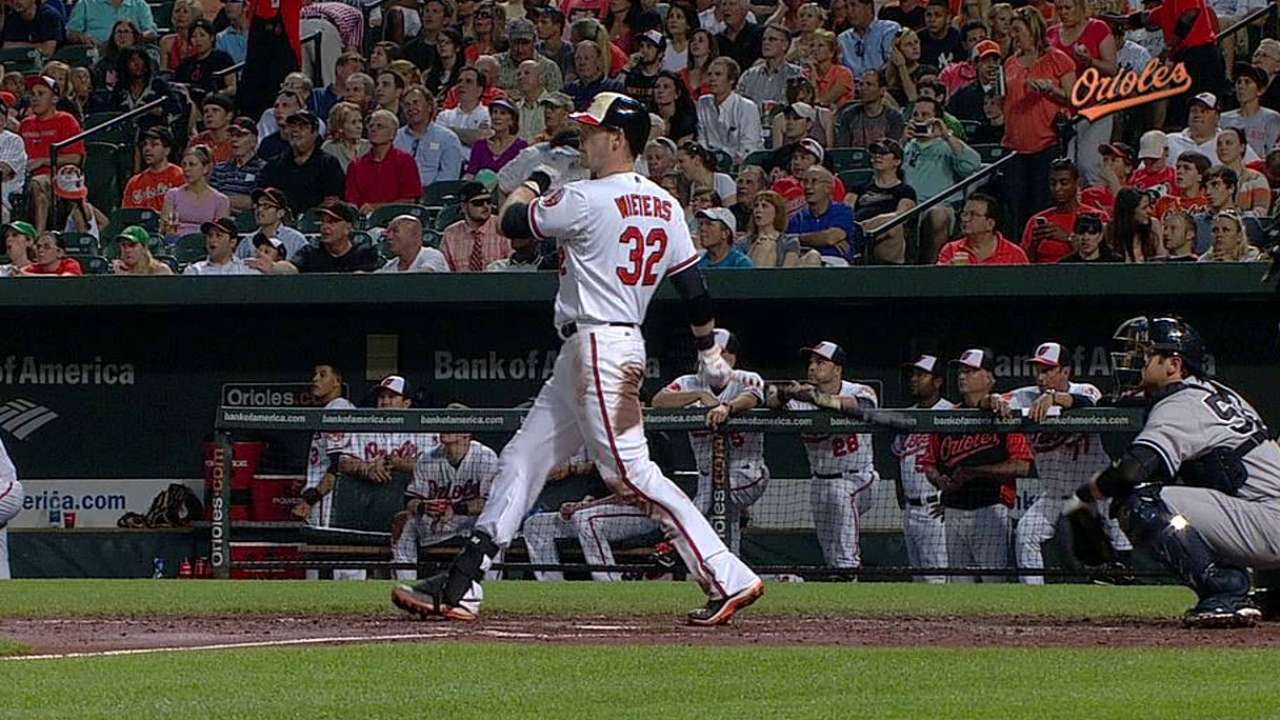 BALTIMORE -- The Orioles are back.
On the heels of snapping a season-high six-game losing streak, Baltimore (25-21) kept rolling in the right direction on Wednesday night, using a gutsy effort from right-hander Jason Hammel and a trio of homers to secure a 6-3 series-winning victory over New York.
The victory snapped a two-series skid and helped the Orioles secure their fourth consecutive quality start, as the rotation -- with top pitching prospect Kevin Gausman on deck -- suddenly looks a whole lot better.
The Orioles' prognosis overall -- having topped a first-place Yankees club in back-to-back contests and evening the season series -- seems a whole lot brighter as they head to Toronto to start a two-city, six-game road trip.
"It's always nice to win a series, especially against teams in your division," said catcher Matt Wieters, who delivered a three-run homer. "You want to get on a roll, and more important, we just want to play the way we know we can."
The Orioles' 4-5-6 hitters went 8-for-12 with two doubles, two homers and five runs, and Hammel turned in his best outing in 10 starts. The relief corps, which picked up 22 2/3 innings and notched a 7.94 ERA over the six-game skid, recorded the final seven outs on Wednesday night and closed the homestand with a 1.69 ERA.
"There's a difference between being paranoid and being alert, OK?" manager Buck Showalter said of the panic outside the clubhouse during the losing streak. "And our guys are alert to what's around every corner. Just because something good happens or something bad happens doesn't mean it's going to continue unless you [don't] stay on top of your business, and this group will."
It wasn't exactly a vintage performance from the 29-year-old Hammel -- who was an All-Star Final Vote candidate last season -- but he battled back from some early struggles to turn in his first quality start since April 25.
Hammel, who matched a season high with 6 2/3 innings, followed an impressive seven-inning outing from Miguel Gonzalez on Tuesday night and provided good reason for optimism to an Orioles club that went through a stretch of six of seven games in which the starter went five innings or fewer.
"Ham likes to win," Showalter said. "I like guys who care a lot. Like all of us, we sometimes have to get out of our way a little bit now and then. I don't think we've yet seen the best of him yet, and that's encouraging."
Entering the game having allowed 17 earned runs over his last three outings, Hammel held the Yankees to two runs on six hits, recording a season-high six strikeouts in the 109-pitch effort.
"There were a few times that I wanted to jump away from it and get going quick again, and I was able to slow myself down," said Hammel, who improved to 6-2. "But [Wieters] called a great game. The small adjustments that I've made, [they were] there for the majority of the night."
As has become the norm with Hammel on the hill, the offense came through with a substantial effort. The Orioles jumped on Yankees starter Hiroki Kuroda, blasting a pair of homers to score three two-out runs in the first inning. Nick Markakis sent a 1-1 slider into right-center field, and after Adam Jones singled, Chris Davis followed with a full-count blast.
"After getting two quick outs, with a 1-1 count, I left a ball in the middle," Kuroda said through his interpreter of Markakis' homer. "That was something I was disappointed with."
Davis, who has 43 RBIs, extended his team lead in homers to 14 and collected his second four-hit game of the season.
Kuroda got into two-out trouble again in the second, taking Manny Machado's liner off his right calf to allow the O's to put runners on the corners. And although Baltimore couldn't convert that opportunity, the effects of that frame chased Kuroda from the game soon after.
Kuroda, who was checked by trainers immediately after Machado's ball hit him, exited after Davis' double -- the club's eighth hit -- in the third. Wieters greeted reliever Preston Claiborne by sending his second pitch over the center-field fence to plate another three runs and help seal the much-needed series win.
"The fact that it was against New York, who's at the top of our division and the team we feel we can compete with. I think it was huge," Davis said. "But we try not to get too low or get too high, and we try to just stay [on an] even keel and go about it. When you play 162 games, you're going to have stretches where you don't feel good or you might even feel good, but you're still losing ballgames. I think the biggest thing to remember is to keep your emotions in check and continue to work like we have."
Brittany Ghiroli is a reporter for MLB.com. Read her blog, Britt's Bird Watch, and follow her on Twitter @britt_ghiroli. This story was not subject to the approval of Major League Baseball or its clubs.