Kuroda hit hard in more ways than one vs. O's
Righty surrenders two homers before exiting early with bruised calf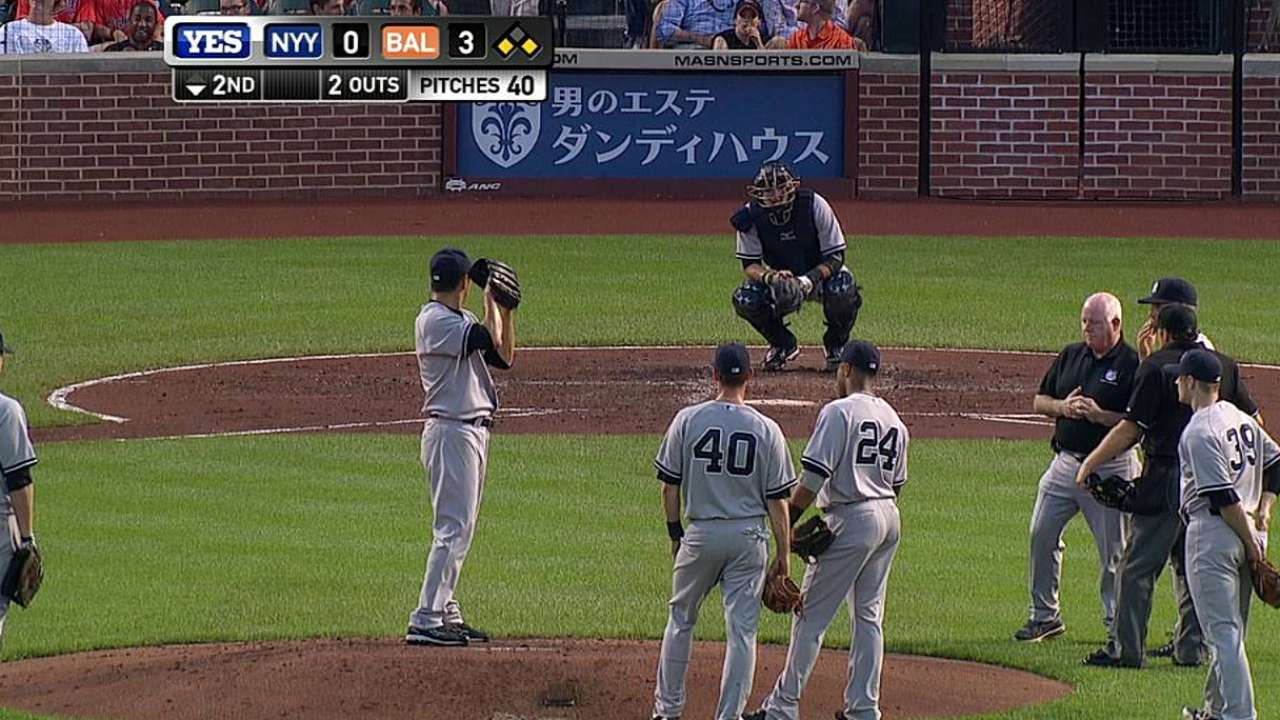 BALTIMORE -- Hiroki Kuroda said that his early exit from Wednesday's game was precautionary and that he could have continued to pitch. That was good news for the Yankees, who have been elated by the right-hander's success so far this season.
Unfortunately for the Bombers, Kuroda was hit hard in more ways than one, serving up two homers before leaving in the third inning with a bruised right calf. The Yanks never recovered, suffering a 6-3 defeat to the Orioles at Camden Yards.
"I wasn't really too worried that it's a serious injury, but I worried that it could affect him," manager Joe Girardi said. "I just don't think he was able to push off like normal."
Kuroda was charged with five runs in two-plus innings after being struck by Manny Machado's second-inning liner. He recovered to finish the frame and began the third inning, but Girardi pulled him after he saw him trying to stretch the calf on the mound.
"It's a little difficult to move my feet," Kuroda said through an interpreter. "If I had to push myself, I could have continued to pitch. It's not too bad."
Girardi said he would be "shocked" if the injury forces Kuroda to miss a turn in the rotation, guessing that Kuroda will simply be sore for the next day or two. Kuroda also expects to be ready for his next outing.
"It will depend on how I feel tomorrow, but for me, I'm going to make that start," Kuroda said.
After Kuroda exited, rookie reliever Preston Claiborne surrendered a homer to Matt Wieters with Adam Jones and Chris Davis aboard, the first runs Claiborne allowed in his brief Major League career.
"It happens. I didn't execute the pitch, and if I had put it where I wanted it, then I would have more than likely got a good result out of it, just like I did the night before," Claiborne said.
Kuroda, who had been the Yankees' most effective starter going into the evening, also served up homers to Nick Markakis and Davis -- his American League-leading 14th -- among the season-high eight hits he allowed.
"He made some mistakes," Girardi said. "He made some mistakes with his slider; it was kind of flat to Markakis. He just made a few mistakes in the first inning, and they jumped on [them]."
Davis, who finished the night 4-for-4, said the Orioles fine-tuned their approach against Kuroda, who went into the start 2-1 with a 1.85 ERA in three career starts against Baltimore, including an April 14 shutout in the Bronx.
"I think we had a little bit better plan this time," Davis said. "I think we were a little bit more patient today; we made him throw strikes. He's really tough when he's down in the zone. It obviously helped to get him out of the game early, but I thought we had some good swings on him early."
The Yankees did not assemble much of an attack against Orioles starter Jason Hammel, who held New York to two runs and six hits over 6 2/3 innings and won for the first time in three starts. He had surrendered 13 earned runs in his previous 8 2/3 innings of work.
New York's offensive highlights came in large part from Curtis Granderson, who singled, doubled and hit his first home run of the season as he busted out of his slow start at the plate.
"It's a result-oriented game, so you always want to see that stuff," Granderson said. "At the same time, the feel is the most important thing. Whenever you do get the feel, then you're in a better situation to get the results that you want. That's what I'm still working on right now, just getting that feel."
Granderson said that the fans told him about the possibility of hitting for the cycle when he came up for the fourth time, in the seventh inning, but he worked a walk in that plate appearance.
New York also picked up a run-scoring single from Robinson Cano in the third inning with Granderson on base, and Adam Warren turned in four innings of scoreless, five-hit relief.
But the Yanks were held scoreless until David Adams hit a solo homer in the ninth inning, as relievers Brian Matusz and Darren O'Day locked down the series victory for the O's.
"Any time a division rival comes in, you want to try to win the series, especially when you're at home," Davis said. "We avoided the snowball effect to some degree and were able to get back on track."
Bryan Hoch is a reporter for MLB.com. Follow him on Twitter @bryanhoch and read his MLBlog, Bombers Beat. This story was not subject to the approval of Major League Baseball or its clubs.