Rangers' Wolf wins first big league start
Righty, 30, pitches five solid innings, backed by Beltre, Murphy HRs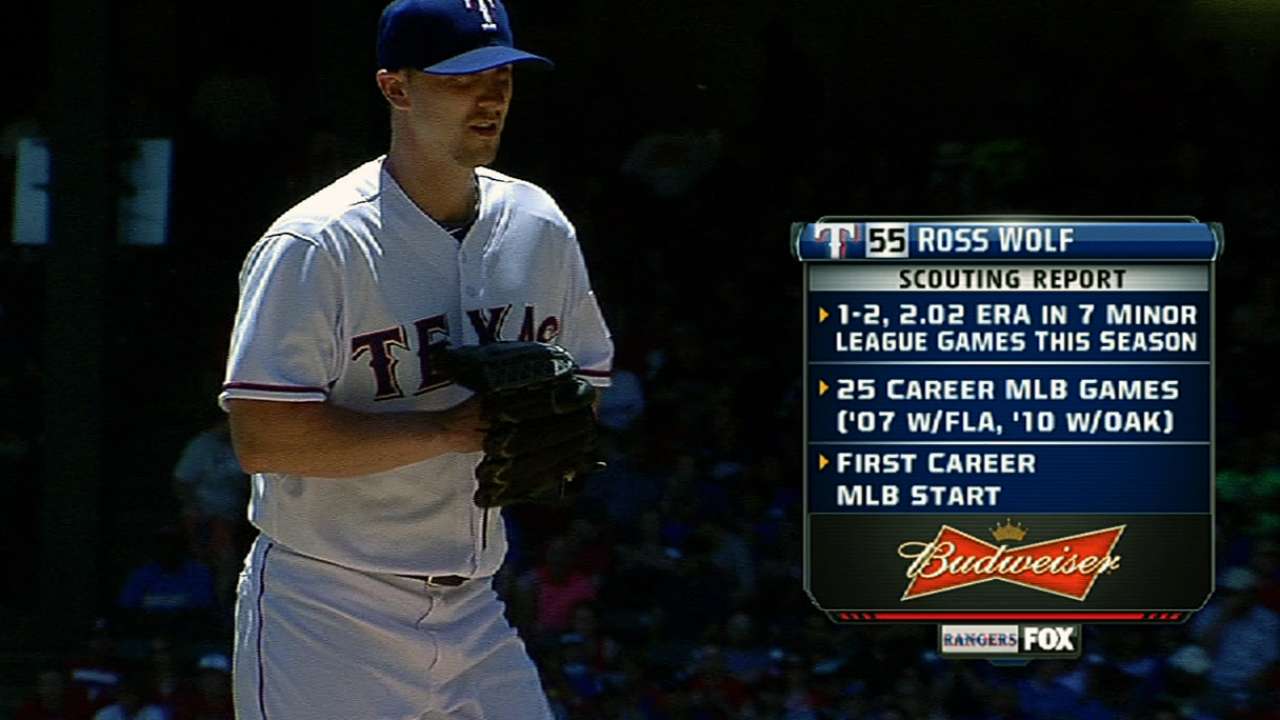 ARLINGTON -- Through seven innings on Wednesday afternoon, the Athletics had only one run, four hits and were 0-for-10 with runners in scoring position. They accomplished all of that against two pitchers who, at some point in the past 18 months, were close to being out of baseball altogether.
Honk if you saw this one coming a month ago. The Rangers needed a victory over the Athletics to avoid a three-game sweep and they got it through the work of starter Ross Wolf and reliever Neal Cotts.
Wolf allowed one run in five-plus innings and Cotts delivered two scoreless innings in relief, as the Rangers held off the Athletics, 3-1, at the Ballpark in Arlington. After 12 years in professional baseball, 476 Minor League games and 25 big league relief appearances, Wolf finally earned his first Major League win.
"This ranks up there with my kids being born," Wolf said. "Just to be where I'm at, if you told me in Spring Training that I was going to start and contribute to this team, I would have said you're a liar. …To get a win against a team like Oakland that had won [five] in a row, just to contribute and be able to celebrate a Major League win, it was awesome."
The Rangers signed Wolf last year as a Minor League free agent after he had been released by the Orioles. He pitched 11 games in relief for the Marlins in 2007 and another 14 for the A's in 2010. He's been a reliever almost his entire career, but the Rangers used him as a starter this season at Triple-A Round Rock because of all their injuries and callups. He got this start only because Nick Tepesch was scratched because of a blister on his right middle finger, and the Rangers were running out of starting options.
One pitcher's blister is another pitcher's dream come true.
"This means everything to anyone in the game who has ever had a dream," manager Ron Washington said. "His dream was to come to the Major Leagues and be successful and today he was successful. He did a great job of going through a lineup of a hot team. He didn't use a whole lot of pitches, he kept the ball down and moved it around. He was so thrilled when he got to the ballpark the other day. I'm very happy for him."
The Rangers scored all their runs in the first inning off Athletics starter Jarrod Parker on a two-run home run by David Murphy and a solo shot by Adrian Beltre. That's all the Rangers pitchers would need.
"This was huge for so many reasons," catcher A.J. Pierzynski said. "Losing the first two games of the series, off-day and travel day tomorrow. I'm so happy for Wolfie and Neal Cotts and everybody involved. It was a great win."
Wolf retired the first nine batters he faced before Coco Crisp led off the fourth with a single. Wolf struck out John Jaso but Yoenis Cespedes doubled to left, putting runners at second and third. Brandon Moss brought home the run with a sacrifice fly but Wolf got Josh Donaldson on a grounder to short to end the inning.
Wolf also got in trouble in the fifth when Seth Smith led off with a walk and Derek Norris doubled, putting runners on second and third. But Wolf kept them from scoring. Eric Sogard hit a little pop fly into shallow left and shortstop Elvis Andrus made a tremendous over-the-head catch with his back to the plate for the first out. Adam Rosales then popped out and Crisp grounded out to end the inning.
"When you're a starter, you have to just keep executing your pitches," Wolf said. "A.J. told me that. When I got in trouble, he told me I have to bear down and make pitches. That's what we did."
Wolf was done after he walked Jaso and Cespedes reached on an error to start the sixth. After he left to a standing ovation, Cotts took over and struck out three straight hitters. Cotts also retired three straight in the seventh after Derek Norris led off with a double.
"He did a tremendous job," Washington said of Cotts.
"I'm just happy I could pick [Wolf] up," Cotts said. "He was throwing the ball well down there and he came up here and did the same thing he did down there. He threw strikes. He did a great job."
Robbie Ross retired the side in order in the eighth and Joe Nathan did so in the ninth for his 14th save. It was also Nathan's 312th save all time, passing Tom Henke for 18th most in Major League history. But even Nathan understood this one belonged to the guy who earned his first win.
"It's always fun when somebody gets their first win," Nathan said. "He threw the ball great. Cotts came in, you can't say enough about the job he did."
Cotts has earned himself a spot in the bullpen. Wolf's immediate future remains unknown. His next start would fall on Monday in a doubleheader against the Arizona Diamondbacks, but the Rangers have not committed to that yet. Other options are being considered for a spot that came open only when Alexi Ogando went on the disabled list with an arm injury that's not expected to keep him out long. Ogando could start throwing off a mound as early as Sunday.
"Today is today," Wolf said. "Tomorrow we'll worry about where I'm needed. I was going to retire after this year. To get the opportunity to start and be on a winning team is surreal."
T.R. Sullivan is a reporter for MLB.com. Read his blog, Postcards from Elysian Fields, and follow him on Twitter @Sullivan_Ranger. This story was not subject to the approval of Major League Baseball or its clubs.