Parker strong after first, but A's win streak snapped
Righty allows two homers early, but no more runs through seven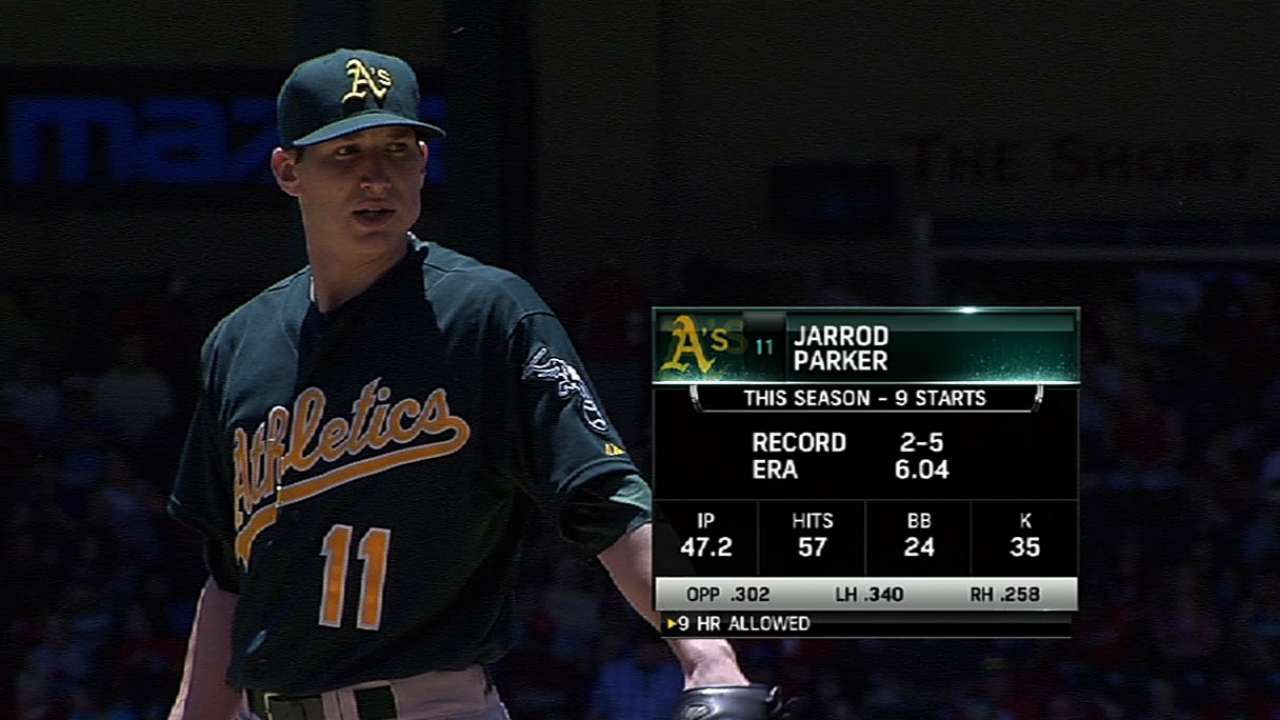 ARLINGTON -- The A's entered the day looking to sweep the Rangers in Texas for just the second time in the last eight years and left having squandered multiple chances to do so.
Having already left a combined 26 runners on base through the first two games of the series, despite winning both, the A's stranded six more on Wednesday afternoon and went hitless in 10 at-bats with runners in scoring position in a 3-1 loss that snapped their five-game winning streak.
It was the sixth loss of the season for righty Jarrod Parker, who surrendered two home runs in Texas' three-run first before settling into a nice groove through the next six, fanning five and facing just two over the minimum in that time.
"Early on they were aggressive," Parker said, "and I just had to make adjustments on the fly and stay ahead of them a little bit and keep my game plan to my strengths."
"He just looks like he's in a better rhythm and more confident," said manager Bob Melvin. "He really settled down nicely. That's good to see. In the past, earlier in the season, that maybe gets away from him a little bit and we have to go to the bullpen early. He really did great after that, we just didn't give him the support but had the opportunities."
Parker, who has completed seven innings in consecutive starts, allowed leadoff man Elvis Andrus to get aboard to start his day, and outfielder David Murphy followed with a two-run homer to right field. One out later, Adrian Beltre took Parker deep to center on the first pitch.
The young right-hander said both were two of only six four-seamers he threw all day, and he has now surrendered 11 home runs in 54 2/3 innings this season, after giving up just as many in 181 1/3 innings all of last year.
But Parker's early woes could have easily been annulled, had the A's taken advantage of their numerous scoring opportunities.
Oakland's lone run came in the fourth -- with Rangers starter and former A's reliever Ross Wolf on the mound -- when Coco Crisp led off with a base hit and, after a Yoenis Cespedes double, scored on Brandon Moss' sacrifice fly. After that, the A's put two runners on with no outs in each of the next two innings, failing to score a run in either.
Seth Smith began the fifth with a walk and advanced to third on one of two doubles hit by Derek Norris, bringing up Eric Sogard with runners on second and third. Sogard popped out, as did Adam Rosales, and Crisp ended the inning on a groundout.
Rosales said he just wanted to "hit a fastball up in the zone, something I could drive to the outfield."
"At least get a sac fly," he continued. "I got the high fastball, it just tailed in on me. I definitely need to improve on that. Make a small adjustment, maybe get deeper in the count, see more pitches, be more patient with myself knowing that I have the ability to get deep in the count. I'm a good two-strike hitter, I just maybe am being a little too aggressive right now, just really want to get the job done."
Said Melvin: "Today, the most frustrating thing is we didn't handle the situational at-bats. We can end up scoring at least two, maybe three runs, without a hit. Second and third, nobody out, can't get a run in. They're trying to do the job, just didn't do it.
"If we handle those, we at least tie the game. That's where all you have to do is put the ball on the ground in the middle of the diamond and you probably get two runs there. Or you try to fly one to the outfield. Popping up is the worst-case scenario. Striking out is the worst-case scenario."
The latter scenario is what plagued the A's against lefty reliever Neal Cotts in the sixth, when they again put a man on first with no outs via a walk. Andrus then uncharacteristically made an error on Cespedes' potential double-play ball, allowing the A's another chance with no outs and two men on.
Brandon Moss struck out swinging on five pitches. Josh Donaldson did the same on four. And Smith was frozen on just three pitches.
"You'd like to do more and drive runs in," Smith said. "I think today, more than any, we kind of did it to ourselves. They pitched well, but it was kind of a frustrating, uninspiring effort I guess on our part."
The A's leave Texas 5 1/2 games behind the Rangers in the American League West, and their next stop is a three-game visit to Houston. And as much as they wanted to feel satisfaction in taking two of three from Texas, Wednesday's affair left them with more of a bittersweet taste than anything.
"Once you win two," Melvin said, "you want to win the third."
"Obviously three of three is better than two of three," Parker added, "and for us to be satisfied with this isn't something we want to do. We want to win as many games as we can."
Jane Lee is a reporter for MLB.com. Read her blog, Major Lee-ague, and follow her on Twitter @JaneMLB. This story was not subject to the approval of Major League Baseball or its clubs.