Buchholz improves to 7-0 with seven strong innings
Right-hander allows one run, strikes out four and lowers ERA to 1.73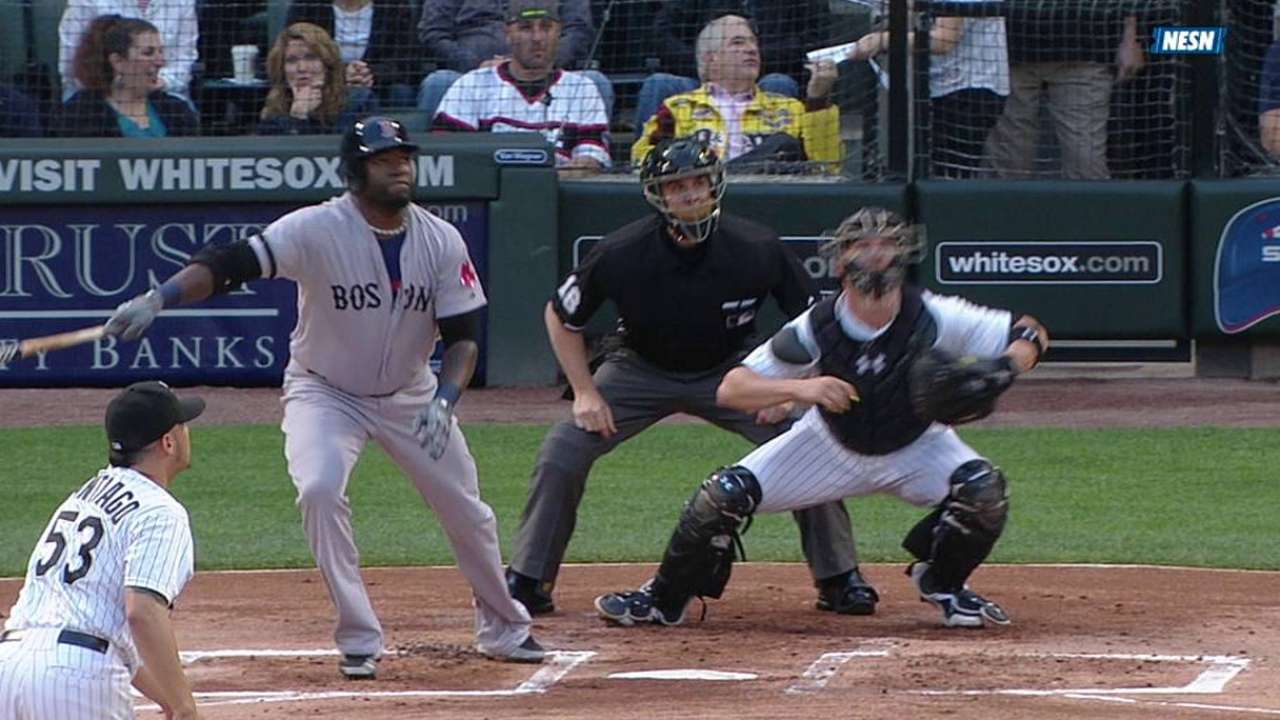 CHICAGO -- Clay Buchholz continues to motor right along, giving the Red Sox one dominant performance after another.
The one he delivered on Wednesday night could not have come at a better time. After losing the first two games to the White Sox, the last thing Boston wanted to do was end an otherwise successful road trip by getting swept.
Buchholz, who is 7-0 in 10 starts, didn't let that happen. Instead, he fired seven strong innings to lead his team to a 6-2 victory that completed a 6-3 road trip.
"I'm just doing the same thing between each start," said Buchholz. "Having confidence is a big thing. That's definitely part of it. It's fun pitching when you're good."
In fact, Buchholz is currently one of the best in the game. In this one, he gave up five hits and a run, walking three and striking out four. He lowered his American League-leading ERA to 1.73 and threw 113 pitches, 71 for strikes.
"When you look at the bottom line, it's because he's got a number of different pitches he can go to in different spots," said Red Sox manager John Farrell. "He's not going to rely solely on his fastball. I thought he had a very good curveball again tonight. He has certainly set the tone for us on the mound."
This was a night the Red Sox needed Buchholz to be at or near his best. For most of the night, Chicago's pitching held down the Boston bats.
Leading 2-1 after seven, Boston added insurance runs in the eighth on a sacrifice fly by Will Middlebrooks and a passed ball from White Sox catcher Tyler Flowers.
The bullpen took it from there.
Daniel Nava delivered a two-out single in the ninth to break it open.
That created a stress-free return to action for closer Andrew Bailey, who worked around a homer by Paul Konerko in the ninth in his first appearance for the Red Sox since April 28.
Bailey had been out with right biceps tendinitis.
"We felt like even with the non-save situation, it was important to get him on the mound," said Farrell. "It had been since this past Saturday when he was in a game. To see him on the mound back healthy with us is a really good sign."
In another positive development for the Red Sox, slumping leadoff man Jacoby Ellsbury belted two hits and was on base four times. It was his first multi-hit game since May 4.
"Well, it feels good," Ellsbury said. "Same approach that I've had, same game plan. Everything's pretty much the same. It's just nice to get on base and create havoc and score a run tonight."
And for the first time in the series, the Red Sox got some early offense. After Jonny Gomes was hit by a pitch and Dustin Pedroia lofted a double to left, David Ortiz came through with a two-run single that gave Boston a 2-0 lead in the top of the first.
"It's like I told you guys last night -- we're trying to make things happen," said Ortiz.
In the most unexpected way imaginable, Ortiz made something else happen later in the inning when he stole third for the first time in his career. It was the 12th stolen base of Ortiz's career and just the second since 2008.
But Ortiz read the steal sign from third-base coach Brian Butterfield and took off as Nava struck out. He didn't even draw a throw.
"It happens. I don't have a zero in that category anymore. They didn't even know that I was at second," quipped Ortiz.
Ortiz didn't score, but those two in the first wound up being enough for Buchholz.
In the third, the White Sox rallied against Buchholz. Flowers started it with a single and Alejandro De Aza drew a walk. A fielder's choice by Alexei Ramirez put runners at the corners with one out and Alex Rios made it 2-1 on an RBI groundout to short.
The White Sox came close to tying it in the fifth. With De Aza on first and two outs, Ramirez belted one to deep left. Ellsbury got a tremendous jump on the ball and raced to the wall to make a fine catch.
"He hit it pretty good," said Ellsbury. "It was directly over my head. I had to lunge for it the last second. I took one step and the wall was right there, and the best way to stop my momentum was to scale the wall a little bit."
Once again, however, the story of the night for the Red Sox was Buchholz.
"Yeah, he's good," said Konerko. "I don't think that was his best and I'm sure he'd say it wasn't his best night either. I wish we could have got him because I don't think that's his A game. But that's why he's good. He made the pitches he needed to in just those situations that kept the game under control.
"That's why he is who he is. He's a great pitcher, but I feel like we missed one there because he's one of the elite pitchers in the league and I don't think he had it tonight. We kind of let him off the hook and part of that is us and part of that is him because he's that good."
Ian Browne is a reporter for MLB.com. Read his blog, Brownie Points, and follow him on Twitter @IanMBrowne. This story was not subject to the approval of Major League Baseball or its clubs.