Santiago's rough first too much against Buchholz
Left-hander gives up two runs out of the gate before settling in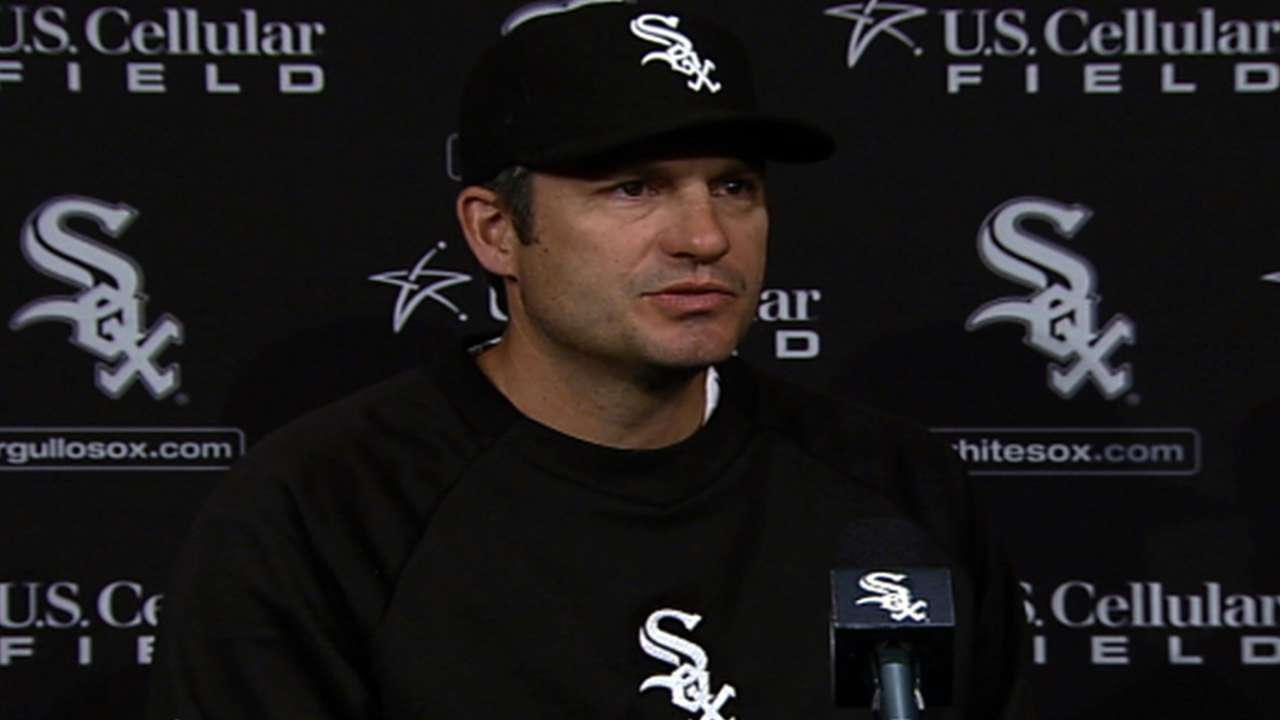 CHICAGO -- White Sox starter Hector Santiago grimaced.
With runners on first and third and one out in the first inning, he threw a perfectly good slider to Red Sox designated hitter David Ortiz only to have him reach out with his bat and poke the ball into left field for a two-run single.
"I think that's the best slider I've thrown all year, the first one for a strike," Santiago said. "I kind of made my pitch and he just kind of threw his bat. You kind of expect something like that, hopefully just not in that situation. He's a good hitter, he just laid the bat out and placed it perfect."
Ortiz's single was the difference in Boston's 6-2 win over Chicago in Wednesday's series finale at U.S. Cellular Field, spoiling the South Siders' chance at their first series sweep.
Santiago calls himself a Swiss Army knife, alluding to the different roles his arm can fill as a starter or out of the bullpen. On Wednesday, the White Sox needed him to throw in Chris Sale's spot after the ace was scratched because of mild tendinitis in his shoulder. Santiago threw 80 pitches in Anaheim on Saturday, but the left-hander said he felt fine during warmups despite getting the call on just four days' rest.
"It was a regular day," Santiago said. "It was just the first few innings were a little tough, that first inning especially. I just grinded it out and just tried to battle and make pitches."
It took Santiago 29 pitches to get through that first inning, but he settled down and blanked Boston for the next five innings. Before the game, White Sox manager Robin Ventura warned that Santiago might be due for a short outing because he had been bumped up a day.
After the first inning, the chances of that happening seemed to increase. But Santiago only needed 78 pitches to get through the next five innings, allowing just three hits and finishing with nine strikeouts. Santiago had planned for a long outing the whole night with his primary goal to preserve the bullpen. He even said he wanted to throw the seventh inning despite already totaling 107 pitches.
"You weren't really expecting it, but he started getting a little stronger as he got in there," Ventura said. "There was a couple innings where you think he wasn't going to make it --- I think it was the fourth --- and he gets through it. Then he was basically hitter to hitter and got stronger."
But the White Sox offense, which had scored nine runs in the first two games of the series, couldn't help Santiago's cause. Chicago had its opportunity to score, but stranded runners at second base in the first and third innings. Alex Rios drove in the White Sox only meaningful run on a groundout to short in the third inning, sending catcher Tyler Flowers home from third. The right fielder also extended his hitting streak to 17 games, the longest run in the American League this season, with a single in the sixth.
For most of the night, however, the timely hitting the White Sox displayed during the first two games of the series was nonexistent. Chicago knocked in all of its runs on Monday and Tuesday with two outs but Wednesday reverted back to its struggles from the seven-game road trip, when the White Sox hit .212 with runners in scoring position in Minneapolis and Anaheim.
A good deal of credit for the cooling bats belongs to Red Sox starter Clay Buchholz, who entered Wednesday's start with a 6-0 record and an American League-leading 1.78 ERA in nine starts and only improved on those numbers. The right-hander twirled seven innings, allowed five hits and remained unbeaten on the season.
"He had to pitch around some men on base," Red Sox manager John Farrell said of Buchholz. "He continued to take his time and make quality pitches. He put a number of balls on the ground that, for whatever reason, whether it was the soft grounds, didn't have the pace that normally are turned to double plays that might have prevented some of that pitch count that got up there."
After Wednesday's game, The White Sox announced that John Danks will make his first start of the season on Friday. Danks' return to the rotation calls Santiago's immediate future into question. He and right-handed starter Dylan Axelrod have been competing for the fifth spot in the rotation since Danks went on the disabled list, and a decision on who remains in the rotation will be made on Friday. Axelrod pitched valiantly on Monday, allowing two runs on four hits in six innings. Although he was saddled with the loss, Santiago one-upped Axelrod on Wednesday with a similar line on short rest.
"With Danks coming back, I don't know what's happening," Santiago said. "I'm going to be ready for anything and have every role. If I'm going to be back in the 'pen or back starting, I'm just going to be waiting for them to tap me on the shoulder and be like, 'Hey go out there and get them.'"
Spoken like a true Swiss Army knife, though Santiago did defend his starting resume by saying he thought his only bad start was the one on Saturday, when he lasted just three innings in Anaheim and surrendered three runs.
White Sox first baseman Paul Konerko launched a solo homer off Andrew Bailey in the ninth to cap off a 2-for-4 day and move into a tie with Mike Piazza for 44th place on the all-time home runs list with 427.
The late effort wasn't enough to back Santiago, especially after the Red Sox tacked on a pair of runs off the White Sox bullpen in the eighth on a sac fly to right and a passed ball that got by Flowers with the bases loaded. Daniel Nava then plated two more with a two-out single in the ninth with the bases loaded to break open the game.
But Santiago made his statement, and now Ventura has to figure out which blade to pull.
"It's tough but that's part of being in baseball," Ventura said. "You got to do what's best for us. We'll figure that out Friday."
Ethan Asofsky is an associate reporter for MLB.com. This story was not subject to the approval of Major League Baseball or its clubs.