Dodgers fortify Ryu in finale win over Brewers
Van Slyke knocks two doubles in place of Ethier as LA wins series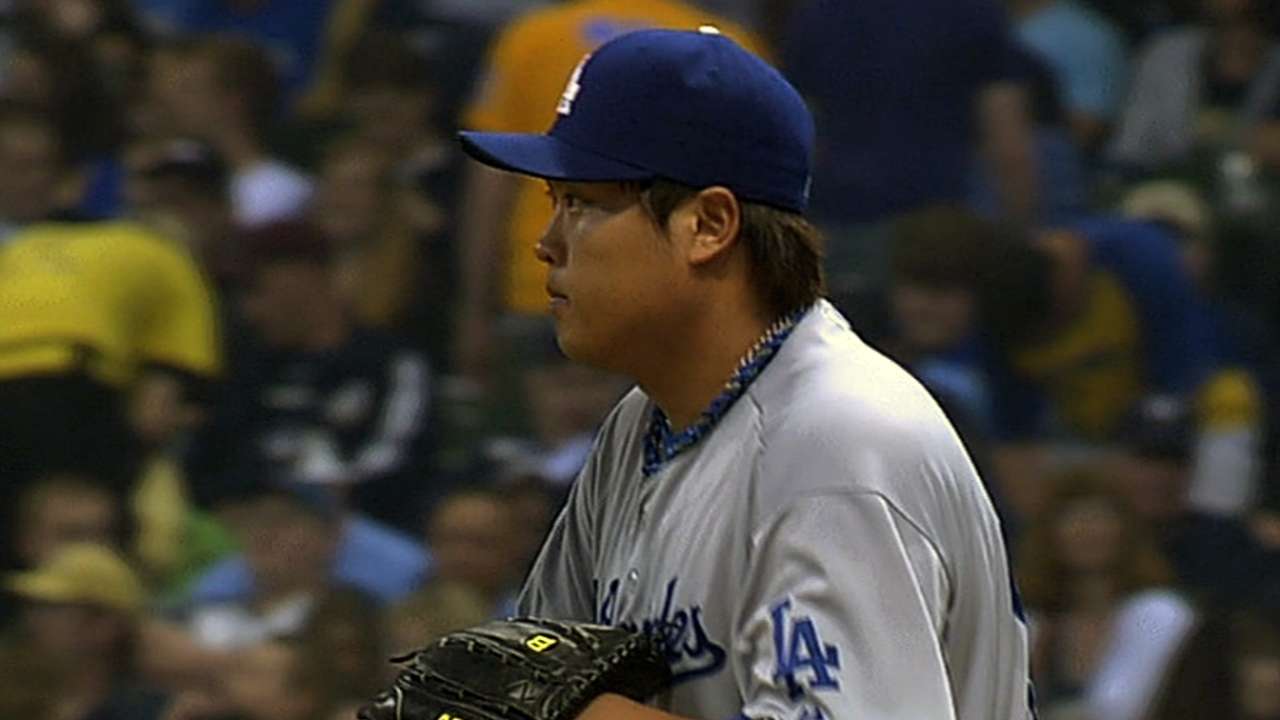 MILWAUKEE -- Manager Don Mattingly shook up his lineup on Wednesday, benching Andre Ethier, and the Dodgers cruised to a 9-2 victory over the Brewers.
Scott Van Slyke, who replaced Ethier in right field, had a pair of doubles and two RBIs. Backup catcher Ramon Hernandez, in a rare start, broke an 0-for-17 slump with a homer, single and two walks.
Carl Crawford and Matt Kemp also had a pair of hits, with Crawford also scoring twice, driving in two and stealing a base. Nick Punto, starting at shortstop, reached base three times and made a flashy play in the field.
But Mattingly was hesitant to connect the dots of the benching to a relatively easy win, with his offense 6-for-15 with runners in scoring position.
"We got some runs, we made some plays," Mattingly said. "I don't know. We didn't really talk about it in any way."
Mattingly wouldn't even agree that the benching -- and his explanation that he is looking for a gritty team that fights and competes -- sent a message to other players.
"The guys have been bouncing back [after losses] and playing hard," the skipper said. "The energy has been really good for the most part."
Despite media speculation that his job is in jeopardy, Mattingly managed on.
"Do I feel worried [about his job]? No, not really. Should I be?" he said. "I'm not worried. Maybe I should be, but I'm not worried."
Apparently, neither is general manager Ned Colletti, who said he's headed to Double-A Chattanooga to check on the prospects there, among them outfielders Joc Pederson and Yasiel Puig.
The benching of Ethier wasn't done on a whim. Three hours after Tuesday night's 5-2 loss to the Brewers, Mattingly and his staff were still meeting in the clubhouse trying to figure out how to fix his last-place team. They returned to the team hotel after 1 a.m. local time.
Whatever the catalyst, the Dodgers exploited Milwaukee starter Wily Peralta and a shaky defense behind him for a five-run second inning and Hyun-Jin Ryu pitched into the eighth as the Dodgers won the rubber game of the series to salvage the trip after being swept in Atlanta.
"That's not an easy club to pitch to," Mattingly said.
Brewers slugger Ryan Braun, who homered off Ryu, indicated that the Dodgers didn't beat much in this game.
"We're just barely even competitive," Braun said. "It's been horrendous. Terrible."
Ryu (5-2) was charged with two runs in 7 1/3 innings, striking out four with two walks to begin a string of four consecutive games to be started by left-handers, the first time the Dodgers have done that since 2009. Pitching on four days' rest, Ryu left after 108 pitches and said he's been pleased this year to be able to make each start as he adjusts to the Major Leagues from Korea, where starts are more spaced out.
Ryu said he's aware of the chatter about his manager.
"I hear from a few of my sources, but there's not much I can do but when given the opportunity to help the team, to do my best," he said.
The Dodgers gave Ryu a first-inning run to work with as Crawford singled off Peralta, stole second, took third on Mark Ellis' grounder to the right side and scored on Kemp's two-out single to right.
Milwaukee gifted the Dodgers in the second inning. They loaded the bases on hits by Punto, Juan Uribe and Hernandez. Ryu struck out and then Crawford hit what might have been a double-play ball or at the least should have been a forceout at second. But Brewers second baseman Rickie Weeks missed the ball as Hernandez ran past and two runs scored on the single.
Ellis reloaded the bases with a single and the Brewers then failed to turn another double play, as shortstop Jean Segura booted Adrian Gonzalez's grounder to allow another run to score. Kemp struck out, but Van Slyke and Punto walked to force in two more runs.
Hernandez tacked on a run with his first homer as a Dodger in the third inning and Gonzalez had a home run pulled back in the sixth inning by Braun, who broke up Ryu's shutout in the bottom half of the frame with his ninth home run on a curveball.
Ken Gurnick is a reporter for MLB.com. This story was not subject to the approval of Major League Baseball or its clubs.