Attanasio on hand for Brewers' loss to Dodgers
Owner unhappy with defeat, tough start as Milwaukee drops series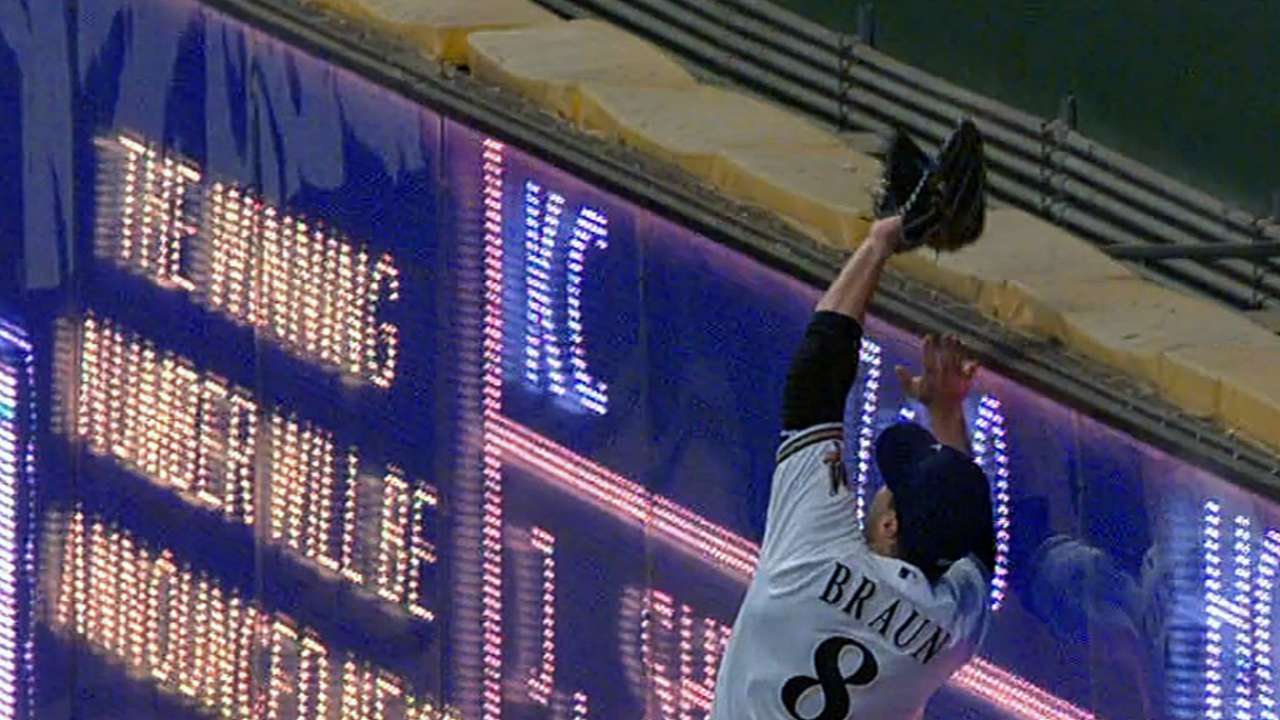 MILWAUKEE -- Brewers owner Mark Attanasio had business in Indiana on Wednesday night, so he happened to be in attendance for the team's afternoon game at Miller Park. He did not like what he saw. Rickie Weeks flat-out missed one grounder in the Dodgers' five-run second inning and shortstop Jean Segura bobbled another. The team's top young pitcher, Wily Peralta, issued two bases-loaded walks before that long inning was over. Later, in the sixth, a pop fly fell between Weeks, Segura and center fielder Carlos Gomez.
Attanasio saw the Brewers lose, 9-2, to the Dodgers, who took two of three games in the series despite entering the week with even bigger issues of their own.
The Brewers fell to 4-16 in May and 18-27 overall, guaranteeing they'd spend Thursday's off-day at least tied with the Cubs for last place in the National League Central.
"First of all, it's a team-wide problem," Attanasio said during Wednesday's game. "It's not any one handful of players, and it's not any one discipline, although I will say the relief pitching has been good. The hitting has been good, but not situationally. And the starting pitching hasn't been good. ... Our starting pitching has put us in too big a hole, too many times. Too many big innings.
"But you know, we had this record last year [after 44 games]. That doesn't make it better, but we had exactly this record and we did come within a game and a half of a playoff spot [with 10 games to go]."
Milwaukee's owner cited reasons that a similar turnaround is not out of the question for 2013. First baseman Corey Hart has yet to return from the disabled list. Third baseman Aramis Ramirez is still gaining strength after a knee injury. Second baseman Weeks and catcher Jonathan Lucroy should revert to their career norms. Every member of the starting rotation is pitching below their norms as well.
"So there's some reason for optimism," Attanasio said. "But I want to be honest with our fans -- I don't like what I'm seeing right now."
On Wednesday, he saw trouble from the start. The Dodgers scored once off Peralta in the first inning and knocked him out of the game before the end of a second inning that began with three consecutive singles, the third having struck Peralta.
The right-hander struck out opposing pitcher Hyun-Jin Ryu for the first out of the inning before Dodgers leadoff hitter Carl Crawford hit a ground ball to Weeks' left. Weeks appeared to twist his body too early, anticipating a throw to second, and simply missed the ball. Official scorer Tim O'Driscoll gave the play a number of looks via instant replay, but because the player never got to the baseball, stuck with his original ruling: Two-run single.
Mark Ellis followed with another single to re-load the bases before Adrian Gonzalez hit a bouncer to Segura, who tried a backhanded stop and bobbled the ball. Gonzalez was credited with an RBI fielder's choice and the Dodgers owned a 4-0 lead.
Peralta struck out Matt Kemp, but, with his pitch count climbing, walked Scott Van Slyke and Nick Punto in succession to make it 6-0. Brewers reliever Alfredo Figaro took over for Peralta and escaped further damage in the second inning before surrendering a leadoff homer in the third that made it 7-0.
"If we make those plays, [Peralta] is out of the inning and given up two or three runs there," said Brewers manager Ron Roenicke, who did not believe either grounder would have produced a double play. "He should pitch better than that, I know. But we could help him out a lot, too."
On the other hand, Roenicke defended the Brewers' defenders, saying, "They're not easy plays. Those aren't balls that I would say, 'Hey, we have to make those plays.' Even the ball that was blooped into center field where there was a little bit of communication problem with who's got it and the ball falls in, that's not an easy play, either. So I don't think that was just a terrible defensive day today."
The Brewers did not score against Ryu until the sixth, when Ryan Braun hit his ninth home run of the season to make it 7-1. Jonathan Lucroy drove in the Brewers' other run in the eighth.
Was it the Brewers' worst game of the year?
"There's been a lot of 'worst' games this year," Braun said. "It hasn't been good. We're just barely even competitive. It's been horrendous. Terrible.
"We have to do everything better. Coming into the year, we expected to be able to compete for a postseason spot, to have an opportunity to win our division, and we're not doing anything well enough to even belong in that conversation. We've been terrible. Horrible. Without many signs of doing anything better. It just hasn't been good."
Ryu was good for the Dodgers, scattering six hits and two walks in 7 1/3 innings. Five different Dodgers had two hits including Crawford, who scored two runs and drove in two more.
Those performances came amid rumors swirling around the future of Dodgers manager Don Mattingly, who came to Milwaukee on the hot seat. His team returned to Los Angeles with a 19-26 record.
"Do I feel worried [about his job]? No, not really. Should I be?" Mattingly said. "I'm not worried. Maybe I should be, but I'm not worried."
In the other clubhouse, everyone appeared safe. Attanasio gave no indication he was considering changes.
Because of his business meeting in Indiana, Attanasio was previously scheduled to attend this series, his first at home since Opening Day, and to join the team's television and radio broadcasts. A Brewers official called on Wednesday morning and asked whether, in light of the team's recent losing ways, Attanasio wanted to back out.
To the contrary, Attanasio answered.
"I wasn't going to duck it because we're losing 6-0 or 7-0, or because we're having a tough month," Attanasio said. "In fact, I think it's more important to face things when we're having a tough time."
Adam McCalvy is a reporter for MLB.com. Read his blog, Brew Beat, and follow him on Twitter at @AdamMcCalvy. This story was not subject to the approval of Major League Baseball or its clubs.