Twins lose eighth in a row as Worley struggles
Hicks breaks out with homer, three-hit day against Braves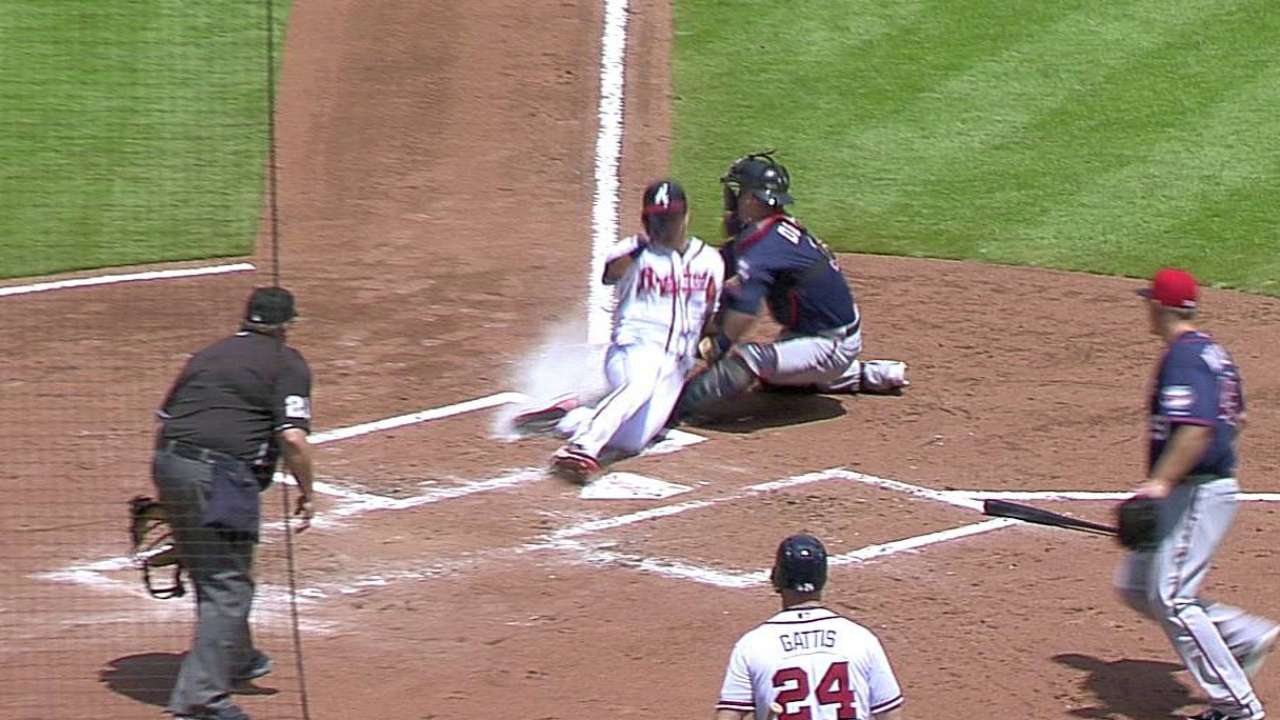 ATLANTA -- It's becoming an all too familiar script for the Twins.
They've been falling behind early -- they've given up a Major League-worst 70 first-inning runs in 43 games -- and have had trouble clawing their way back into games.
Wednesday afternoon was just the latest example, as Vance Worley surrendered a career-high eight earned runs in just 3 2/3 innings as the Twins dropped their eighth straight in an 8-3 loss to the Braves at Turner Field.
It was another clunker for Worley, who was optioned to Triple-A Rochester after the game to help him search for what made him successful with the Phillies to a tune of a career 3.50 ERA before he was traded to the Twins this offseason for Ben Revere.
"I went out there and left the ball up -- my ERA is killing me," said Worley, who dropped to 1-5 with a 7.21 ERA. "It's hard to win a game when you're behind."
Worley, coming on the heels of his best outing of the year, against the Red Sox, couldn't replicate his performance with a forgettable outing against Atlanta. The right-hander struggled from the start and gave up the eight runs on 10 hits, including a grand slam to Evan Gattis in a five-run fourth inning.
"The ball was coming out of his hand pretty decent throwing 92, 93 mph, but ultimately he's misfiring over the plate too much," Twins manager Ron Gardenhire said. "You see the ball flying. And you saw that today. He left it up, and they whacked it. When he keeps the ball down, he does a nice job."
The Braves jumped out to an early lead with a run in the first inning on an RBI single from Jason Heyward after Jordan Schafer walked and Ramiro Pena singled. But Worley was helped by his defense as Josh Willingham threw out Pena at the plate as he tried to tag up on a fly ball hit by Freddie Freeman.
Atlanta tacked on two more runs in the third as Pena connected on a solo homer and Chris Johnson brought home a run with an RBI single after Worley had plunked both Heyward and Gattis.
The Braves blew the game open with a five-run fourth with B.J. Upton hitting a solo shot before Gattis crushed his first career grand slam. It was the 10th homer of the year for Gattis and his second in as many games, as he hit the game-tying homer in the ninth inning against Twins closer Glen Perkins on Tuesday.
"It's legend," manager Fredi Gonzalez said about Gattis. "Good for him. The guys really rally around him and enjoy being around him."
Braves left-hander Paul Maholm, meanwhile, stymied Minnesota's offense over 7 1/3 strong innings. He gave up just one unearned run on seven hits and a walk to pick up his sixth win.
The Twins didn't score until the sixth inning, when Justin Morneau blooped an RBI single with two outs. But the run was unearned as Eduardo Escobar opened the inning by getting on via an error from Johnson at third.
They added a run on Aaron Hicks' leadoff homer off Braves reliever Cory Rasmus in the ninth. It was part of the first career three-hit day for the rookie outfielder, who also had a pair of singles. One out later, fellow rookie Oswaldo Arcia also went deep off Rasmus for his fourth homer of the season, but that was it for the Twins.
"He's been working hard at it so to see him drive the ball like that was nice," Gardenhire said of Hicks. "Same with Arcia. He's been misfiring himself. He's been swinging and missing a lot, so to get a hold of one like that was nice."
But that was about the only bright spot for the Twins, who head to Detroit for a four-game series against the defending AL Central champs -- not the easiest assignment while also dealing with an eight-game skid.
"We're going to Detroit, and if you want to feel sorry about yourself that's not the place to do it," Gardenhire said. "So we better come in ready. If you get your socks knocked off, you owe to each other to go in there the next day and play the game and respect the game of baseball. I don't have any doubts the guys in that clubhouse will show up ready to play."
Rhett Bollinger is a reporter for MLB.com. Read his blog, Bollinger Beat, and follow him on Twitter @RhettBollinger. This story was not subject to the approval of Major League Baseball or its clubs.