Ailing Sandoval delivers walk-off homer vs. Nats
Blanco's triple ties it in ninth inning; Panda hits two-run shot in 10th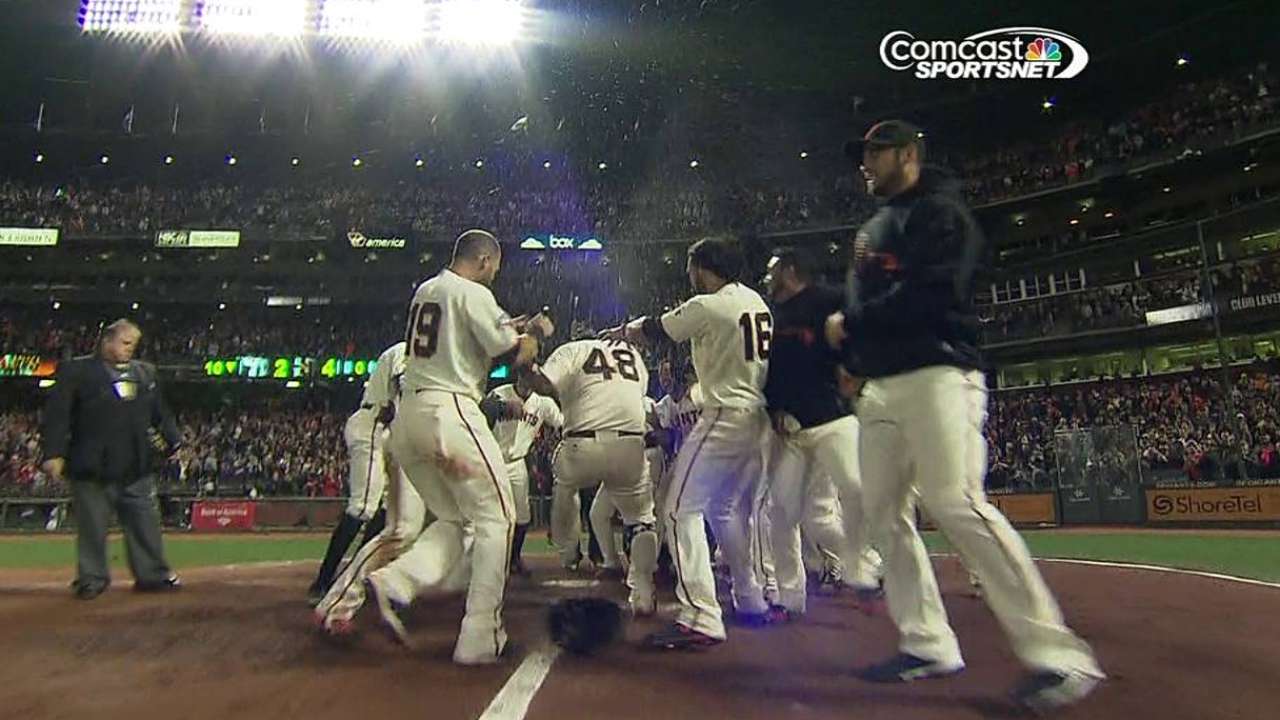 SAN FRANCISCO -- Fighting the flu, Pablo Sandoval needed to rest late Tuesday night. Instead, he was answering questions about his latest feat, a two-run, tiebreaking homer in the 10th inning that lifted the Giants over the Washington Nationals, 4-2.
"We love pressure, man," Sandoval said. "I think it's our favorite part."
The Giants have proven that Sandoval's sentiment wasn't mere bravado. With his eighth homer of the season, a titanic drive to right-center field off reliever Yunesky Maya, the ailing Sandoval accounted for San Francisco's sixth walk-off victory and 13th come-from-behind triumph of the season.
"You do it enough times, it gives the team confidence," Giants manager Bruce Bochy said.
One could have imagined that the Giants' confidence was shaken by recent developments, such as last week's 1-5 trip to Toronto and Colorado, the starting rotation's struggles and Ryan Vogelsong's fractured throwing hand that could sideline him for as long as eight weeks.
But the Giants knew they couldn't dwell on the adversity they faced.
"That's the hard thing about baseball. You kind of have to move on really fast," right-hander Matt Cain said.
They made their move at the right time to defeat the Nationals for the second time in two nights. The Giants trailed by a run against Washington's Stephen Strasburg, who was pitching so well that the deficit seemed like 10 runs. They were down to their last strike in the ninth inning. They didn't care about any of this.
Because if they did shrink from challenges, Sandoval probably would have been sleeping off his illness while his teammates would have gone down quietly against Strasburg and the Nationals' formidable bullpen.
Instead, the Giants erased Washington's 2-1 edge in the ninth when the Giants pulled even on Gregor Blanco's third hit of the evening, an RBI triple off Nationals closer Rafael Soriano. Buster Posey opened the rally with a leadoff single off Soriano's glove before being replaced by pinch-runner Andres Torres. With two outs, Blanco drilled a 1-2 pitch over Bryce Harper's head into the right-center-field gap.
Harper believed that he should have caught Blanco's drive.
"I put that whole loss on me," Harper said.
Said Blanco, "I knew I hit it hard and they were going to play no-doubles [defense]. They were playing deep. But this is a tough park to read the balls. I've played that right field. I know how tough those balls are. Harper did a great job to try to catch the ball. But for me it was good."
It was even better for the Giants an inning later. Marco Scutaro, who extended his hitting streak to 19 games with an eighth-inning double, gave the Giants life in the 10th by singling with one out off Maya, who was recalled earlier in the day from Triple-A Syracuse. Up came Sandoval, who clobbered a 1-0 changeup into the right-center-field seats for his second career walk-off homer.
Sandoval received intravenous fluids to help prepare himself for the game. He prepared himself for Maya by receiving a mini-scouting report on the right-hander.
"I heard he threw a lot of strikes," Sandoval said. "That's what I was focused on in that at-bat."
Earlier, the focus was on the deliciously taut contest. The Giants resumed playing mistake-free defense and were matched in their precision by Washington. After shaky starts, Cain and Strasburg settled down for seven innings to engage in a virtual standoff that pitching connoisseurs could appreciate.
Cain blanked Washington on one hit for the final six innings he worked. Strasburg was equally effective, yielding one hit in his last five innings after surrendering four hits through two innings.
"I think that's what both of us expected, facing each other. We thought it was going to be a close game," Cain said. "It was going to come down to whoever made the most mistakes. I made a couple of mistakes and he really didn't. But the guys kept going at it."
Chris Haft is a reporter for MLB.com. This story was not subject to the approval of Major League Baseball or its clubs.