Harper takes blame for Nationals' 10-inning loss
Right fielder misses catch in ninth; Maya gives up walk-off homer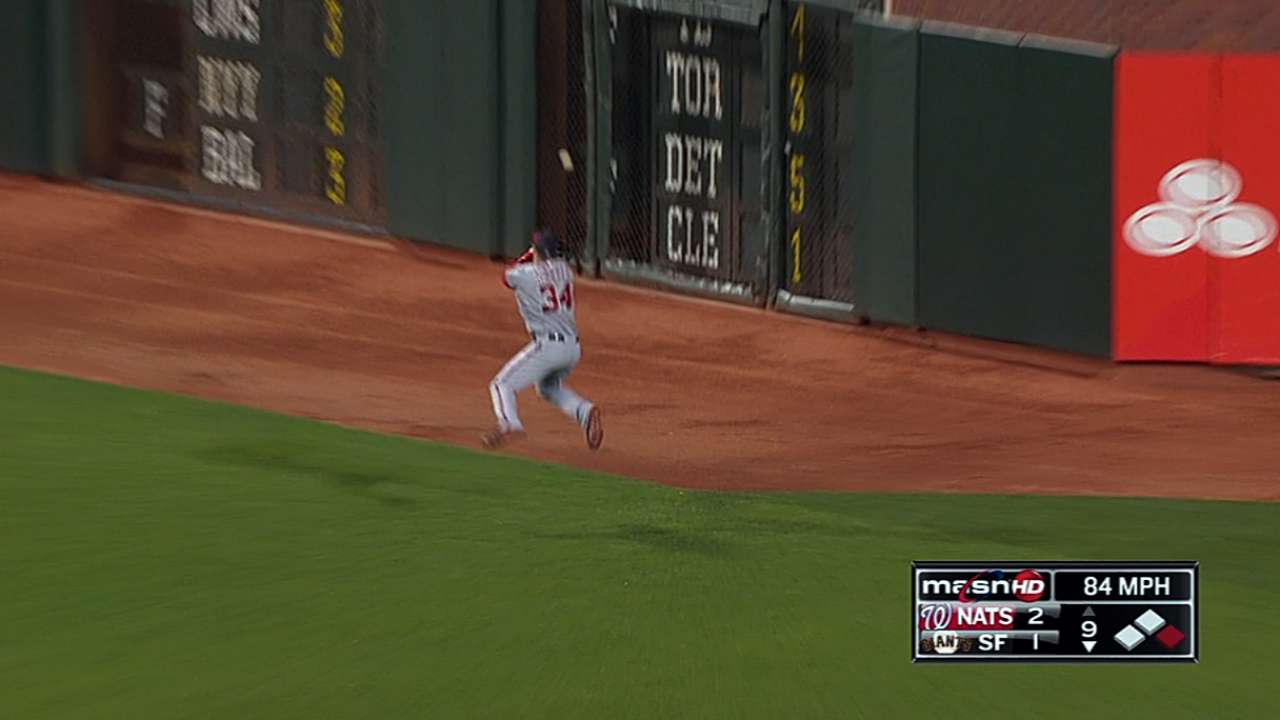 SAN FRANCISCO -- As bad as Yunesky Maya felt Tuesday night, he didn't seem to carry the same burden as Bryce Harper after the game.
It was Maya who gave up a walk-off, two-run homer to Pablo Sandoval in the 10th inning of the 4-2 Nationals loss. But it was Harper who couldn't track down a fly ball in the ninth inning, allowing a game-tying RBI triple to land close to the right-field wall.
"I put that whole loss on me," Harper said. "Really sucks."
With two outs and two strikes in the bottom of the ninth, Gregor Blanco skied one to right-center and Harper gave chase near the warning track, but couldn't come down with the catch. Pinch-runner Andres Torres came around to score and knot the game at 2, as Rafael Soriano blew his third save of the year and second in as many chances.
"I made a bad pitch to him, but that doesn't mean I lost the game there," Soriano said. "I feel like we can play a better game than we're playing right now."
The high fly ball conjured up memories of the hard collision Harper suffered last week in Los Angeles, when he went running full-bore into the wall and injured his knee, abdomen, neck and shoulder. Asked if he had a flashback to that play as he tried to catch Blanco's blast, Harper said, "Absolutely. I don't want to hit the fricking wall, for one. Of course that crosses your mind after you jam into a wall and it doesn't really feel very good."
Still, Harper said he better learn how to overcome that mental block when chasing down fly balls near the wall. And fast.
"Or I'm going to be in Triple-A," Harper said. "That's how I feel."
Blanco's RBI set up the Nationals for some unwanted extra-inning drama. Just hours after flying to San Francisco after being promoted from Triple-A Syracuse, Maya served up the game-ending pitch to Sandoval, saying he wished he threw the changeup lower in the zone.
Maya was all smiles before the game as he and fellow promoted teammate Fernando Abad enjoyed their first big league callups of the year. Afterward, Abad served as Maya's translator, relaying the huge swing of emotions Maya felt on the day.
"He said he prepared good and he went out to compete," Abad relayed from Maya. "Like he said before, he left the pitch in the zone and [Sandoval] made the swing."
After posting a 5.07 ERA in eight Triple-A starts this year, making a 10th-inning appearance in front of 40,000-plus fans was certainly a quick and stark change of scenery for Maya. Despite the tough spot, the 31-year-old righty said that didn't serve as an excuse.
"We always have to be ready for whatever happens," Maya said.
The Nationals (23-23) have now lost four straight and will try to stave off San Francisco's sweep attempt Wednesday. Asked if he felt bad for Maya, Nationals manager Davey Johnson said, "I feel bad for everybody."
Up until the final out of the ninth inning, it looked like Stephen Strasburg was poised to record his third win of the year. He seemed to hit his stride late, as he faced just one batter over the minimum across his final five innings of work.
Strasburg did, however, look shaky to start the contest. He allowed two walks and a couple of singles in the first inning, but used a double play and an inning-ending strikeout of Brandon Belt to get out of a bases-loaded jam. From there, Strasburg looked dominant, using his offspeed stuff to keep the Giants off balance.
"Just as the game went on, I was able to get more command of all my pitches," Strasburg said. "It was a little tough early, but just had to go out there and keep battling."
Despite the early-season struggles of Strasburg's counterpart, Giants righty Matt Cain, the game was billed as a pitchers' duel. Strasburg and Cain didn't disappoint. Cain also tossed seven strong innings, allowing two earned runs on four hits and two walks while striking out seven.
"I think that's what both of us expected," Cain said. "Facing each other, we thought it was going to be a close game. It was going to come down to whoever made the most mistakes. I made a couple of mistakes and he really didn't. But the guys kept going at it."
In an effort to wake up his sleepy offense, Johnson inserted Harper into the No. 2 hole while moving Ryan Zimmerman up to the third spot. The strategy paid off early, as Zimmerman and Ian Desmond each hit RBI doubles to give the Nationals an early 2-0 lead that held up until the final out of the ninth inning.
Following the opening salvo by the Nationals, San Francisco answered back with an RBI single by Angel Pagan to make it 2-1 in the bottom of the second. From there, the scoreboard stayed quiet until the late stages of the game.
"We just haven't had a lot of guys hitting," Johnson said. "Five hits is not a whole lot of hits. Just got to get better, that's all."
Alex Espinoza is a contributor to MLB.com. This story was not subject to the approval of Major League Baseball or its clubs.