Volquez derailed in fifth as Cardinals cruise
Offense unable to string much together against Wainwright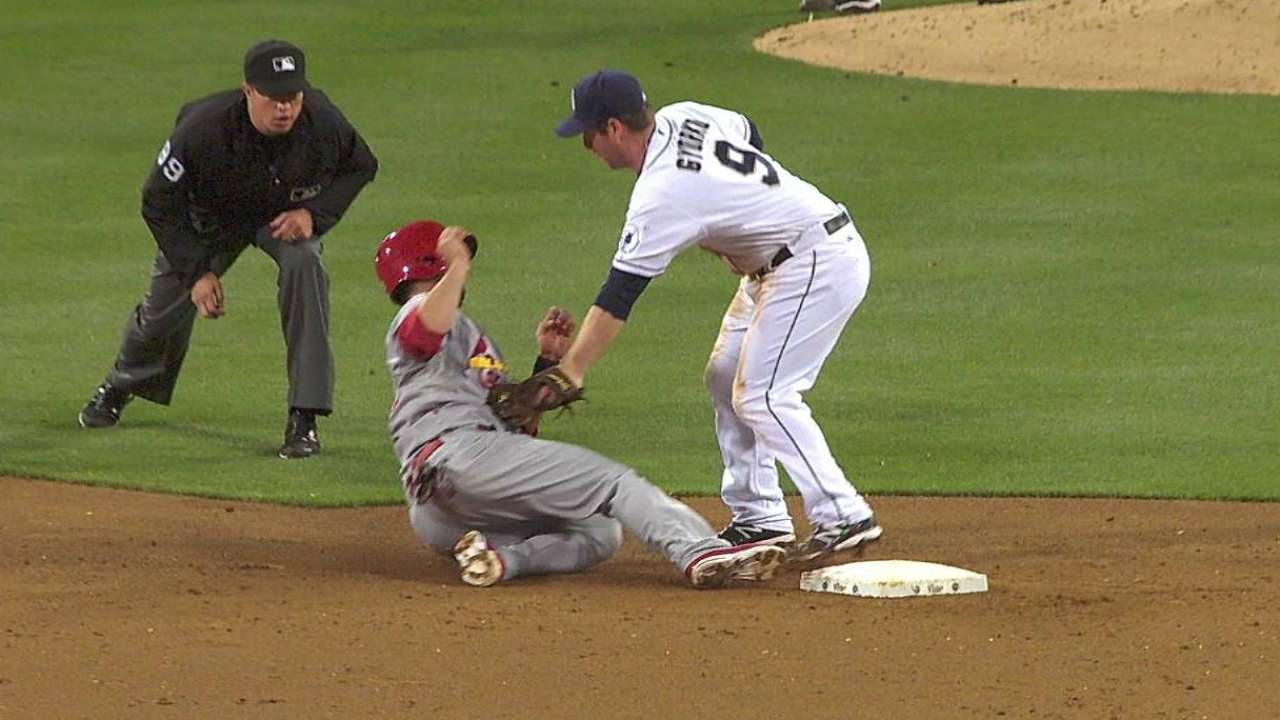 SAN DIEGO -- After he tossed four quick, efficient and effective innings Tuesday night against St. Louis, Edinson Volquez was hardly recognizable in the fifth inning.
Everything the Cardinals' bats touched in the frame was hit hard, as St. Louis busted the game open with four runs on six hits against the Padres' right-hander.
The onslaught broke a one-all tie, and from there, the Cards cruised to a 10-2 victory to even the series at Petco Park.
One positive from Volquez's outing was his ability to throw strikes -- in 87 pitches, he threw 62 of them. But the difference in the fateful fifth frame was his inability to throw what he termed "quality strikes."
"The inning they scored four runs, they were strikes, but they were pitches to hit," said Volquez, who finished the night having allowed five runs on eight hits in six innings. "I've got to make sure the ball is down."
Meanwhile, the Padres offense couldn't solve Cardinals ace Adam Wainwright, who tossed 7 1/3 innings of one-run ball. He had San Diego hitters off-balance all night, allowing just four hits while striking out six.
"They were giving him the corner, and he kept throwing it out there," said Padres second baseman Jedd Gyorko, who finished with three of the club's seven hits. "When you've got good stuff and you're hitting your spots, obviously it's going to be tough."
Early on, St. Louis seemed just as stumped by Volquez. The prime example of his efficiency came in the fourth. After throwing a ball to start the frame, Volquez needed just three pitches to retire the Cardinals' vaunted 3-4-5 hitters -- Matt Holliday, Allen Craig and Yadier Molina.
That inning, however, served as foreshadowing for a key adjustment the Cardinals' hitters had begun to make.
"He was throwing a lot of early strikes," Padres catcher John Baker said. "I think that they realized that, and they went up with the intention to swing. You've got to take your hat off to those guys for having that [fifth] inning."
The frame started quickly with three consecutive hits that gave the Cardinals a 2-1 lead. Still, after Volquez fanned Matt Carpenter, he appeared destined to wriggle his way out of trouble.
That's when Carlos Beltran stepped to the plate with two on and two out. He smacked a single to center, past a diving Gyorko -- a crushing blow for a Padres squad that was already in deep against Wainwright.
"That was a backbreaker," San Diego manager Bud Black said after the game.
The Padres have become accustomed to those types of clutch, two-out hits over the past four weeks, during which their 16-9 mark is the second best record in the National League (behind only the Cards). Only on Tuesday night, the big hit came from the guys wearing gray.
"When you battle through an inning, get a couple outs and either get the out on the mound or on defense, it's great, it's a big lift," Black said. "If it goes against you, it's a little momentum shift."
Holliday and Craig each followed with hits, and by the time the inning had ended, St. Louis had staked Wainwright to a four-run lead.
From there, he cruised, allowing just one more hit the rest of the night.
"I thought that was one of his better games," Cardinals manager Mike Matheny said. "Without question, the best changeup I've seen from him. There were times that he had so much depth on his changeup that I couldn't tell if it was a little harder curve or what it was. That kept the left-handed hitters off-balance and he had everything else working right."
The Cards tacked on four more in the eighth when Anthony Bass surrendered a grand slam to Cardinals second baseman Daniel Descalso. It marked the second slam Padres pitchers have allowed this season and the first since Opening Day.
"It's nice to hit a grand slam, but I would have taken a sac fly there," Descalso said. "As long as I had a productive at-bat there, it didn't matter what it was."
In the third, Volquez and the Padres got a bit of a scare when the right-hander rolled his right ankle trying to cover first base on Pete Kozma's infield single. But Volquez showed no ill effects as the game progressed, and he said he felt OK afterward.
AJ Cassavell is a reporter for MLB.com. Follow him on Twitter @ajcassavell. This story was not subject to the approval of Major League Baseball or its clubs.