Descalso's career game backs win for Wainwright
Reserve infielder belts grand slam on five-RBI, three-hit night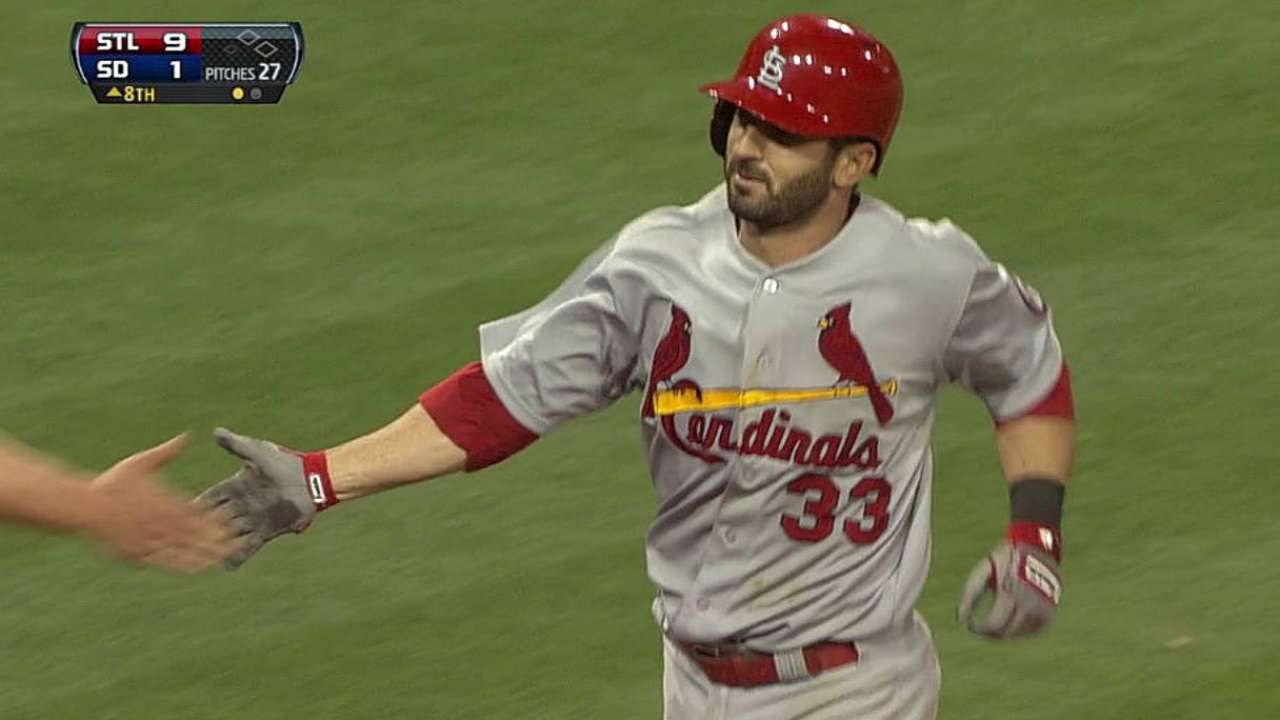 SAN DIEGO -- Daniel Descalso, after striking out in a critical ninth-inning spot on Saturday, insisted that his swing had been feeling better as of late. He simply hadn't had many opportunities to prove it.
But with David Freese needing another day to nurse a swollen right thumb, Descalso -- for only the fifth time this month -- found a place in the starting lineup on Tuesday night. He then proceeded to provide substance to his claim. Capping a three-hit game with an eighth-inning grand slam, Descalso drove in five and scored three times as the Cardinals pounded the Padres, 10-2.
"It's not easy at all," manager Mike Matheny said of Descalso's task to stay sharp without consistent at-bats. "But that's what most guys have to do at certain points in their careers, just capitalize on the few opportunities they get. He came through real big for us."
An announced crowd of 18,702 -- many clad in Cardinal red -- watched the Cardinals snap a five-game losing streak at Petco Park. Adam Wainwright, who held San Diego to four hits over 7 1/3 innings, picked up his sixth win.
It was the first of his career in San Diego, and as he walked off the mound, that loud Cardinals contingent offered him a standing ovation.
"That was pretty special," Wainwright said. "It's not rare for our fans to show up, but it's rare for our fans to be louder than the home fans. When I walked off today, it definitely felt like a home game. It really did."
St. Louis squared up several of Edinson Volquez's pitches early though had little to show for the solid contact until breaking out with a four-run fifth. Descalso, who had singled and scored a third-inning run on Matt Carpenter's two-out double, started the fifth-inning scoring with an RBI double -- only his third extra-base hit since April 9.
An infield single and two outs later, Carlos Beltran padded the lead with a two-run single. Allen Craig capped the frame when he drove Beltran home on a double that skipped over the right-field wall.
"[Volquez] was throwing a lot of early strikes," Padres catcher John Baker said. "I think that they realized that, and they went up with the intention to swing. You've got to take your hat off to those guys for having that [fifth] inning."
Four of St. Louis' five runs against Volquez were scored by the bottom half of the Cardinals' order. The mid-game scoring has been commonplace for the Cardinals, too, as they've been more productive in the middle three innings of games than in either the first or last three. The club entered the night hitting .327 in their third turn through the order against a starting pitcher.
Often, that is the result of making adjustments based on what the starting pitcher is showing. On Tuesday, though, it was the opposite.
"They stuck to the game plan," Matheny said. "They stuck to their approach. When you're hitting balls hard, don't do anything drastically different. And it paid off for them tonight."
The Cardinals matched the four-run fifth with four runs again in the eighth, all of those scoring on Descalso's drive over the right-field wall. With his first career grand slam, Descalso set a career high for RBIs.
"It's nice to hit a grand slam, but I would have taken a sac fly there," Descalso said. "As long as I had a productive at-bat there, it didn't matter what it was. I'm swinging at better pitches, having better at-bats, getting deeper into counts, seeing the ball better. I'm having some success."
With the career night, Descalso boosted his season number substantially. He lifted his season batting average from .197 to .228 and pushed his RBI total from seven to 12. Descalso is now 9-for-21 in his career at Petco Park.
"Must be the California air," joked the native of Redwood City, Calif.
Wainwright delivered another strong starting performance during which he achieved success in a pair of target areas. He spent his bullpen session on Sunday getting his delivery back in sync. He also discarded his previous hesitancy to throw his changeup.
It was a pitch that Wainwright had made a priority in spring, but one that, since the season started, he found himself too often avoiding when catcher Yadier Molina would call it. But he told Molina during their pregame scouting meeting on Tuesday that his changeup would be sharp that evening.
Wainwright ended up throwing several of them. And afterward, Matheny described it as "without question, the best changeup I've seen from him."
"It's one of those things where the conviction wasn't [previously] there to throw it," Wainwright said. "Part of the way you make a mediocre pitch better is that you don't think about getting beat with it. I don't ever think about getting beat with my other pitches, so why would I do that with my changeup? Tonight I threw it with conviction, and I believed it would do what it was supposed to do. That's what it did."
The Padres' only run off the right-hander came in the second and was set up by a fly ball turned double that Jon Jay lost in the lights.
From then on, Wainwright was nearly unhittable. He struck out six in the 100-pitch effort and lowered his season ERA to 2.38 with his seventh start of at least seven innings this year.
"We couldn't really solve Wainwright," Padres manager Bud Black said. "[He had] just a nice mix of pitches. We couldn't do anything."
Jenifer Langosch is a reporter for MLB.com. Read her blog, By Gosh, It's Langosch, and follow her on Twitter @LangoschMLB. This story was not subject to the approval of Major League Baseball or its clubs.