Greinke unable to find form, bested by former mates
Dodgers strand 14 runners as right-hander gets first loss at Miller Park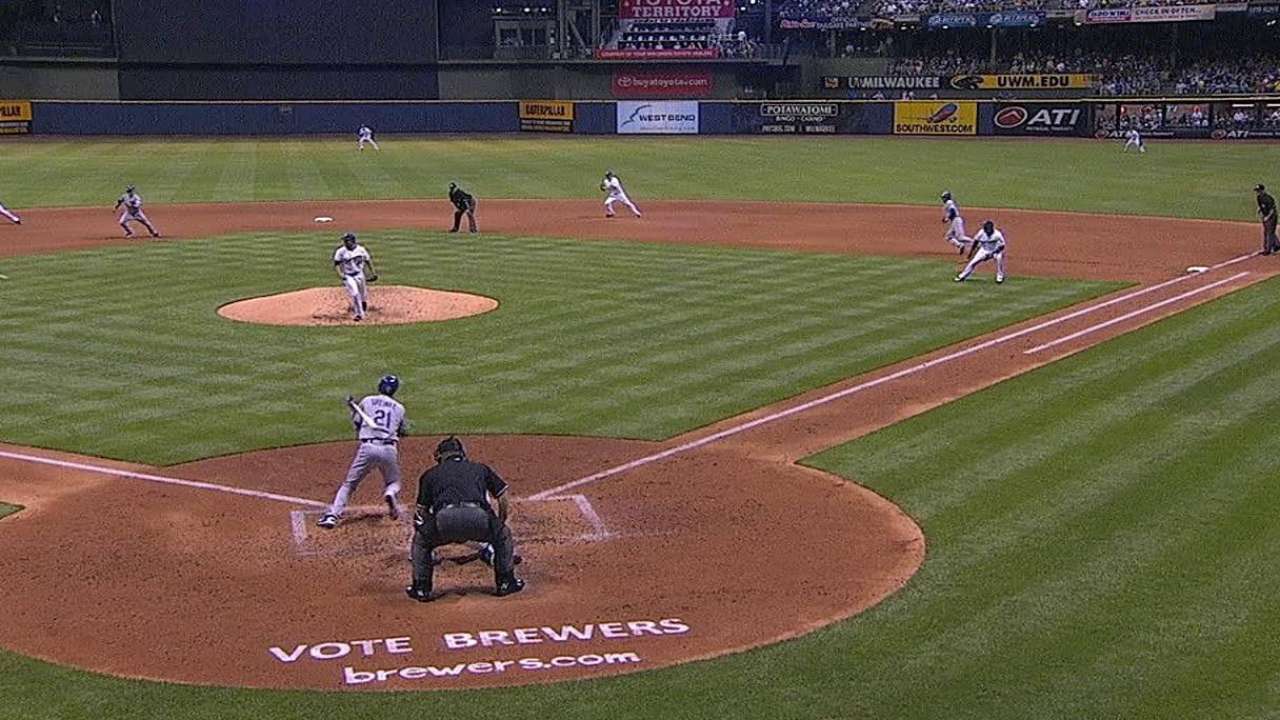 MILWAUKEE -- Zack Greinke might be back, but he's not back to being Zack Greinke.
Combine that with a Dodgers offense that can't exploit the worst pitching staff in the league and the result was a 5-2 setback against the Brewers Tuesday night.
Greinke brought a 15-0 record at Miller Park into Tuesday night's game, but in his second start since returning from a broken left collarbone, he couldn't get an out in the fifth inning.
The Brewers chased him while scoring four times and Greinke conceded he was probably trying too hard, striking out only one but walking three. He was removed after all five batters he faced in the fifth inning got hits.
He was charged with five runs on nine hits in four-plus innings, the shortest of his 24 career starts in Milwaukee. Greinke did have two base hits at the plate and he drove in a run, which is more than most of the Dodgers' hitters-for-hire could say.
Greinke said his collarbone was fine, that his problem apparently was above the collarbone.
"I have to be smarter out there," Greinke said. "I was trying to do most of the game something I shouldn't have been doing."
He went on to say he started the game trying to throw too hard, an explanation for velocity that hit 93 mph in a 26-pitch first inning and fell quickly after that.
"That's really why I didn't pitch good," he said. "I didn't make adjustments. A lot of times I was throwing my fastball away, but I wasn't getting the ground balls. My four-seamer was high, my two-seamer was not getting ground balls and it's a bad combination."
Add to that a breaking ball he not only hasn't commanded this year, but one he rarely throws to a lineup stacked with right-handers, as the Brewers know all too well having been his teammate.
"From what I saw from him, he was trying to do too much, which is understandable coming back to a place where you had a lot of success and you played relaxed," said Milwaukee catcher and former batterymate Jonathan Lucroy. "Coming here as a member of the opposing team, I guess it's a different experience. He made a lot of mistakes and we took advantage of them."
Another mistake Greinke made was trying to field an infield single by Yuniesky Betancourt with a head-first dive. Diving was the one ban doctors gave Greinke for fear of re-injury, but even though he didn't come up with the ball, he said he didn't come up with any further injury, either.
Of course, as Adrian Gonzalez pointed out, if the Dodgers offense had cashed in just a few of its opportunities this might have been a different story. Instead, it was more of the same with 14 runners stranded, 10 in the first five innings.
The Dodgers even chased Milwaukee starter Hiram Burgos in the fourth inning, got four innings of scoreless relief from Matt Guerrier, Ronald Belisario and Javy Guerra and still couldn't win.
Matt Kemp struck out three times, the Dodgers failed to properly execute a safety squeeze, Dee Gordon's slump reached 0-for-20 and Gonzalez struck out with the bases loaded in a two-run fourth inning.
"Unacceptable," Gonzalez said of that at-bat. "A sacrifice fly, maybe a single, and it's 3-1 or 4-1 and we've got momentum. You can't win a game like that. I just stunk. I was looking for balls away and he was coming in. Before I knew it, I had two strikes and I chased a ball I shouldn't swing at. This game was again on us, meaning we should have scored more runs.
"If I come through today, we're not talking about it, we're talking about a win, it's that simple. The only thing I can't do in that situation is strike out."
And this is coming from one Dodger who has hit in the clutch (.457 with runners in scoring position coming in). But he pointed out he's 2-for-18 on a trip that has seen the Dodgers go 1-4 with rumors about manager Don Mattingly's job security sure to flare up with every loss.
"We had the right people up in the right spots," said Mattingly. "We had our chances. We didn't get it done."
Kemp fouled off a hittable 3-1 pitch in the third inning before strikeout out with runners on first and second. Gordon's safety squeeze bunt went right back to pitcher Mike Fiers, and Andre Ethier was thrown out at home when he should have held third.
"It was the wrong place [bunting back to the pitcher] and the wrong read [by Ethier]," said Mattingly.
The only fireworks for the Dodgers after that came in the bottom of the eighth when reliever Belisario threw behind the head of Lucroy in apparent retaliation for Ethier being hit by a John Axford pitch. Plate umpire Wally Bell issued warnings to both benches and Lucroy then singled. The night before, Mike Gonzalez threw a pitch over Ethier's head, no warning was given, and Ethier was ejected after striking out and arguing.
Ken Gurnick is a reporter for MLB.com. This story was not subject to the approval of Major League Baseball or its clubs.