Crew uses four-run fifth to top former Brewer Greinke
Gomez's bases-loaded double highlights rally as bullpen comes through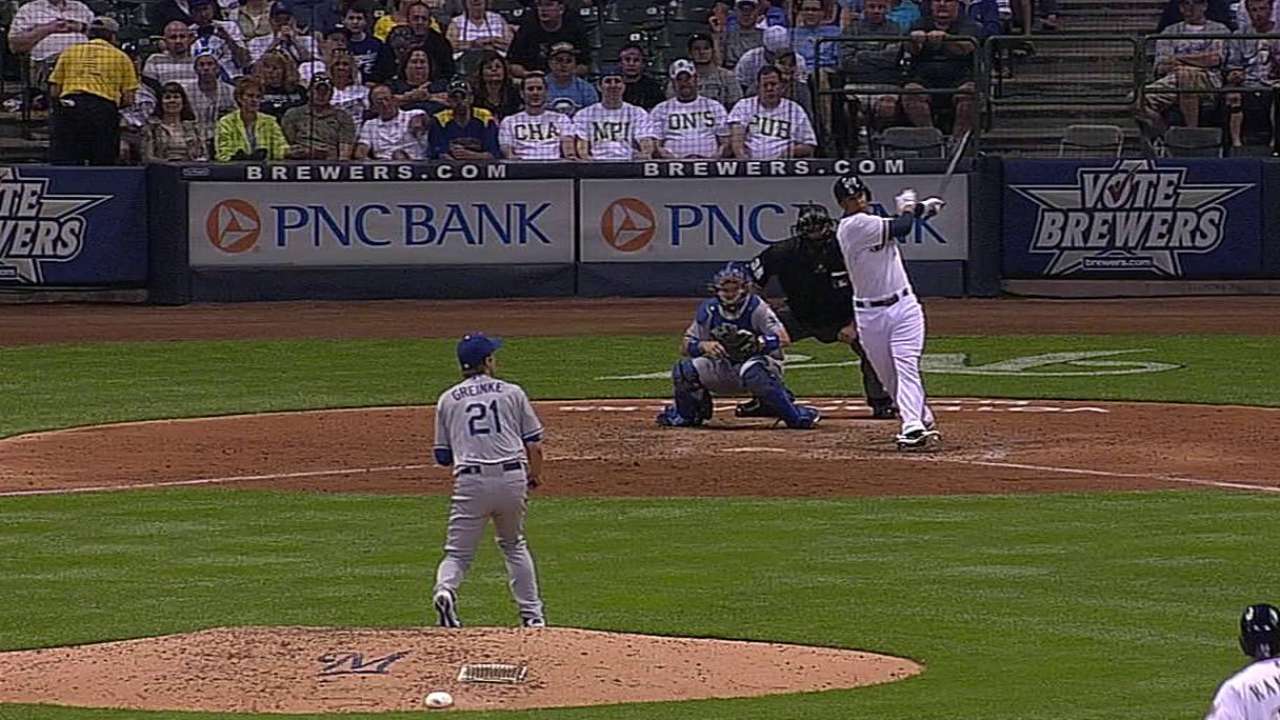 MILWAUKEE -- Carlos Gomez shared the story the day before he stood in the batter's box against friend and former teammate Zack Greinke, and it was worth sharing again Tuesday night. The two had chatted during the Brewers' visit to Dodger Stadium in late April, when Greinke was still recovering from a broken collarbone.
According to Gomez, the exchange went like this:
Gomez: "I want to face you. You've owned me in my career. You've given me many, many outs. Now, I'm prepared to face you."
Greinke: "No you're not. I'm going to strike you out."
Gomez: "Not anymore. Next time, I'm going to get you. Let's see."
A little more than three weeks later, they saw. Turns out they both were right, only Gomez had the final say.
After striking out to end the first inning and flying out to end the third, Gomez finally got to Greinke with the bases loaded and the teams tied in the fifth, sending a two-run double over the left fielder's head that pushed the Brewers toward a 5-2 win over the Dodgers and gave Greinke his first career loss at Miller Park.
Beating Greinke here was no small accomplishment. He entered the night 15-0 with a 2.89 ERA at Miller Park, covering 23 Brewers starts and one relief appearance for the Royals. His team had won 23 of those 24 games, and in the lone loss, last May against the Reds, Greinke struck out 11 and allowed only two hits in eight scoreless innings.
But he was beatable on Tuesday, when Greinke made his second start off the Dodgers' disabled list and allowed five earned runs on nine hits in four-plus innings, with three walks and only one strikeout. It was the shortest of his 24 starts at Miller Park, and the first time he did not strike out at least four batters. The five earned runs and nine hits matched his career highs in this ballpark.
"I just had no feel out there," Greinke said. "I made no adjustments. It started off bad and never really got better. … I probably was trying to throw too hard and that's really why I didn't pitch good, either. I wasn't smart."
The Brewers thought they knew the reason why.
"He was amped up," Brewers manager Ron Roenicke said.
"I think so," said Greinke's former catcher, Jonathan Lucroy, who put the Brewers on the board with a first-inning RBI single and finished with three hits. "From what I saw from him, he was trying to do too much, which is understandable coming back to a place where you had a lot of success and you played relaxed. Coming here as a member of the opposing team, I guess it's a different experience. He made a lot of mistakes and we took advantage of them."
Most of the damage came in the Brewers' four-run, five-hit fifth inning, which they entered trailing only 2-1 because the Dodgers left the bases loaded in the third and fourth innings, stranded 10 men on base from the second through the fifth, and because reliever Mike Fiers was able to cut down Andre Ethier at the plate in the top of the fifth inning when Ethier tried to sneak home on a bunt.
Greinke faced five men in the bottom of that inning and retired none of them. Jean Segura, the centerpiece of the trade that sent Greinke to the Angels last July, led off with a triple and scored the tying run on Ryan Braun's sharp single to right-center field.
Aramis Ramirez followed with a bloop single that fooled Dodgers center fielder Matt Kemp, and Lucroy's second hit off Greinke was a single that loaded the bases for Gomez.
Entering that at-bat, Greinke still owned the matchup. Including his two earlier outs, Gomez was 1-for-7 against Greinke with four strikeouts.
But the first pitch was a cutter and Gomez didn't miss it. His fly ball sailed over left fielder Carl Crawford before bouncing over the fence for a ground-rule double and a 4-2 Brewers' lead.
"Probably [Greinke] laughed after the first at-bat," Gomez said, referring to his first inning strikeout. "But I continued to work, looking for good pitches to hit, and he threw me one, and I hit a double. … He had a really bad inning, one inning. He missed a few pitches but the pitch that I hit, it wasn't really bad. It was on the 'black,' outside, but when you expect a pitch, it's more easy to put it in play."
Said Lucroy: "That was kind of a knockout-blow-type deal. It was cool. It was a good feeling to get that big inning right there, and hopefully we have more of them."
With Greinke out and Dodgers reliever Matt Guerrier in, Yuniesky Betancourt added insurance with a run-scoring groundout. The Brewers ran themselves out of the inning -- Gomez was picked off third base and Jeff Bianchi was caught stealing second -- but the damage had been done. Brewers relievers Michael Gonzalez, John Axford, Brandon Kintzler and Jim Henderson finished the win.
The Brewers needed all of those arms after starter Hiram Burgos needed a whopping 88 pitches to navigate 3 1/3 innings. Including Fiers, who earned the victory after allowing two hits in 1 2/3 scoreless innings, Milwaukee relievers have worked 20 consecutive scoreless innings.
Fiers was rewarded with his first victory for escaping a bases-loaded, one-out jam in the fourth inning and getting that key out in the fifth. Gonzalez has struck out five of the last six batters he's faced. Axford has allowed only one run in his last seven games and Kintzler has made seven straight appearances without allowing a run. Henderson logged his ninth save in as many chances.
"It's great to give our team a chance to win," Fiers said. "Even though [the Dodgers'] record isn't that great, that's a great hitting team, so we definitely did a great job coming out of the 'pen and keeping them down."
Adam McCalvy is a reporter for MLB.com. Read his blog, Brew Beat, and follow him on Twitter at @AdamMcCalvy. This story was not subject to the approval of Major League Baseball or its clubs.