Rangers unable to back Darvish, blanked by A's
Right-hander doesn't receive typical run support, takes second loss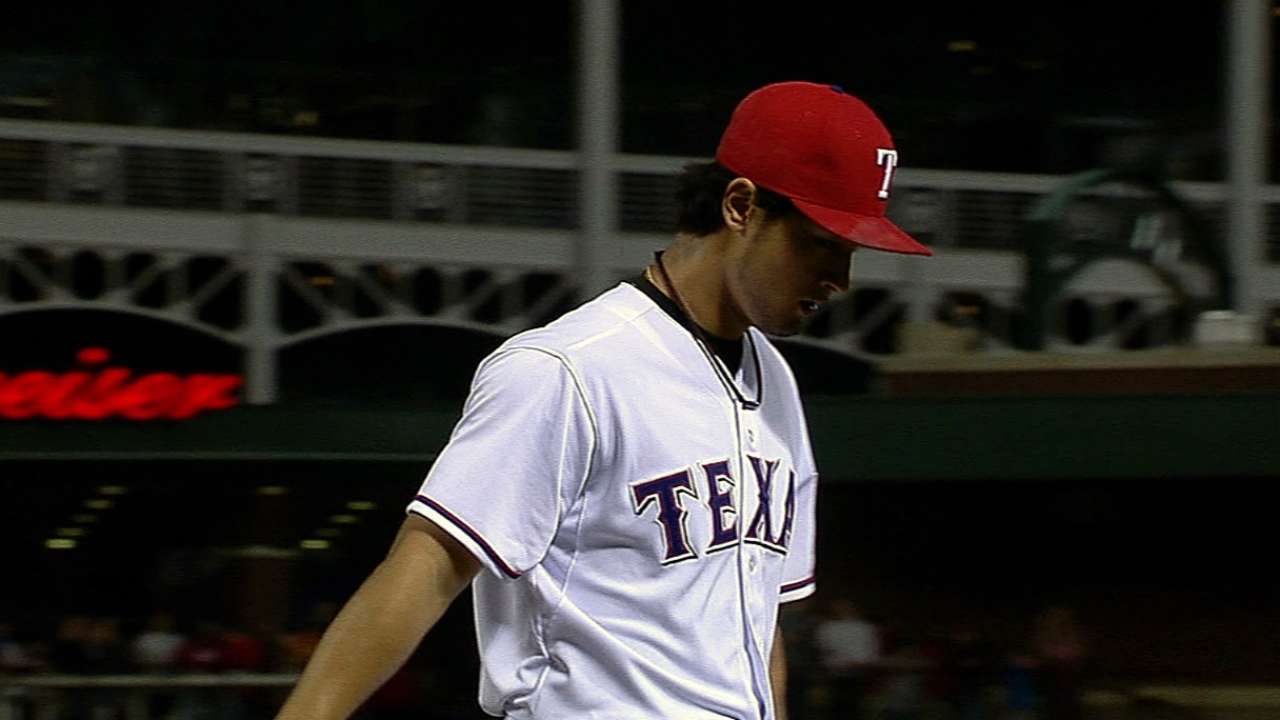 ARLINGTON -- The 130 pitches thrown in his last start turned out not to be a factor for Yu Darvish on Tuesday night. The lack of his usual outstanding run support, however, was an issue, as Darvish lost for the first time at the Ballpark in Arlington since July 27, 2012.
Darvish gave up just a third-inning home run to Yoenis Cespedes, but that was too much in a pitching duel with Dan Straily, as the Rangers lost to the Athletics, 1-0, on an unusually cool night at the Ballpark. Darvish was 7-0 with a 3.86 ERA in his last 10 starts at home prior to Tuesday, and the Rangers were 9-1 in those games.
"I've been pitching well here, but you can't control wins and losses sometimes," Darvish said. "We lost the game today ... there's nothing you can do about it."
The Rangers have now lost two straight to the Athletics, cutting their lead to 4 1/2 games in the American League West. The Athletics have won five straight since losing two of three to the Rangers last week in Oakland.
Darvish (7-2) entered the game leading the AL with 9.05 runs of support per nine innings. But that didn't help them against Straily, who is in Oakland's rotation only because Brett Anderson is on the disabled list for the fifth time in four years.
"I have been pampered by all the run support I have been getting," Darvish said. "But there will be games like this, and it's not something you can control."
Straily was terrific for seven scoreless innings, allowing just two hits while striking out five. He threw just 88 pitches, including 63 for strikes.
"He probably knew he had to throw a low-scoring game to give them their chance to win the game, and he did that," designated hitter Lance Berkman said. "Their bullpen came in and did a nice job. He definitely seemed a lot more in command tonight than he did last week. I felt like he had much better fastball command today, and throwing it where he wanted to both sides of the plate. Even when he missed, he didn't miss in the middle."
Straily had an 8.84 ERA in his last four starts -- which included a 6-2 loss to the Rangers last Wednesday in Oakland. In that game, Straily allowed five runs in 4 1/3 innings on five hits and four walks.
This time, he did not walk anybody, allowing just a third-inning single to A.J. Pierzynski and another single to Jurickson Profar in the sixth. Profar then got picked off as he broke for second too early on an attempted steal.
The Rangers, for the second time this season, did not have a runner in scoring position in the game and finished with three singles. Straily is only the second opposing pitcher since the Ballpark opened in 1994 to pitch at least seven innings and allow two or fewer baserunners. This is also just the fifth time since 1994 that the Rangers have lost a 1-0 game at home.
"We didn't really have a lot of opportunities," outfielder David Murphy said. "He did a good job of getting ahead of hitters. I can't speak for everybody, but I didn't see anything in the middle of the plate. I could've done some things better, maybe, but personally I'm fine tipping my hat to the guy tonight.
"It's misleading, sometimes, when a guy comes in, has a high ERA, we beat him last week and things weren't going his way. Everybody expects you to beat him, but he did his job tonight and guys were definitely off balance."
Darvish was out after six innings and 101 pitches, as manager Ron Washington did not push him as hard as he did on Thursday against the Tigers.
"He worked hard tonight," Washington said. "Their lineup worked him pretty good. He was throwing 16-17 pitches per inning. I thought he took us as far as he could."
Darvish, who allowed five hits, three walks and struck out five, did not want to come out.
"I really begged Wash," Darvish said. "But a lot of the media talked so much about pitch counts that he didn't let me go. That was the end of my game."
Darvish's only mistake came with two outs in the third, when Cespedes hit a first-pitch cut fastball over the center-field wall for his ninth home run of the season. Darvish has allowed eight home runs in 34 innings over his past five starts after not allowing any in his first five starts of the season.
"I thought at first it was not a home run," Darvish said. "But, being in this stadium, there's nothing you can do about it. It is what it is."
T.R. Sullivan is a reporter for MLB.com. Read his blog, Postcards from Elysian Fields, and follow him on Twitter @Sullivan_Ranger. This story was not subject to the approval of Major League Baseball or its clubs.