Freeman's 10th-inning hit wins Braves fifth straight
Gattis' pinch-hit solo HR ties it with two outs in ninth after 'pen falters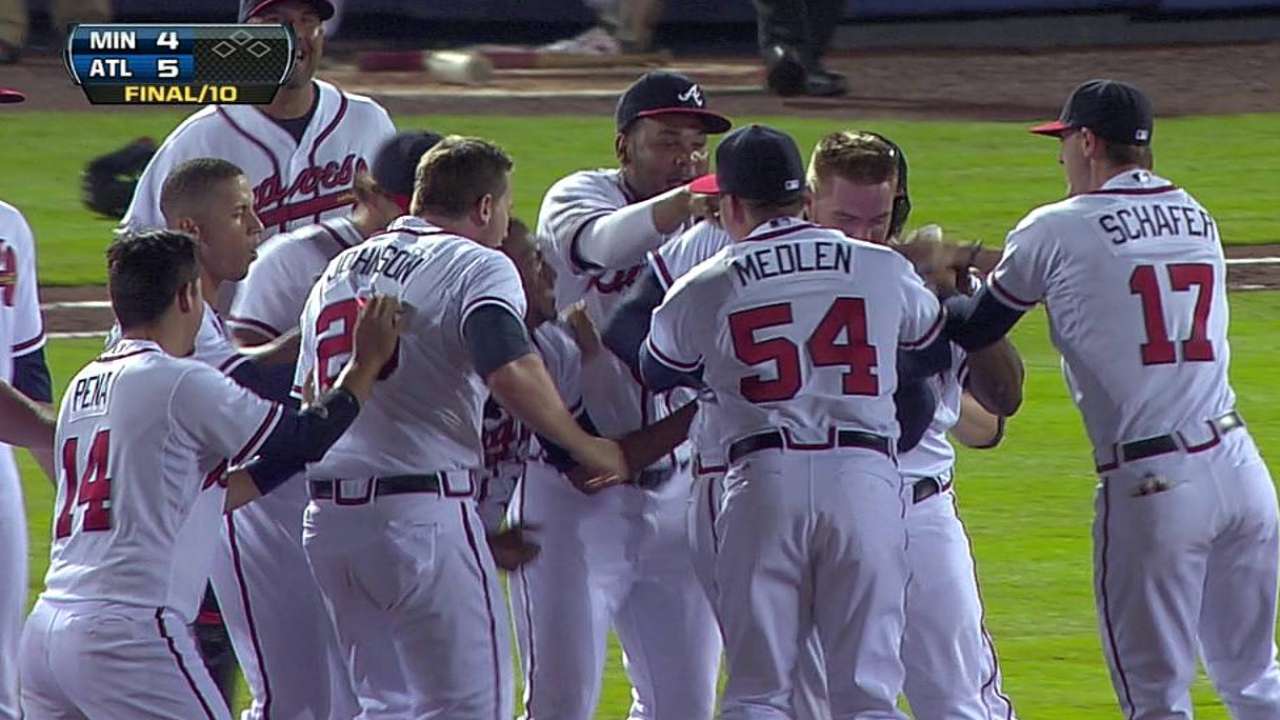 ATLANTA -- As Braves manager Fredi Gonzalez has spent the past five days working with a short-handed bullpen, his biggest concerns were getting through games that included a lengthy rain delay or extra innings.
But it does not appear Gonzalez should fear much as long as Evan Gattis is by his side.
Gattis added to the wonder of his rookie season with a two-out, ninth-inning home run that gave the Braves life and Freddie Freeman the opportunity to deliver another clutch two-out hit in Tuesday night's 5-4, 10-inning win over the Twins at Turner Field.
"It was a long night, but it's always nice to get out of here with a win," Freeman said after delivering his game-winning, soft single to right field off left-hander Brian Duensing.
Long before Gattis and Freeman delivered their key two-out hits, Tim Hudson displayed unselfish determination with his willingness to continue pitching after rain and multiple outages of the stadium lights led to a 76-minute delay in the third inning.
After Hudson aided the short-handed bullpen by completing five innings, his efforts were rewarded with the Braves' fourth comeback win during their current five-game winning streak.
Jason Heyward sparked the two-out, 10th-inning rally with a double off Duensing, who then intentionally walked Justin Upton. This set the stage for Freeman to take a defensive swing on a 3-2 slider and muscle the ball into shallow right before being mobbed in a walk-off celebration.
"It wasn't the prettiest swing, but it got it done," Freeman said.
While Freeman delivered the decisive blow, the most crucial contribution of the night came from Gattis after the Twins had claimed a 4-3 lead by scoring two runs against Luis Avilan and Cory Gearrin in the eighth.
With his team down to its last out, Gattis appeared as calm as he likely was while working as a ski-lift operator and janitor during a four-year absence from baseball. The 26-year-old rookie fouled off a first-pitch fastball and then drilled Twins closer Glen Perkins' slider over the left-field wall.
"You can't really explain it," Gattis said. "It was just awesome."
Gattis' latest memorable shot came only three days after he came off the bench to hit a decisive two-run, eighth-inning homer in Saturday's win over the Dodgers. Three of his nine homers in the first 118 at-bats of his career have come in pinch-hit at-bats. Two of them have been game-winners and this latest one fell into the game-saver category.
"He spent three or four years living in a van," Gonzalez said. "I don't think a baseball game is going to faze him. We keep forgetting he's 26-years-old and he's lived through a lot of stuff. He's just having fun."
All of the late-inning contributions preserved the effort made by Hudson, who understood the importance of aiding an injury-depleted bullpen that has lost Jordan Walden and Eric O'Flaherty to injury during this homestand. This added to his motivation to keep himself loose by throwing what he equated to two or three extra innings during the long delay.
"Honestly, it was never an option [to come out]," Hudson said. "If it had been another 20-minute delay, it might have been an issue. It's just one of those things where we had to get things going. Our bullpen is thin and the last thing you want to do is put six or seven innings on your bullpen with an [early] game [Wednesday]."
Play was halted with Joe Mauer on first base and one out in the third. Mauer crossed the plate to tie the game when Josh Willingham and Justin Morneau recorded consecutive singles immediately after play resumed. But the 37-year-old Hudson then retired the final eight batters he faced to end his five-inning effort.
While the Twins chose not to allow Mike Pelfrey to continue pitching, Gonzalez knew he would've had to remove Hudson's right arm to get the ball out of his hand. Things got a little interesting when the delay surpassed the one-hour mark, as a set of stadium lights went out as Hudson was getting loose on the mound.
"It would have had to be a fight," Gonzalez said. "The umpires are telling him we would have to wait another 15 minutes because of the lights and he's on the mound ready to go."
Anthony Varvaro worked two scoreless innings before the Twins combined to record three hits against Avilan and Gearrin in the go-ahead eighth. David Carpenter kept the deficit at one run with a scoreless ninth and Craig Kimbrel earned his first win of the year with a scoreless 10th.
Brian McCann paced the Braves offense with his second three-hit game since returning from offseason shoulder surgery on May 6. He drove in a run with a single in the two-run first, and homered off Anthony Swarzak to begin the fourth.
But the only homer the Braves were talking about after this comeback win was the latest one delivered by Gattis.
"It almost seems like it happens every time now, but it's unbelievable what he's doing," Freeman said. "I think that's three or four times now he's either tied or put us ahead with a pinch-hit. What he does, I've never seen it before."
Mark Bowman is a reporter for MLB.com. This story was not subject to the approval of Major League Baseball or its clubs.