McLouth's walk-off homer in 10th finishes Yanks
Gonzalez strong in return from DL, helping snap six-game skid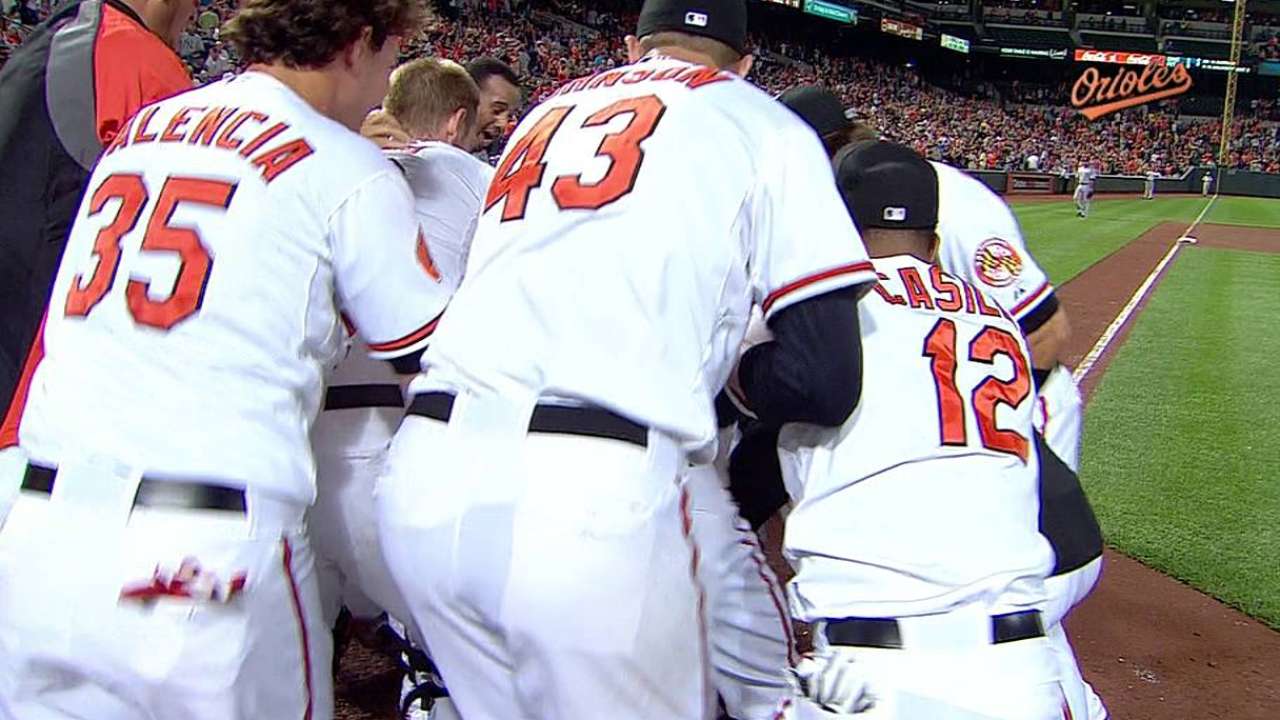 BALTIMORE -- It was by no means panic time in the Orioles' clubhouse, but in the midst of a season-high six-game losing streak dating to May 12, the frustration was understandable as the club watched its starters struggle, its offense go cold and All-Star close Jim Johnson blow three consecutive saves.
"It eats at you," manager Buck Showalter said of his club's skid. "It bothers you because you know there are a lot of people counting on you to make it an enjoyable summer. It wasn't a whole lot of fun riding home and seeing all the Orioles shirts down the streets going home at night and knowing they had planned their time around our game. That bothers me. But what are you going to do?"
Give them something to root for again.
Led by a career night from Chris Dickerson, who delivered two homers against his former club, and a game-winning long ball from Nate McLouth, the Orioles (24-21) dropped the Yankees, 3-2, in 10 innings on Tuesday night, getting back in the win column in dramatic fashion.
With lefty Vidal Nuno on the mound, Showalter considered but opted against using a pinch-hitter for McLouth, who sent a 1-1 cutter sky high and sailing into the right-center-field seats at Camden Yards, causing a crowd of 29,040 to erupt and the home dugout to empty in glee.
"We really needed this win," said Dickerson, who turned in the best performance of his big league career. "Everything is about momentum, and Nate came up huge -- and those are the things that it takes to turn things around. My hat's off to everybody who has just been coming back every single day with a positive attitude."
The comeback effort, highlighted by the trio of homers, was made possible by starting pitcher Miguel Gonzalez, who returned from the disabled list to help the O's snap a three-game skid in regular-season extra-innings games against the Yankees, dating to the start of last season.
The victory also got Johnson back on track, as the right-hander earned the win with a 1-2-3 top of the 10th after Tommy Hunter threw two scoreless frames, extending his stretch of dominance to 21 2/3 innings with just one earned run allowed.
"It wasn't the way we would have drawn up," Johnson said. "Obviously, it would have been better if it was the ninth rather than the 10th, but look at the guys who pitched before me. They did a great job.
"There were a lot more good, positive things than a guy that pitched in the 10th inning tonight."
Chief among them was Gonzalez. Making his first appearance since exiting the O's May 3 game with a blister on his right thumb, Gonzalez gave the rotation a badly needed lift with a season-high seven innings.
"Having that rest helped me out a little bit," said Gonzalez, whose fastball velocity was a tick higher than normal, allowing him to retire 11 of the last 12 batters he faced in a 92-pitch outing. "Last year, they pushed me back a couple times, and working with [pitching coach] Rick Adair in the bullpen and between starts helped me out pretty good."
"That was Miggy -- that was the guy who was here for us last year, and it was good to see that guy show up today in a lot of ways," Showalter said of Gonzalez, who allowed two runs and turned in his third quality start in four career outings against the Yankees. "I don't know if we really knew how much [the blister] was hindering his ability to throw all of his pitches. Tonight, he had a lot of things working with that many left-handed hitters in the lineup."
The early offense was all Dickerson, who first put the Orioles on the board in the third inning by crushing the 10th pitch of his at-bat with Yankees starter Phil Hughes over the center-field wall. That was followed by another Dickerson homer in his next at-bat, in the fifth, when he sent Hughes' 1-1 offering into the right-field seats to tie the game at 2.
"As soon as I saw the lineup card, I was already fired up just to get the opportunity to start against them," said Dickerson, who filled in in center field for Adam Jones against his former team. "But to go out there and have that result is awesome."
The 31-year-old Dickerson, who entered this year with 11 homers in parts of five seasons in the big leagues, has gone deep three times in his first 33 at-bats with the Orioles.
"It's a luxury to have a guy who can defend like he can and throw and run," Showalter said of Dickerson. "At one time, he was in that select list of guys, and a lot of guys figure it out later on in their career. They get in a good atmosphere and a good culture, and they know that people get what they bring and have good teammates. Sometimes things get going for them. I hope that's the case."
Dickerson beat out an infield single in the bottom of the ninth inning, but the O's couldn't convert it into a run, sending the game into extras for the second time in as many nights. After Johnson breezed through the top of the 10th, McLouth ensured the O's efforts wouldn't be wasted.
"It was big," McLouth said of getting back into the win column. "Those kind of streaks -- if you're [playing] well or not doing well -- build on themselves and start to gain momentum, so it was nice to kind of snap that. It started with Miguel. He pitched great. It's good that we don't have to hear the same questions tomorrow, that's for sure."
Brittany Ghiroli is a reporter for MLB.com. Read her blog, Britt's Bird Watch, and follow her on Twitter @britt_ghiroli. This story was not subject to the approval of Major League Baseball or its clubs.