Yanks' bullpen gives way in 10th at Baltimore
Nuno surrenders first run as big leaguer to snap string of solid relief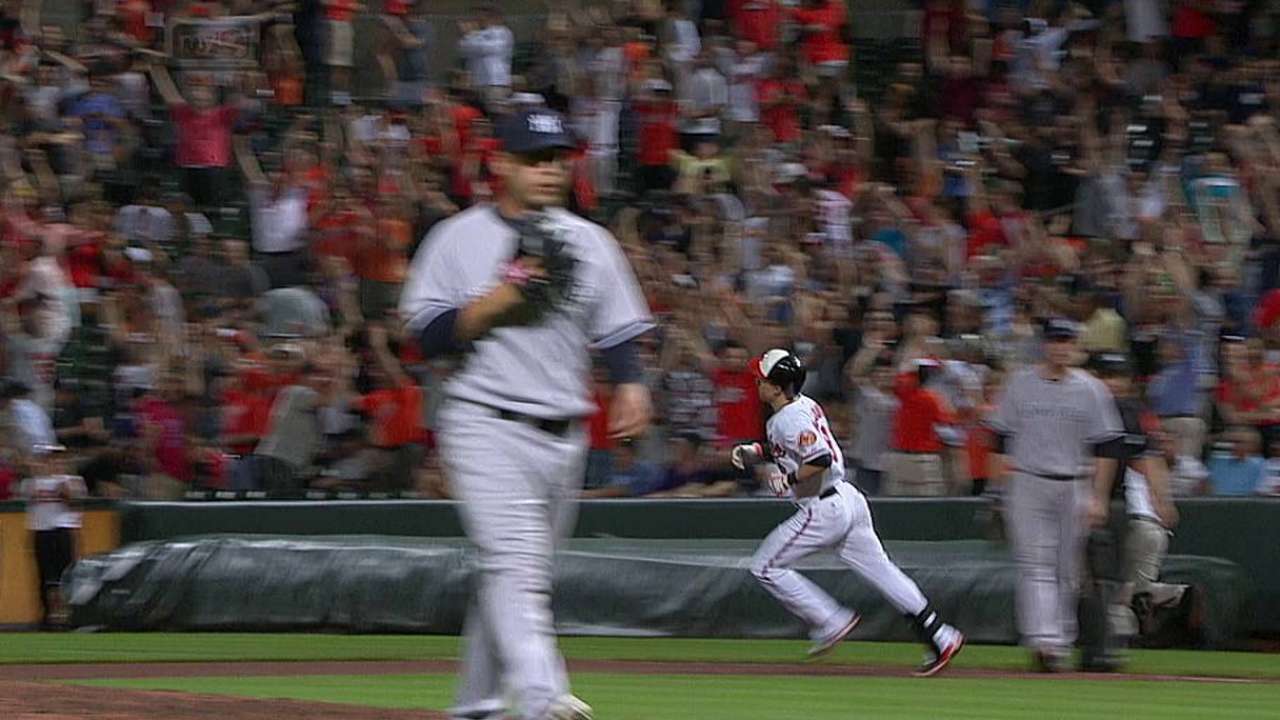 BALTIMORE -- Vidal Nuno allowed the first run of his Major League career on Tuesday, and it came at a most inopportune time for the Yankees.
Nate McLouth pounced on the rookie left-hander's inviting cutter to deliver a game-winning home run in the 10th inning, lifting the Orioles to a 3-2 victory over New York at Camden Yards.
"It was just a little bit off, and he took advantage of it," said Nuno, who was making his third big league appearance. "That's all -- one pitch, and it cost us the game. But I've got to forget about it, work hard tomorrow and get ready for my next outing."
Nuno had entered the game after starter Phil Hughes and four relievers held the Orioles to two runs through the first nine innings. A surprise contender to make the Yankees this spring, Nuno had tossed eight scoreless big league innings before McLouth's drive.
"It hung for just a second, just long enough for him to get a good swing on it and put it in the seats," said reliever David Robertson, who struck out three in a scoreless eighth. "I've had it happen to me, too. It stinks whenever you make a mistake like that and lose a ballgame."
For the first time this season, the Yankees lost a game in which they scored first, falling to 19-1 in those contests. New York's 19 such victories to open the season established a new American League record.
All three of the Orioles' runs came on homers, as Chris Dickerson cleared the fences twice against Hughes -- once in the third inning and again in the fifth, marking the first multihomer game of his career.
The veteran outfielder spent the last two seasons in the Yankees organization, appearing in 85 big league games and hitting three homers in 64 at-bats, and he said he relished the chance to dig in against his old team.
"It feels great," Dickerson said. "You know, as soon as I saw the lineup card I was already fired up just to get the opportunity to start against them. But to go out there and have that result is awesome."
Those were the only blemishes on Hughes' outing, as he rebounded from the shortest effort of his career -- last Wednesday's nightmare against the Mariners in which he recorded just two outs -- by holding the Orioles to five hits over six innings.
"For the most part, I thought my stuff was pretty good and gave us a chance to win the game," Hughes said. "So obviously, it was a lot better than last time. It's progress, so I'll build off this one."
Travis Hafner drove in both of the Yankees' runs in the first seven innings against right-hander Miguel Gonzalez, who was activated from a stint on the disabled list before the game.
Brett Gardner opened the game with a double and scored on Hafner's run-scoring single to right field, a drive that tipped off the glove of second baseman Yamaico Navarro.
Hafner delivered again in the fourth inning after Vernon Wells opened the frame with a double, collecting his fourth RBI of the series with a run-scoring single to right field. That was all the Yanks could manage against Gonzalez, who permitted five hits.
"He's got a good mixture of pitches," Yankees manager Joe Girardi said. "I think he knows how to move his fastball in and out. His split's a nice chase pitch. I thought we swung the bats maybe better tonight against him than we have. We just hit some balls at people."
The Yanks didn't have many opportunities to tack on, though right fielder Nick Markakis robbed Jayson Nix of a possible extra-base hit with a diving catch that ended the seventh inning, leaving a man aboard.
Tommy Hunter and Jim Johnson combined to retire all nine Yankees they faced in the last three innings.
The output held up through regulation as Hughes was effective in a 102-pitch outing, walking two and striking out five.
"I was encouraged I was able to ... get that last start out of my head a little bit," Hughes said. "I was able to get a little rhythm going. It was good to get into that sixth with that high pitch count and have a good inning there as well."
Boone Logan and Shawn Kelley held the Orioles quiet in the seventh, and Robertson whiffed the side in the eighth before Preston Claiborne pitched a scoreless ninth.
"He's been really good for us," Girardi said of Claiborne, who has not allowed a run in nine big league innings. "The kid's grown up in front of our eyes. He's been in some tough situations and he's seemed to respond."
That sent the game into extra innings, and while Girardi would have preferred not to be calling on a rookie in that spot, he felt that it was necessary to roll the dice and give Nuno a chance.
"It's not easy," Girardi said. "For any reliever that's a young kid, you bring him into a 2-2 game, it's not an easy position. You try to avoid those situations sometimes if you can with the young kids, but tonight we weren't able to."
Bryan Hoch is a reporter for MLB.com. Follow him on Twitter @bryanhoch and read his MLBlog, Bombers Beat. This story was not subject to the approval of Major League Baseball or its clubs.