Trout's cycle leads offensive explosion
Williams tosses eight shutout innings; Hamilton homers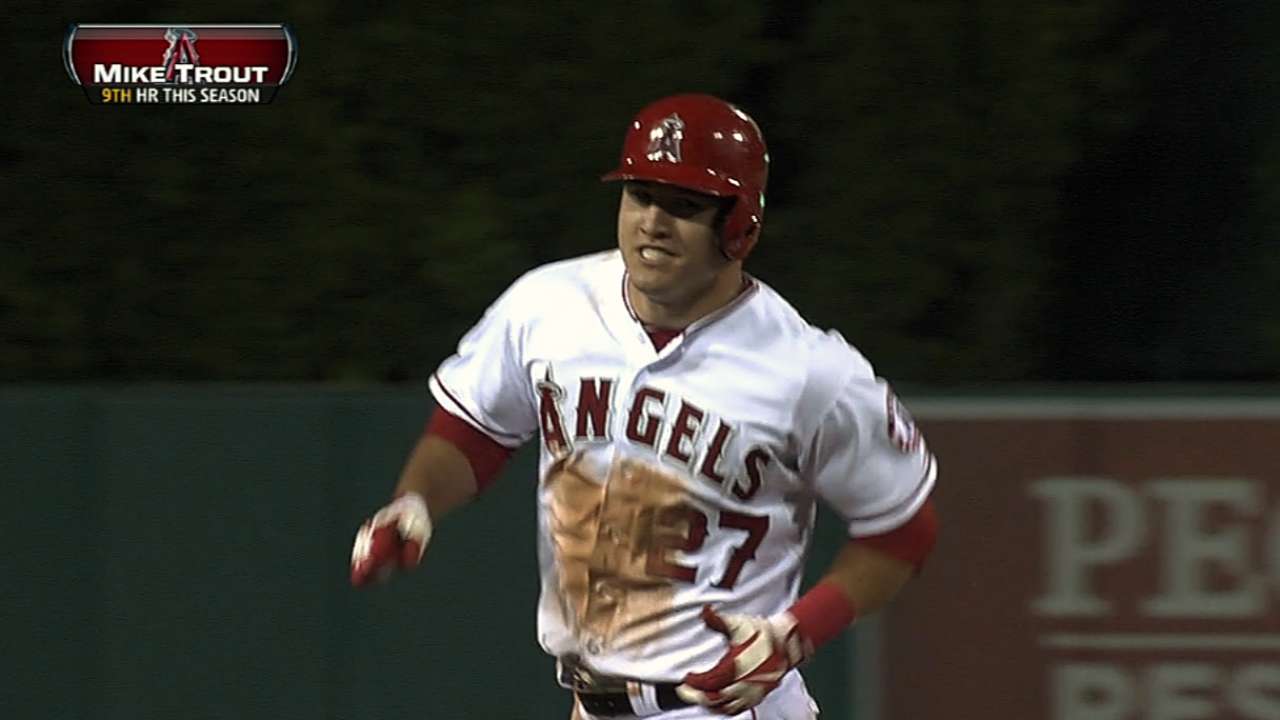 ANAHEIM -- When the Angels added Josh Hamilton to a lineup already featuring Mike Trout and Albert Pujols, everyone envisioned an offensive explosion.
While the Angels have had their share of struggles and only shown flashes of what was expected, Trout's cycle highlighted a 12-0 victory over the Mariners in which the Angels showed just how potent their offense can be.
"It's just a dream come true as a kid," Trout said. "To stand in here after a night like this is definitely up there on top of my lists of personal [accomplishments] at the plate. Triple, double, home run and a single, it's tough to do and hopefully there's more to come."
In addition to his first career cycle, Trout had five RBIs while Howie Kendrick, Hamilton and Pujols each drove in a pair of runs giving the Angels their third straight victory, tying their longest winning streak of the season.
Trout continued his red-hot May as he went 4-for-5 and became the sixth Angel to hit for the cycle. Trout now has 18 RBIs in May and has had 15 of his last 25 hits go for extra bases.
"Mike has the ability to do what he did tonight and it was a great night for him," Angels manager Mike Scioscia said.
After the game, Mariners manager Eric Wedge also chimed in on Trout's performance.
"He's a special player," Wedge said. "That last pitch he hit for a home run, he took it off the ground and drove it the other way. He looks stronger this year, but he's a great athlete. Just a young, special player."
While the offense -- specifically Trout -- may have stolen the show, Jerome Williams turned in his third straight quality start, lowered his ERA to 2.53 and recorded his third win of the season as he pitched eight shutout innings.
"He worked quickly, which was good," Scioscia said. "Jerome really settled in, threw strikes, had his good sinker going."
Williams said the key to his night was keeping the ball low in the zone, allowing him to get ground-ball outs, but the Angels' offensive outburst also motivated Williams throughout the night.
"It actually added a lot of confidence on the mound," Williams said. "I wanted to go out there and get a quick inning so these guys could keep hitting."
Hamilton entered Tuesday's contest hitting just .216, but the right fielder was hitting .304 over his past seven games and continued his hot streak on his 32nd birthday. Hamilton finished 2-for-5 with a triple and home run -- his 19th career against the Mariners, more than he has against any other team.
"Josh has been swinging the bat well," Kendrick said. "Josh is a good player. It actually gives you goosebumps seeing him come back to life and getting his swing where he wants it."
Despite losing three of four in Seattle from April 25-28, the Angels have dominated the Mariners since 2007 with a 77-42 record. The 77 wins are are the most by one team against another in that time frame.
After Pujols drove in Erick Aybar to give the Angels a 1-0 lead in the first, Hamilton finished a six-pitch at-bat with his sixth home run of the season to give the Angels an early 3-0 lead.
"I think the first inning was important for us," Scioscia said. "After Albert got the hit, Josh got the big hit to get us going. The two-out home run gave us a little bit of a margin for Jerome to work with."
The Angels would tack on four more in the fourth as Hamilton once again led the charge.
Hamilton -- whom the fans sang "Happy Birthday" to on multiple occasions throughout the night -- led off the fourth with a triple to right field. On the next pitch, Kendrick hit a two-run home run to right-center field and the rout was on.
Alberto Callaspo doubled and later scored on Aybar's double. Trout then tripled, scoring Aybar, to conclude the inning.
Aybar, who began the game in the midst of a 4-for-24 slump, finished with a pair of doubles, but was removed from the game in the bottom of the sixth with right knee soreness. However, it is not believed to be anything serious and Scioscia said Aybar will be available on Wednesday.
William Boor is an associate reporter for MLB.com. This story was not subject to the approval of Major League Baseball or its clubs.