Pitching to Miggy doesn't work for solid Kluber
Tigers slugger homers in sixth, proving enough for Detroit in opener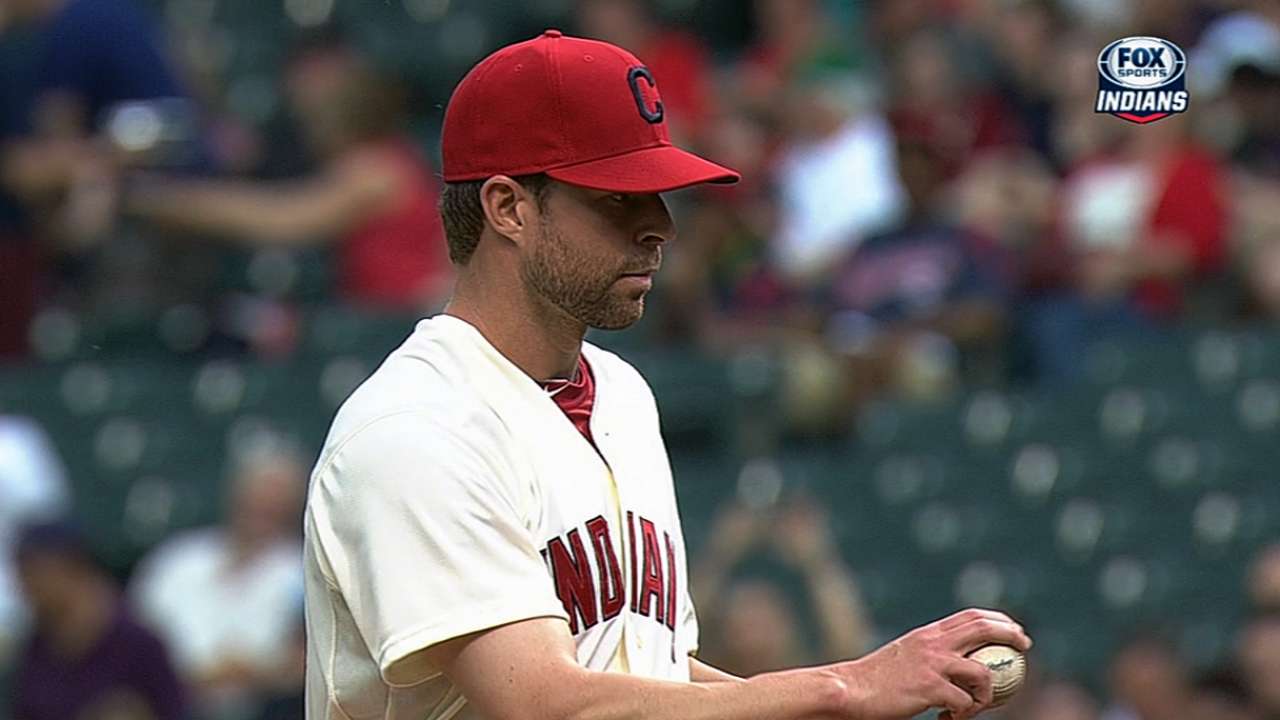 CLEVELAND -- Tigers slugger Miguel Cabrera might impact a game more than any other hitter in baseball right now. Cabrera's influence on an outcome was certainly evident Tuesday night, when the Indians took their chances with pitching to him at a critical juncture.
Cabrera made it the wrong decision.
Cleveland starter Corey Kluber surrendered a two-run home run to Cabrera in the sixth inning, sending the Tribe to a 5-1 defeat in the opener of a two-game set at Progressive Field. Detroit right-hander Max Scherzer dominated the Indians' lineup over eight innings, making Kluber's confrontation with the reigning American League Most Valuable Player in the sixth all the more glaring.
"I missed my spot," Kluber said. "And it was kind of right where he wanted it."
The loss was only the fifth in the past 23 games for Cleveland, which entered this two-game divisional clash riding a five-game winning streak. The American League Central-leading Indians pulled off three walk-off wins in their previous four victories, but the Tigers saw to it that there would be no last-minute magic on this night.
Kluber began his outing by spinning five shutout innings, entering the sixth armed with a 1-0 lead. That slim advantage was soon erased when Andy Dirks opened the momentum-swinging frame with a home run into the right-field stands. Torii Hunter followed by ripping a pitch from Kluber deep to right field, where it one-hopped the wall for an easy double.
That set the stage for Cabrera.
While first base was open, making an intentional walk one way to go, there were no outs and fellow slugger Prince Fielder loomed on deck. Indians manager Terry Francona said he did not consider instructing Kluber to issue a free pass to Cabrera.
"If you walk him, and you have first and second and nobody out, you're asking for trouble," Francona explained. "You're putting your pitcher in a tough spot."
Cabrera grounded out in the first inning and flew out to center field in the fourth, but last year's Triple Crown winner has a way of learning from previous plate appearances. On May 10, Cabrera also went 0-for-2 out of the gates against Kluber before ripping a three-run home run in the pitcher's worst outing of the season.
Before Tuesday's game, discussing Cabrera with reporters, Francona said, "If you are fortunate to get him out early, he can set you up late."
This time around, Cabrera drilled an 0-1 slider -- the pitch he flew out on in the fourth -- deep to center field for a two-run blast that pushed the Indians behind, 3-1. It marked the 12th home run of the season for Detroit's third baseman, who clubbed three home runs against the Rangers on Sunday. Cabrera ended the evening hitting .384 with 49 RBIs and a 1.122 OPS for the Tigers.
"That pitch was down and away, and he just got extended on it," Tigers manager Jim Leyland said. "There's not many guys that can do that. That's why he is who he is."
Detroit added some insurance in the ninth, when Dirks drove an RBI single off lefty David Huff, and Fielder -- following an intentional walk to Cabrera to load the bases -- came through with a two-out RBI base hit off Matt Albers.
Kluber (3-3) gave the Indians a quality start, limiting Detroit to three runs over 6 1/3 innings with eight strikeouts and no walks, but the damage done proved sufficient for Scherzer. The righty relinquished one run in the first inning, but quickly found his form and cruised through Cleveland's local nine.
The Indians' lone breakthrough against Scherzer came in the first, when Michael Bourn led off with a single and sprinted to third base on a base hit from Asdrubal Cabrera. Left fielder Michael Brantley -- filling in as the cleanup hitter for Nick Swisher, who was placed on Major League Baseball's paternity list earlier Tuesday after the birth of his daughter -- then delivered a run-scoring sacrifice fly.
From there, Scherzer did not flinch.
"He has nasty stuff," Bourn said. "We got one, but he was able to shut it down for the next seven."
Following Cabrera's single, Scherzer (6-0) did not allow a hit to the next 24 batters he faced. Beginning with the final out of the first inning, the Tigers right-hander set down 22 Indians batters in order, including striking out the final four he faced. Scherzer fanned seven, walked one and finished with 118 pitches.
Scherzer's final pitch of the night was a 98-mph heater to strike out Drew Stubbs.
"That was a dominant performance," Francona said. "His last pitch was 98. When you're up around 115-120 pitches and you have that left in the tank, that's saying a lot. That was impressive."
It was the kind of showing that made Kluber's few mistakes stand out.
"I thought Corey was extremely aggressive and crisp," Francona said. "He's learning quickly. I think he's confident. He came out of the chutes tonight throwing pretty good, but he made a couple mistakes to the wrong guy."
Jordan Bastian is a reporter for MLB.com. Read his blog, Major League Bastian, and follow him on Twitter @MLBastian. This story was not subject to the approval of Major League Baseball or its clubs.