Harang, bullpen knocked around in Anaheim
Trout hits for the cycle as difficult toad trip continues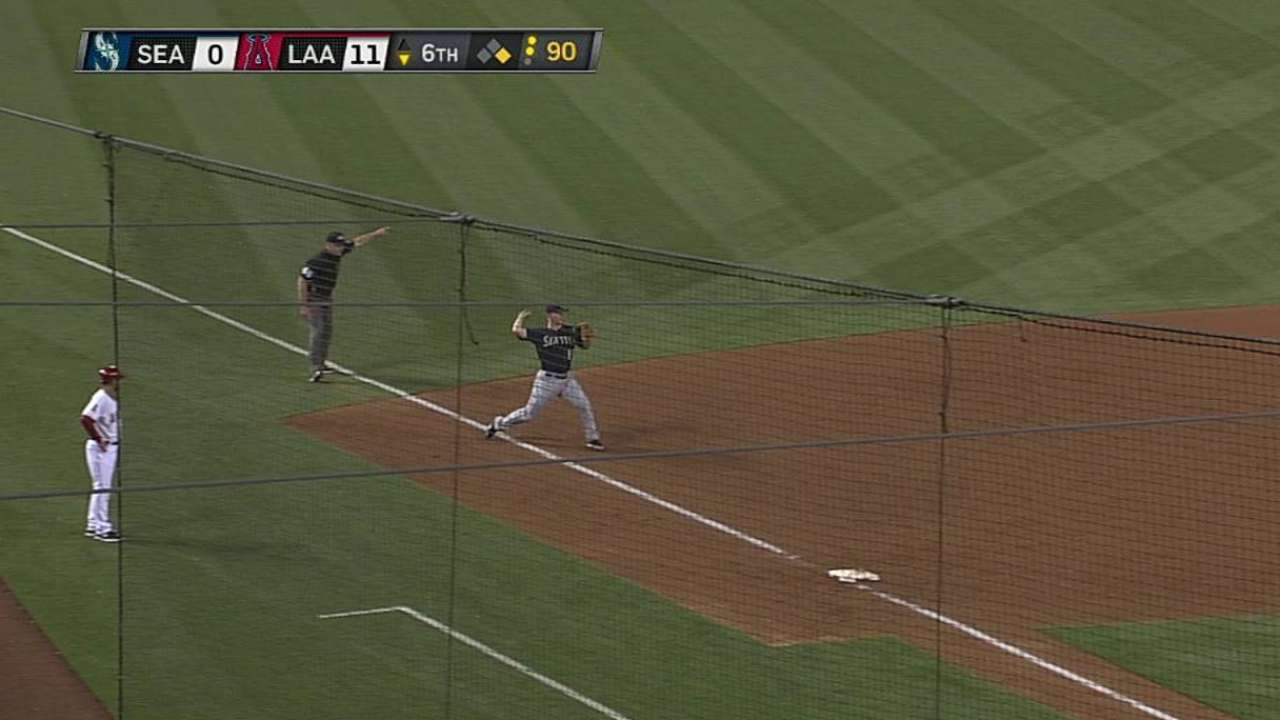 ANAHEIM -- On a night Mike Trout hit for the cycle, the Mariners were left simply spinning their wheels, dropping their fifth straight game by a 12-0 count to the Angels on Tuesday.
After three walk-off losses in a four-game sweep in Cleveland, the Mariners were run over from start to finish in this one as Aaron Harang gave up seven runs in 3 2/3 innings in his first start since being sidelined by a stiff back last week.
Eric Wedge sounded like a manager ready for some changes in his rotation after his spent bullpen needed to soak up another 4 1/3 innings of work following Harang's short stint.
"We'll have to talk about that," Wedge said. "You can't keep putting this kind of heat on the bullpen. You want to give everybody ample opportunity, but having said that, we can't keep doing what we're doing and expect to compete."
Harang, making his first start in 14 days, gave up nine hits and seven went for extra bases -- three doubles, two triples and a pair of home runs -- as the Angels teed off on the 35-year-old right-hander.
Harang, who fell to 1-5 with an 8.58 ERA, surrendered a double, two triples and a home run in the fourth inning alone before being replaced with two outs by rookie Danny Farquhar. The five extra-base hits in one frame tied the most by any Mariners pitcher since 1984, with Jamie Moyer the last to do so in 2006.
"It definitely wasn't the way I anticipated my night going," Harang said. "Down in the bullpen, I felt great. You ask any pitcher, they've gone through those times where they've felt good in the 'pen and it doesn't translate onto the field, or vice-versa.
"I went back and watched some of the video already and in the fourth inning I was elevating pitches. I think it's just a matter of getting a little too amped up and I started elevating and that got me in trouble."
Harang had back-to-back quality starts against the Orioles and Pirates earlier this month as he started to round into form after a slow start following his acquisition in a trade with the Rockies, but then was pushed back in the rotation after a flurry of off-days before being scratched completely from his last scheduled start on Thursday after his back stiffened.
"The only good thing that came out of tonight was the back wasn't an issue," Harang said.
The final outcome wasn't an issue, either, once the Angels got rolling on a day Trout went 4-for-5 with five RBIs, becoming the sixth Angel to hit for a cycle and the third-youngest Major Leaguer to achieve the rare feat since 1930.
The 21-year-old center fielder singled and tripled off Harang, hit a three-run double in the sixth of reliever Lucas Luetge and then finished his night with a solo homer to right-center off Luetge in the eighth to become the sixth player to hit for the cycle against Seattle.
"He's a special player," said Wedge. "That last pitch he hit for a home run, he took it off the ground and drove it the other way. He looks stronger this year, but he's a great athlete. Just a young, special player."
Trout said it was the first time he's hit for the cycle in any level of baseball.
"I think I was swinging at everything," he said. "It was in the back of my mind, trying to hit a homer. I just barreled it up and it went out. It's pretty big. It's just a feeling I really can't explain."
Josh Hamilton celebrated his 32nd birthday for the Angels with a 2-for-5 day that included his sixth home run of the season, a two-run shot in the first, as well as a triple in the fourth.
Howie Kendrick followed Hamilton's triple with a two-run homer.
Farquhar did a nice job initially shutting down the Angels after replacing Harang. The rookie right-hander struck out Albert Pujols, Mark Trumbo and Hamilton to extend his perfect streak to 3 2/3 innings with eight strikeouts over two appearances before giving up his first hit on a single to Kendrick.
But Farquhar then appeared to tire as he walked two and gave up a single to load the bases with no outs in the sixth before being replaced by Luetge. Trout cleared the bags with his double on Luetge's first pitch and Pujols followed with an RBI single that made it 11-0.
Trout then finished his cycle with his solo shot in the eighth off Luetge, who gave up four hits and two runs over the final three innings while striking out four.
Meanwhile, the Mariners mounted little offense against right-hander Jerome Williams, who scattered six hits over eight scoreless innings as Seattle fell to 20-26.
"He's got three or four pitches that really come out of the same spot," said third baseman Kyle Seager, who went 1-for-4. "He's got the big sinker with a lot of movement on it, then the little cutter and changeup especially all coming out of that same spot with pretty much the same arm action. When you've got him locating, he can be tough and he obviously was today."
Greg Johns is a reporter for MLB.com. Follow him on Twitter @GregJohnsMLB as well as his Mariners Musings blog. This story was not subject to the approval of Major League Baseball or its clubs.