Snider's pinch-hit grand slam lifts Bucs over Cubs
Rodriguez settles down after allowing three runs in second inning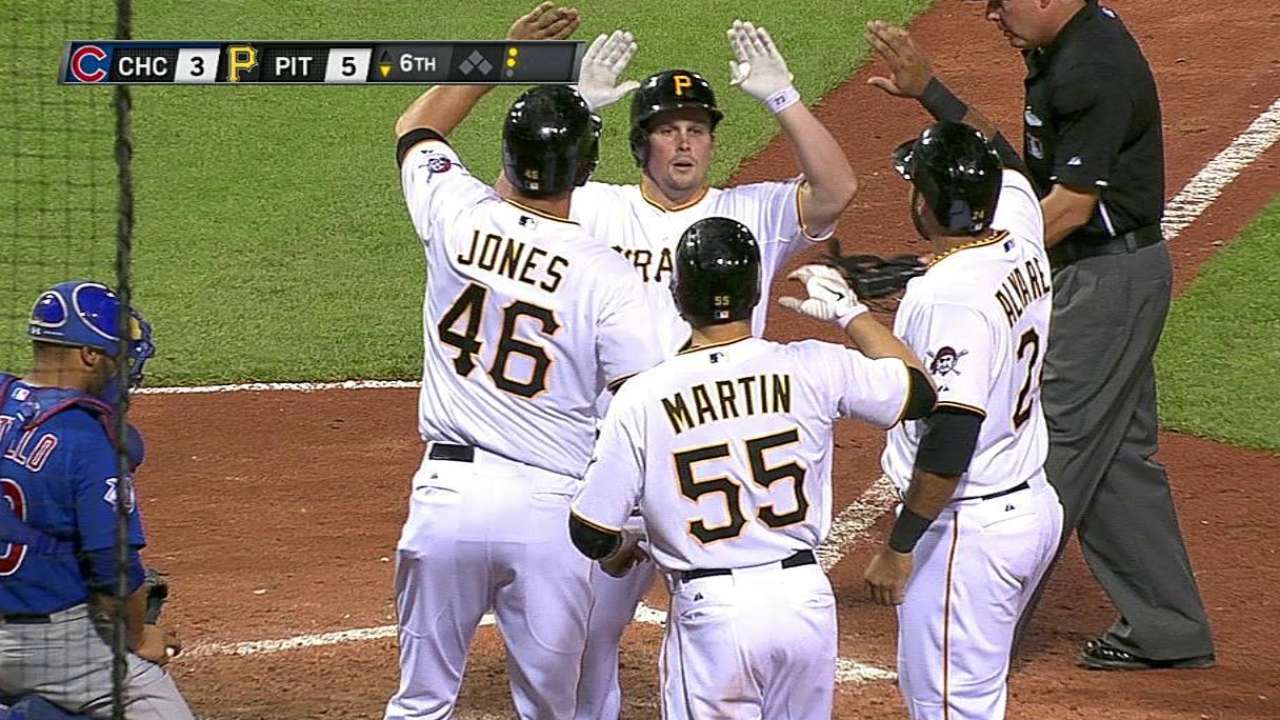 PITTSBURGH -- Travis Snider saved Wandy Rodriguez's life Tuesday night.
Not literally, but that's how the Pirates' starter felt after Snider got him off the hook for a loss. At any rate, Rodriguez said he owes his teammate a steak for his heroic swing.
Snider delivered a two-out, pinch-hit grand slam in the sixth inning that cleared the right-center field wall by just a few feet to give the Pirates a 5-4 victory over the Cubs at PNC Park. It was his first career home run with the bases full and the Pirates' first pinch-hit slam since June of 2008.
"Tonight was the most calm pinch-hit at-bat I've had," Snider said. "Over-thinking those situations isn't going to make it any easier if you don't get a hit. So I just try to go up and be patient."
And patient he was. Snider said Shawn Camp, who gave up the home run, tries to get guys to chase balls out of the zone. After Snider got ahead in the count, 2-1, the righty didn't have that luxury. Camp elevated a changeup, and Snider turned on it.
"More often that not, home runs are thrown, not hit," Pirates manager Clint Hurdle said. "Every night, you'll see guys try to hit them on pitches they're not capable of doing it. But balls are elevated, left in the middle of the plate."
Pittsburgh had scored a total of six runs in its season-opening series with the Cubs, and Matt Garza, starting his first game since last July, kept the Pirates off the board for five innings. After the fifth, when Clint Barmes broke up Garza's no-hitter, the Pirates had totaled just seven hits and one run in their last 18 innings against Chicago.
But Garza, on a limited pitch count, was yanked after 82 pitches and five innings in his first start. He gave up one hit, no runs and three walks while striking out five. The Pirates took advantage in the next frame off three different pitchers.
Neil Walker sparked the Pirates' offense in the sixth with a leadoff double down the right-field line. Garrett Jones dropped a single into left after an Andrew McCutchen groundout, and then Russell Martin walked. Pedro Alvarez walked on a full count after that to bring home Walker. Gaby Sanchez flew out to left, setting up a chance for Snider, who was called on to pinch-hit for Barmes.
Hurdle said with the bases loaded in that situation, he was looking for a little more than just a single, so he opted for Snider.
"You might get it, you might not," Hurdle said. "But that's why you roll the dice and send him up there. Travis answered."
Snider came through in a big way for the second time in the past week. He sent a two-run blast into the Allegheny River last Thursday against the Brewers to break a 1-1 tie, his first home run in 93 at-bats.
"I'm sure it's not where he wanted to throw it," Snider said. "But as a hitter, that's where you want to see it."
The Cubs, however, didn't see the balls they wanted for most of the night. Rodriguez got the win for the Pirates to improve to 5-2. Outside of the second inning -- when Garza sliced a two-run double to right after Darwin Barney drove in Alfonso Soriano -- Rodriguez allowed just two base runners. He surrendered three runs on six hits in six innings and struck out five.
Justin Wilson and Mark Melancon pitched scoreless seventh and eighth innings as the Pirates bullpen continued its impressive season.
Jason Grilli got into some trouble in the ninth, a rarity for the 36-year-old, who had surrendered just two runs in 18 2/3 innings this season entering Tuesday. He gave up a triple and a walk, then an RBI single by Starlin Castro, but struck out Anthony Rizzo with two outs and two on for his 18th save in as many tries.
"We still are struggling to score runs," Cubs manager Dale Sveum said. "Two of our runs were driven in by a pitcher. We have to be better and score runs and get those big hits and bust games open."
Steven Petrella is an associate reporter for MLB.com This story was not subject to the approval of Major League Baseball or its clubs.