Rosario plays hero in Rockies' walk-off win
Slugging catcher delivers 10th-inning single to earn victory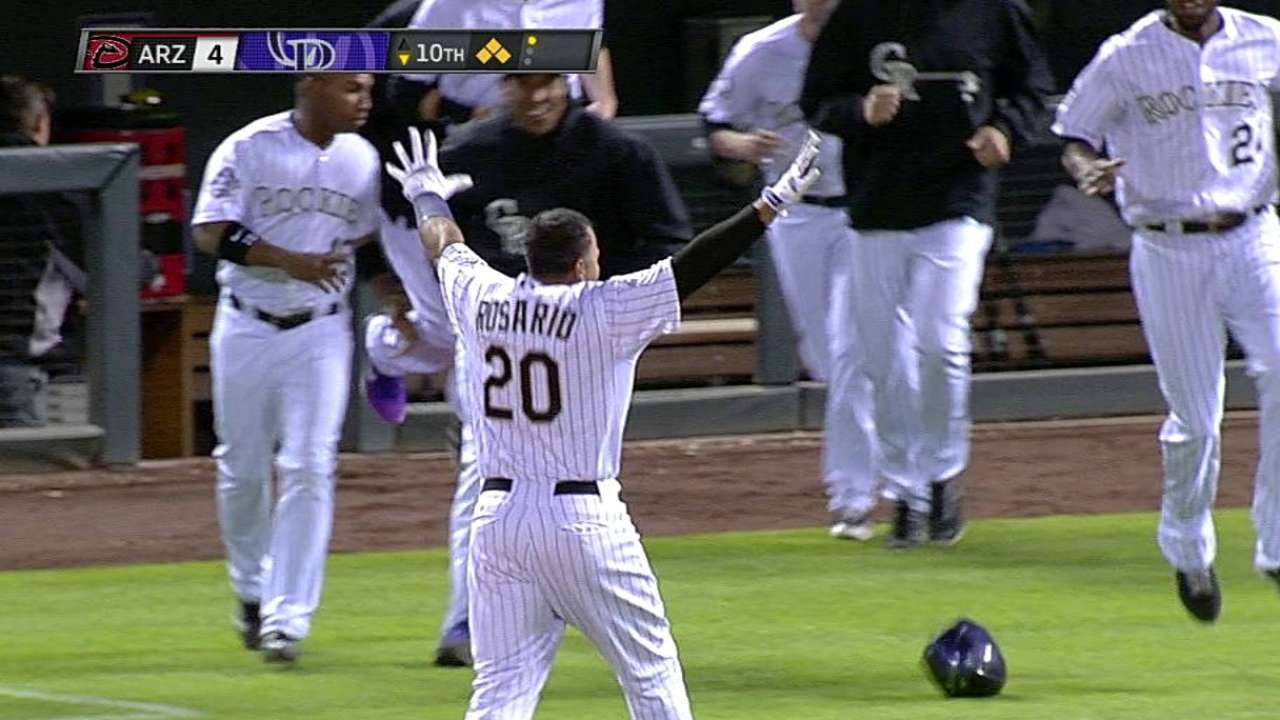 DENVER -- The Rockies' Wilin Rosario caught D-backs reliever Matt Reynolds last year when they were teammates in Colorado. Yet Rosario treated him like a stranger Tuesday night.
Rosario made himself erase all the mental notes he'd taken on Reynolds before delivering a 10th-inning, first-pitch, RBI single to right field to give the Rockies a 5-4 victory in front of a Coors Field crowd of 27,096.
"I wanted to wipe my mind, do nothing, just react to the pitch and figure out how to hit the ball," Rosario said. "When you know somebody, that's when you get too comfortable and that's when they could get you."
The Rockies can be forgiven if Tuesday night, as well as this homestand against National League West contenders, lingers in their minds as they try to bolster their own chances.
This homestand started with the Rockies blowing a 6-0 lead against the Giants and losing 8-6, then winning three straight against a team they didn't have much success with over the last two-plus seasons. After a 5-1 loss to the D-backs on Tuesday, the Rockies carried a 4-0 lead into the seventh, lost it, but won in the end.
The first-place D-backs and the Rockies, separated by one game, will decide the three-game series on Wednesday afternoon. From there, the Rockies will have a three-game rematch with the Giants at AT&T Park.
"It just reconfirms that we need to compete until the game's over," Rockies manager Walt Weiss said. "We've been preaching that all year. Our guys have been good at it. We haven't been perfect, never will be in this league, but our guys have done a good job competing until the game's over."
Carlos Gonzalez doubled to right with one out in the 10th against Reynolds, who entered with a 0.92 ERA.
"I fell behind him, but more than that, I had a game plan and didn't execute it," said Reynolds, victimized by Gonzalez on a 2-1 slider. "Any time you fall behind it makes it tougher and threw him a bad pitch and he hit it."
Reynolds intentionally walked Troy Tulowitzki before Rosario's game-winner on a breaking ball.
The rally made a winner of reliever Wilton Lopez, who was forced into action after closer Rafael Betancourt left with right groin tightness after his second pitch to 10th-inning leadoff man Goldschmidt. Lopez pitched a clean 10th for his 13th scoreless outing in his last 14. Also, Rex Brothers' scoreless ninth gave him 18 straight scoreless outings covering 17 innings.
The Rockies scored four runs against D-backs starter Ian Kennedy, who nonetheless battled through 102 pitches in six innings and left with the game tied. Nolan Arenado and DJ LeMahieu singled in runs during a four-hit second inning.
Tulowitzki drove his ninth home run over the left-field wall with two outs in the third on a 3-0 pitch. Arenado reached in the fourth on an error by D-backs shortstop Didi Gregorius and scored from first on LeMahieu's double. LeMahieu also doubled in the ninth.
Rockies starter Jhoulys Chacin continued his pattern of misfortune. After starting the year 3-0 then going to the disabled list with a back strain, Chacin has not won. He was in line to win Tuesday when he didn't give up a run for the first six innings, but found himself in trouble with one out in the seventh.
Walks to Goldschmidt and Ross bracketed a fielding error on first baseman Jordan Pacheco. Jason Kubel's line drive bounced out of the glove of a diving Gonzalez in left field for a two-run double, and Martin Prado added a two-run single to tie the game.
"I thought he [Chacin] could get Kubel out there, thought he could get him to hit into a double play," Weiss said.
Chacin left after giving up just three hits, but four runs, three earned, with three strikeouts and three walks.
"I can't walk people right there," said Chacin, who blew the six-run lead against the Giants in his last start and lost. "If they're going to get on base, they have to be hitting the ball. Even if I have to throw it right in the middle, I have to just throw my pitch for a strike and just let them hit it. I can't lose control of myself like that."
Lefty Josh Outman replaced Chacin and escaped the seventh to keep Chacin from being tagged with a fourth straight loss. Miguel Montero singled and Josh Wilson walked, but Outman caught Gerardo Parra and Gregorius looking at third strikes. Both hitters were demonstrative in their disagreement, but home-plate umpire Adrian Johnson let them have their say.
Thomas Harding is a reporter for MLB.com. Read his blog, Hardball in the Rockies, and follow him on Twitter @harding_at_mlb. This story was not subject to the approval of Major League Baseball or its clubs.