D-backs force extras, but fall in 10th
A game-tying, four-run seventh all offense could muster vs. Rox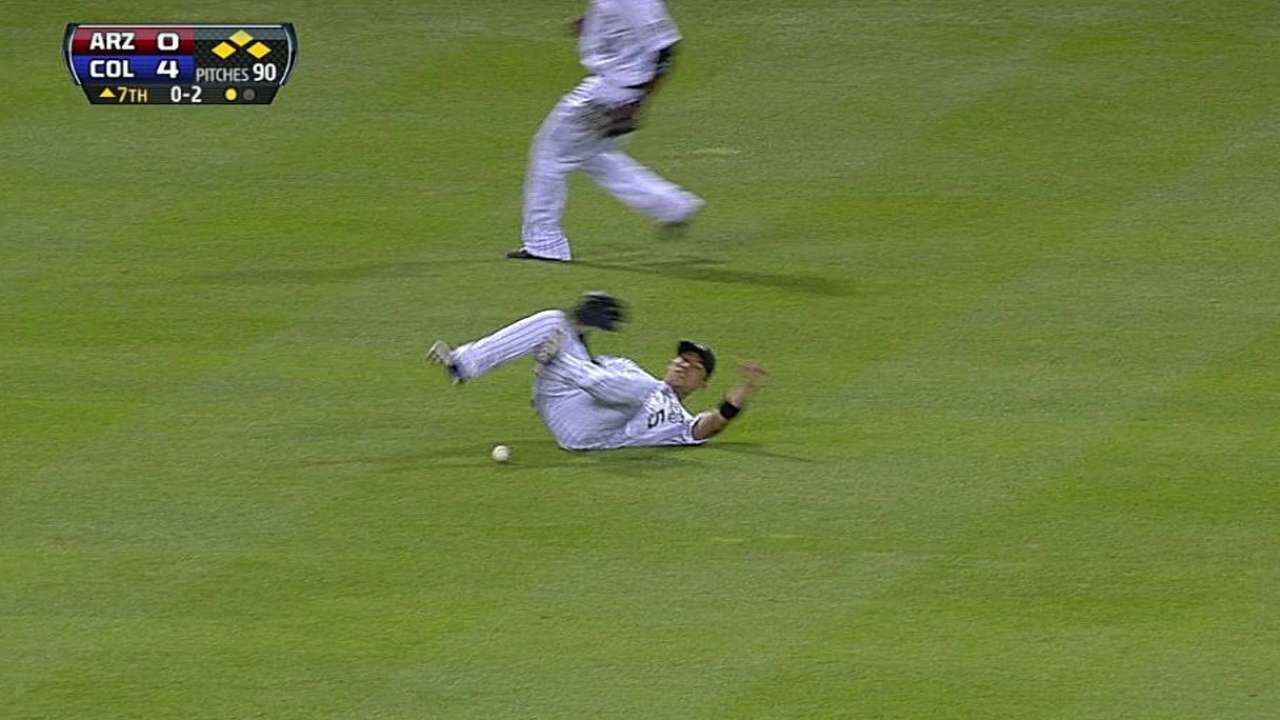 DENVER -- That it took 10 innings for the Rockies to beat the D-backs on Tuesday night was surprising given the way Colorado starter Jhoulys Chacin was pitching.
Yet it wasn't until Wilin Rosario lined a single to right scoring Carlos Gonzalez with the game-winning run that the Rockies were able to celebrate a 5-4 victory.
"We didn't have a lot going on all game, actually," D-backs manager Kirk Gibson said referring to his offense. "Then we had the one inning where we got something going and we tied it up. It just became, 'Who was going to make a mistake?' and we made a mistake there in the last inning to the last couple of hitters. Balls were up and out over the plate and they hammered them."
With one out in the 10th, Gonzalez doubled to right off former Rockie Matt Reynolds.
"I fell behind him, but more than that, I had a game plan and didn't execute it," Reynolds said. "Anytime you fall behind, it makes it tougher and [I] threw him a bad pitch and he hit it. Kind of the thing on him is he'll hit breaking balls if they're in the zone, and I left one that was way too much zone, way too much up and he just turned on it."
The D-backs elected to intentionally walk Troy Tulowitzki to face Rosario, who lined the first pitch to right for the game-winner.
"It was a slider too, probably trying to go a little more down, a little more in," Reynolds said. "Again, caught too much plate. That kind of happens. The one to CarGo I feel like shouldn't happen -- it was a really poor pitch. The one to Rosario wasn't a good pitch either, but sometimes it happens in the course of a game. It's kind of a Catch-22 -- you throw [Rosario] a first-pitch fastball, he can hammer it. He's a good fastball hitter so you take your chances with an offspeed pitch trying to get ahead and again probably caught too much plate with it. That's what happened there."
Rosario had caught Reynolds during his time in Colorado, but tried not to let that enter his mind when he stepped in the box.
"I wanted to wipe my mind, do nothing, just react to the pitch and figure out how to hit the ball," Rosario said. "When you know somebody, that's when you get too comfortable and that's when they could get you."
It didn't seem like it would take extra innings for the Rockies to win as Chacin was cruising through the first six innings facing just one batter over the minimum.
The only offense the D-backs could muster early off the right-hander was a double to right by pitcher Ian Kennedy in the third inning.
"He's been really good against us," D-backs first baseman Paul Goldschmidt said. "He locates all his pitches, it seems like he never gives you anything to hit."
It all unraveled for Chacin in the seventh.
The D-backs managed to send 10 men to the plate and capitalized on a fielding error by first baseman Jordan Pacheco to score four runs and tie the game
Jason Kubel drove in the first two runs of the inning with a double to left-center that just eluded a diving Gonzalez.
Martin Prado then followed with a two-run single up the middle to tie things up at 4.
"Today we got a break with some walks and an error and some big hits there to drive in some runs," Goldschmidt said.
While Chacin breezed through the first few innings, it was more of a struggle for Kennedy.
The first two Colorado runs came on RBI singles by Nolan Arenado and DJ LaMahieu and both were when Kennedy had two strikes on them.
"For a while there, Chacin was doing a good job and I thought eventually we were going to score some runs," Kennedy said. "So I was trying to battle through it, go as long as I possible can and we got to him finally. But those two-strike hits stink a little bit."
The Rockies fourth run came in the fourth after first-base umpire Dana DeMuth appeared to miss a call at first base.
Shortstop Didi Gregorius threw high to first on Arenado's grounder. Goldschmidt leapt and caught the ball and appeared to tag Arenado before Arenado reached first.
"I tagged his shoulder and I thought I got him before he got the bag," Goldschmidt said. "But obviously [DeMuth] didn't see it that way. It's just part of the game."
Steve Gilbert is a reporter for MLB.com. Read his blog, Inside the D-backs, and follow him on Twitter @SteveGilbertMLB. This story was not subject to the approval of Major League Baseball or its clubs.