Phillies' bats awaken, back Cloyd's strong start
Howard paces 15-hit attack with three hits, three RBIs in return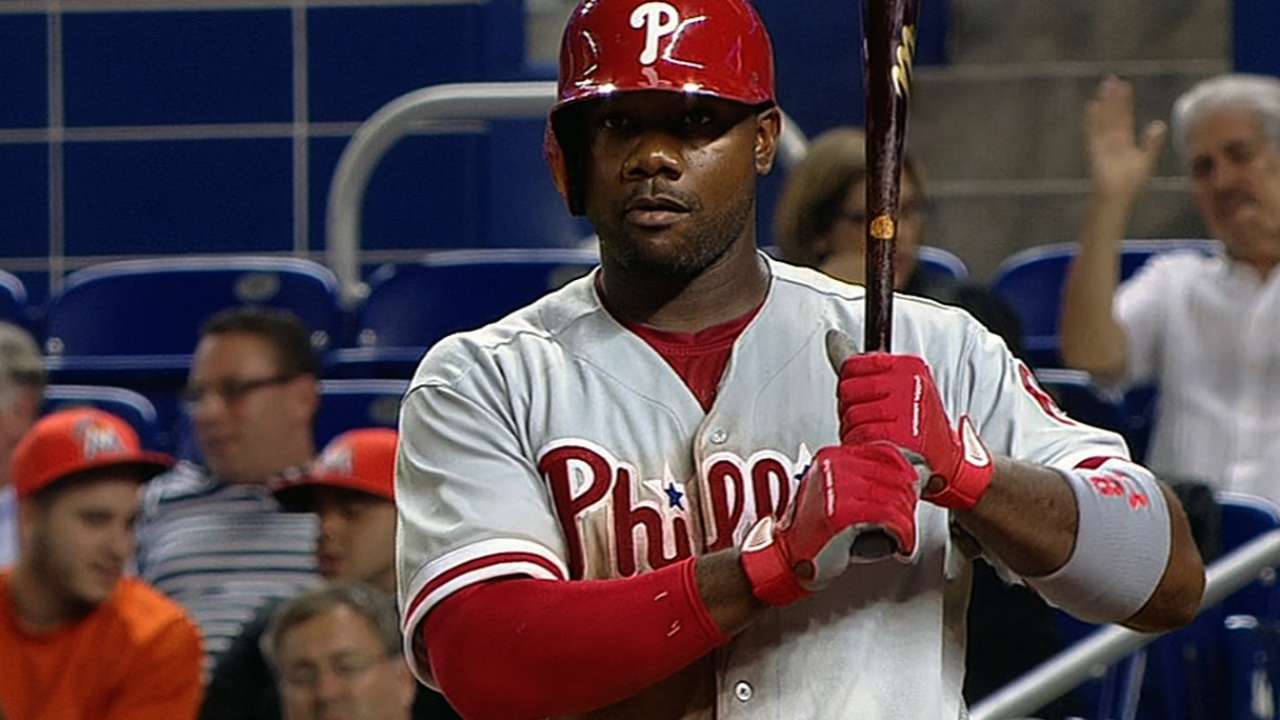 MIAMI -- The Phillies have found scoring runs to be a remarkable challenge this season.
It had Charlie Manuel expressing his concerns in the past week about hitters doubting themselves and getting depressed about it. It quite possibly is the reason Cole Hamels has not uttered a word publicly since his start Monday as he has the seventh-worst run support in baseball this season. But for one night Tuesday, the pitching staff could breathe easy as the Phillies tied a season high with 15 hits in a 7-3 victory over the Marlins at Marlins Park.
"We haven't been scoring many runs and I haven't been contributing like I'm capable of," said Delmon Young, who started the night with a solo home run to left-center field in the fourth inning to give the Phillies a 1-0 lead. "It's good. It was the most hits I've seen since I've been here. Hopefully we can carry what we did today into tomorrow and for the rest of this road trip, because we're going to need to score runs to win these games against the clubs we're going to be playing."
The Phillies (22-24) can move within a game of .500 with a victory in the series finale Wednesday, which has been a challenge for them. They are winless in their last eight chances to move within a game of .500.
So what happened Tuesday? How did they finally score some runs?
They got an assist from Marlins manager Mike Redmond, who pulled rookie Jose Fernandez for a pinch-hitter in the fifth. Miami had a runner on third with one out, when pinch-hitter Jordan Brown's sacrifice fly scored Placido Polanco to make it 1-1.
Fernandez had held the Phillies scoreless in 13 innings in his first two starts against them this season. He has a 4.94 ERA in his other six starts. Young snapped the streak at 16 with his homer in the fourth, but the rookie otherwise kept the Phillies in check.
"We didn't tear him up," Philadelphia manager Charlie Manuel said. "Maybe one of the best things was they took him out."
The Phillies took advantage of the Marlins' bullpen, scoring six runs in the next three innings, while Phils right-hander Tyler Cloyd allowed eight hits, two runs, two walks and struck out five in seven innings to earn his first win of the season. Cloyd was 1-4 with a 6.57 ERA with Triple-A Lehigh Valley, but is 1-0 with a 2.70 ERA in two starts acting as Roy Halladay's replacement in the rotation.
"Here, I'm definitely keeping the ball down a lot more than at Triple-A," Cloyd said. "That's the biggest thing."
Ryan Howard singled and Young doubled to lead to the go-ahead run in the sixth. Howard went 3-for-5 with three RBIs after missing the past two games with left knee inflammation. Young went 2-for-4 with a double, home run and two RBIs.
Clearly, the Phillies need more from those two, especially with some uncertainty surrounding Chase Utley. They scratched him Tuesday when he felt a burning sensation in his right ribcage after taking a swing during batting practice.
He will be reevaluated Wednesday.
Young homered in his first at-bat with the Phillies on April 30 in Cleveland. He went 2-for-3 in his debut that night, but had hit just .163 (8-for-49) with three doubles, three RBIs, five walks and 13 strikeouts in 16 games since.
Manuel said before the game he thought Young was close to finding his timing at the plate.
"I feel like I have to keep playing him for a while and give him that chance," he said. "That's why we brought him over here."
Young hopes that is the case.
"The second game against Cincinnati [on Saturday], I was feeling better," he said. "I started driving the ball. I just missed a couple. When I drove the ball to right-center [Monday] night, I knew my timing was almost right where I need it to be. Tonight it was pretty much right there. I was able to see the pitches early and recognize them."
The Phillies loaded the bases in the seventh with infield singles from Jimmy Rollins, Ben Revere and Michael Young, then Howard singled to right field to score Rollins and Revere to make it 4-1. Michael Young scored on Delmon Young's fielder's choice to make it 5-1, and Delmon Young scored on Brown's double down the right-field line to make it 6-1.
It was just the 21st time this season the Phillies have scored four or more runs in a game. They are 16-5 in those games.
Imagine what they could do with just a hint of consistency.
"Pretty good, wasn't it?" Manuel said.
Todd Zolecki is a reporter for MLB.com. This story was not subject to the approval of Major League Baseball or its clubs.