Fernandez effective, but bullpen can't keep it close
Rookie allows one Phillies run over five, then relievers give up six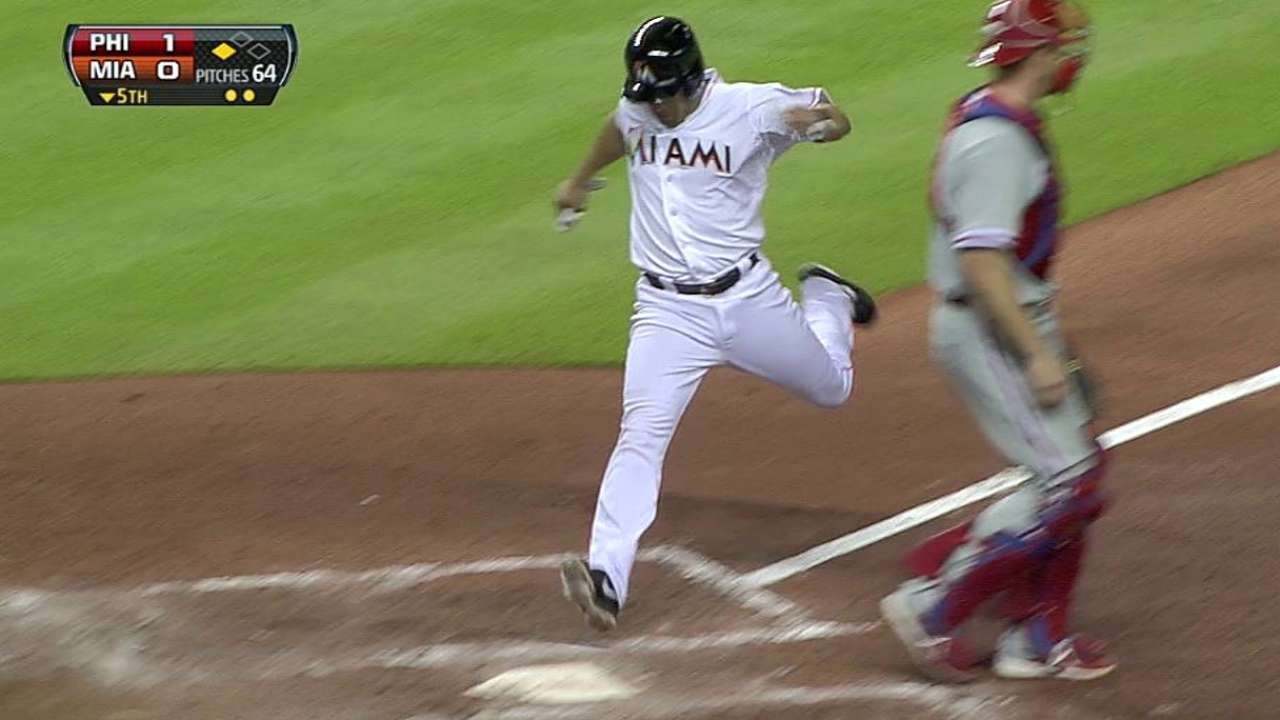 MIAMI -- For five innings, Jose Fernandez kept his team in the game on a night he didn't have his best stuff. The damage was done once the 20-year-old exited.
Ryan Howard went 3-for-5 with three RBIs and Delmon Young homered and drove in two runs to lift the Phillies to a 7-3 win over the Marlins on Tuesday before a crowd of 13,996 at Marlins Park.
Philadelphia rookie right-hander Tyler Cloyd gave up two runs on eight hits in seven innings to help snap Miami's modest two-game winning streak.
Fernandez, not involved in the decision, made his ninth big league start, three of which have come against the Phillies. In his first two meetings, he simply dazzled, including striking out a season-best nine in seven innings on May 4 at Citizens Bank Park.
It was more of a struggle on Tuesday night, even if he wasn't tagged for many runs.
"I thought he pitched OK," Miami manager Mike Redmond said. "He had to work hard through those five innings. He wasn't quite as sharp as I've seen him over the last couple starts.
"He was grinding out there. It wasn't easy for him, but he battled. He kept us in the game, gave us a chance to win. He was running out of pitches there, and I figured he had done his job and that we'd try to score that run."
The Marlins rookie pieced together a string of 16 straight scoreless innings against the Phillies before Young capped a seven-pitch showdown in the fourth with a home run to left that was estimated at 399 feet.
"I was struggling a little bit with location," Fernandez said. "But it's just one pitch, they got good wood on that. It was a little bit over the plate, and it was a great hit. He's a great hitter. Respect. Nothing else I can say."
Fernandez gave up the lone run on five hits with one walk and two strikeouts, which matches a season low.
"They got five hits," the rookie said. "I was leaving a few pitches up a little bit that got hit. I was trying to make good pitches, and keep my team in the ballgame."
After throwing two straight fastballs to Young, Fernandez went with five consecutive offspeed pitches, the last being a curveball that resulted in Young's towering blast.
"I would have liked for it to be a little lower," Fernandez said. "I'm a pitcher and I'm a person. I just missed it up and it got hit. It's not going to be the last time."
The Marlins have been hurt by the long ball throughout their nine-game homestand. In the first eight contests, opponents have hit nine home runs, compared to one for Miami.
Trailing by a run in the fifth, and mindful that Fernandez is being limited to 150-170 innings in his rookie season, Redmond lifted the righty for a pinch-hitter.
The move paid off as Jordan Brown, in his first plate appearance since being called up from Triple-A on May 18, delivered a sacrifice fly to left. Placido Polanco doubled to open the inning and moved to third on Rob Brantly's broken-bat grounder to second.
Fernandez was at 79 pitches, so the decision was made to go for the tying run.
"We had some chances to score some more runs," Phillies manager Charlie Manuel said. "The biggest difference I saw was we were more patient, we made him throw more pitches. As far as getting better pitches to hit, we were able to put some good swings on him. We didn't tear him up."
Manuel chuckled and added: "Maybe one of the best things was they took him out."
Once Fernandez exited, the Phillies wasted little time getting to the newest Marlins pitcher, lefty Duane Below, who was called up from Triple-A on May 18.
Philadelphia went ahead to stay in the sixth.
Howard singled to open the inning off Below, and Young's double to deep center put runners on second and third with no outs. Domonic Brown's RBI grounder to second regained the lead at 2-1 for the Phillies.
Below was able to eliminate further trouble by stranding Young at third.
Philadelphia broke the game open with four runs in the seventh, with two runs charged to Below. Inheriting two baserunners, Ryan Webb was charged with two runs in the inning.
Webb entered the night with the longest scoreless-innings streak in the Majors at 17 1/3.
"We tried to hang in there and keep it close, but those big boys in the middle of their order, they produced tonight," Redmond said. "Sometimes you tip your hats to those guys. That's what they get paid a lot of money to do.
"I think we've done a pretty nice job in the series we've played against them of holding those guys down, but tonight, they got us."
Joe Frisaro is a reporter for MLB.com. He writes a blog, called The Fish Pond. Follow him on Twitter @JoeFrisaro. This story was not subject to the approval of Major League Baseball or its clubs.