Norris' effort, Paredes' first homer can't lift Astros
Starter leaves game with back injury after six scoreless innings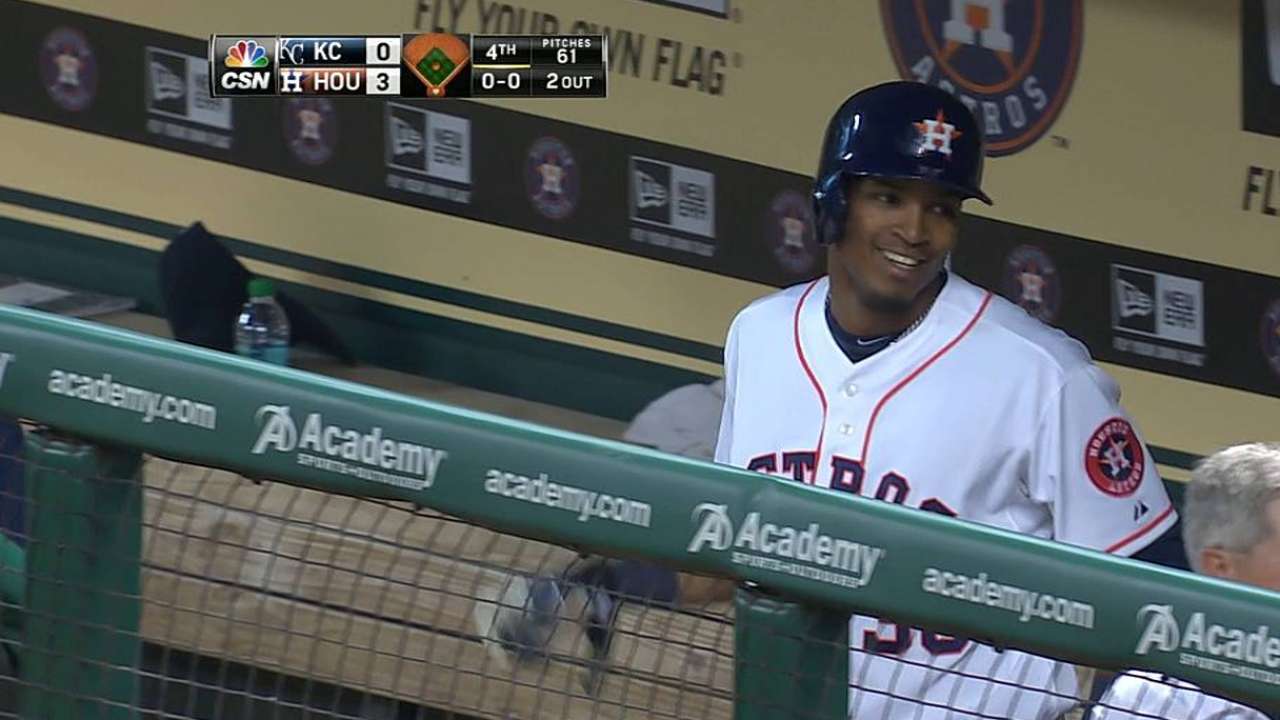 HOUSTON -- Astros starter Bud Norris was forced to leave Tuesday night's game after six scoreless innings with tightness in his lower back. That discomfort couldn't have caused Norris nearly as much pain as what he watched unfold after he left the mound.
The Royals took advantage of Norris' absence and pounced on the bullpen, scoring twice in the seventh inning and four times in the eighth to come from behind for a 7-3 win over the Astros in the second game of the series at Minute Maid Park.
Norris lowered his home ERA to 1.93 in 37 1/3 innings this season, but the bullpen combined to allow seven runs in the final three innings to let the win slip away.
"They don't need to hang their heads at all," Norris said. "They know what they need to do and get back out there. They picked me up in Oakland [April 17], so I'm not worried about them. They're all professionals. It's just a tough one for us as a team, but we still have a chance to go out there and win the series tomorrow."
After the game, Norris said his back was still tight, but he was hoping to make his next start with an extra day of rest thanks to Thursday's off-day. He was pitching for the first time since leaving a May 13 game at Detroit with lower back spasms.
"Obviously, going into the game, he had the issue the last game," Astros manager Bo Porter said. "We're only going to push him so far."
Royals manager Ned Yost admitted Norris had his team on the ropes.
"He threw the ball well," Yost said. "As soon as he got out of there, we started our offensive outburst. He did a nice job of keeping the ball down. He had a good slider. He threw the ball extremely well."
Norris had no issues about leaving the game when he did. He warmed up as if he was going to pitch the seventh, but Porter and head athletic trainer Nate Lucero made their way to the mound before he could throw a pitch. After a conversation, Porter called for a relief pitcher and Norris walked off the mound with Lucero.
"It just looked like he wasn't finishing the warmup pitches, and he went down beneath the tunnel during that half inning and had the trainers stretching him out," Porter said. "I knew that before he went out there so I was watching him very carefully with those warmup pitches. When I saw him not finishing down the mound, that's when I told Nate, 'Hey, let's go out here and see what he's going to say.'"
Travis Blackley replaced Norris and was charged with two runs in the seventh on RBI singles by Alcides Escobar and David Lough.
The Royals loaded the bases with no outs in the eighth against reliever Jose Cisnero, who managed to rebound from a 3-0 count against Lorenzo Cain and get a strikeout. But Mike Moustakas tied the game with an RBI single that broke an 0-for-18 slump, and George Kottaras drew a four-pitch walk to put the Royals ahead, 4-3.
Escobar grounded into a fielder's choice that scored a run, and Astros shortstop Marwin Gonzalez threw the ball away trying to complete a double play that allowed a second run to score on the play. The Royals suddenly had a 6-3 lead.
"You feel like you have the right matchups," Porter said. "For a long time, [Paul] Clemens has been great. Wesley [Wright] has done a good job against lefties. Tonight, we just didn't get it done. Give the Royals a lot of credit. They battled their at-bats and put balls in play and had some really good at-bats late in the game."
Astros right fielder Jimmy Paredes provided all of Houston's offense with two outs in the fourth inning when he hit a three-run homer to right field off Royals starter Wade Davis to break a scoreless tie. He went 3-for-3 with a walk to tie a career high for hits in a game.
Norris appeared to tweak his back in the first inning when he was forced to stretch awkwardly to get an out at first base following a bobbled grounder by first baseman Chris Carter. Still, Norris battled through without his best slider and allowed only one Royals baserunner to reach second base with a steady stream of sinkers and changeups.
"When you're trying to make a big stretch to make the early out, you're trying not to tweak it early in the game," Norris said. "Unfortunately, that's how it went down. I battled through it and it didn't affect me that much, but over time it slowly started getting tighter.
"I've been working hard with the trainers and felt a lot better. I was glad I could go back out there. I know I get an extra day this week, and I know I can nip this in the bud."
Brian McTaggart is a reporter for MLB.com and writes an MLBlog, Tag's Lines. Follow @brianmctaggart on Twitter. This story was not subject to the approval of Major League Baseball or its clubs.